Good growth marketers know what piques a customer's interest and what makes them come back for more. It's all about getting your product in front of the right eyes, delivering consistent results, and providing incentive for repeat business.
Good growth marketing for startups creates a critical launchpad for your business expansion. Let's look at some growth marketing tactics and tips that can elevate your strategy and get results.

What Is Growth Marketing?
Growth marketing is a marketing strategy that aims to build customer relationships, promote loyalty, and develop a long-term relationship between brand and consumer. To do this, brands need to toe the line between being a professional resource and a friend. Relatability, authenticity, and transparency create building blocks on which customer relationships thrive.
Therefore, your growth marketing plan should focus on not only attracting customers but getting them to stay for the long haul by building your relationships.

Growth Marketing Tactics for Startups
So how do you create a growth marketing plan that will deliver results? Let's dive into some common tactics for building the customer bond.


1. Conduct Audience Research
You can't market effectively if you don't know who you're marketing to. Audience research allows you to capture audience personas and tailor your messaging to be optimized for each one.
When conducting audience research, pay attention to things like:
Age
Gender
Income
Education
Location
Occupation
This can give you insight into who your core customers are and you can pivot your marketing efforts as needed. For example: Gen Z is going to respond to a TikTok reference better than a Baby Boomer.


2. Optimize for SEO
Effective SEO efforts get your content in front of the right eyes. Optimizing your blog to rank is a crucial first step when wanting to grow your customer base. After all: How are customers going to become interested in something they don't know is there?
Optimizing your content for SEO means finding and using relevant keywords, adding appropriate visuals, and covering every question the customer may search about your related topic.
3. Optimize for Mobile
What do a college student and a retired grandmother have in common? They've most likely got a cell phone in their pocket. And if they can use that device to interact with your brand, they're all the more likely to become a loyal customer.
In a world that is reliant on cell phones, mobile optimization is a must. Make sure your site not only works on mobile but that it's accessible and easy to use.
A few ways to make your site more mobile-friendly include:
Use responsive design so your site automatically adjusts to new screen sizes
Test your site on Google's mobile-friendly testing tool
Make sure images are compressed and optimized for every screen size
Make forms on your site auto-fill
Don't use Adobe Flash — mobile sites don't support it
4. Up Your Content Marketing Game
Content marketing involves creating content that is not explicitly meant to promote a brand or sell a product but does so by proxy by generating interest in a particular brand. Essentially, good content marketing establishes your brand as a thought leader in your field and promotes trust among your potential customer base.
By getting your content to a point where you're ranking for keywords related to your field, you'll start to generate name recognition that will become eyes on your site and, eventually, conversions.
Content marketing can involve multiple content types, including:
Blog posts
Videos
Social media posts
Podcasts
Newsletters


5. Invest in Paid Marketing
Paid marketing can help you reach your most important personas. Truth is: Some audiences are of higher value than others. So you want to make sure that you're getting your product in front of customers that are going to provide the most value to your business over time.
Paid marketing includes promoting social media posts, paying for advertising space, or buying brand deals.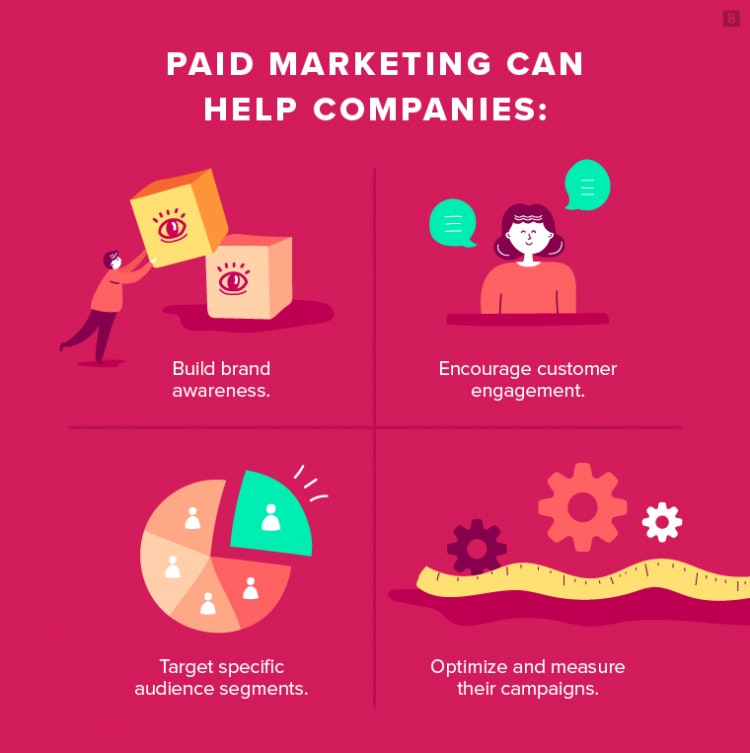 6. Conduct Data Analysis
You can make educated guesses all day — but numbers don't lie. Data can be a huge insight into which marketing techniques are actually making a difference for your brand. Use data to find out which customer personas are converting most, which advertisement channels are bringing in the most clicks, and which messaging your audience is relating to the most.
A few recommended data analysis tools include:
That way, you can not only attract more customers by producing more of what works, but you can also save your company money by cutting spending on channels that aren't doing any heavy lifting.

7. Implement Referral Programs
One of the benefits of a loyal customer? They'll do some of your work for you. When you already have customers who are in love with your brand, you can set up a referral program to get them to bring in their friends and family. It's a win-win: You get more customers, and your most loyal ones get rewarded for their business.
There are several referral program models. In one, you'll give the referring customer a free product or discount when a friend they refer buys your product. In another, both the referring customer and their friend receive a free product or discount.


8. Do Competitor Research
Understanding your market is key to success. What are your top competitors doing right? How can you match (or exceed) their offerings?
To do effective competitor research, you'll first need to compile a list of your top four or five top competitors. These are people who are competing for the same audience and market space that you are.
Then, look at their:
Offerings
Website
Social media accounts
Customer reviews
Gauge what is working for each competitor and what isn't, then do the same for your own brand. Pivot where needed to exceed the competition at every turn.


9. Write Guest Posts
Growth marketing is all about becoming a thought leader in your area of expertise. One way to do this is by guest posting on relevant websites, magazines, or blogs that cater to your target customers.
Write articles giving insider tips, information, or insight that your target audience will find valuable. This will show readers that you have authority in your field. Plus: Guest posts often come with a backlink to your site, which can improve your rankings.


10. Collaborate with Influencers
You've got the product and influencers have the following. Collaborating with influencers by sponsoring a post or sending them a PR package can help you reach more people than you can on your own.
Influencers also have the social media know-how necessary to promote your product in an appealing way. By sponsoring a post or collaborating with an influencer, you can open yourself up to more customers (and more followers). Just make sure you pick influencers relevant to your field — a nutrition influencer most likely won't take on a collaboration with a makeup brand because it doesn't make sense for their audience.


11. Refresh Your Content
Consumer needs, wants, and expectations are constantly in flux. That's why your trustworthiness can change at the drop of a hat and take your rankings along with it. To keep your messaging fresh and rankings high, you'll want to periodically revamp your content and look for ways to better answer any changing asks.
Don't save content refreshes for times when you notice a dip in rankings — be proactive about your content.


12. Find Press Opportunities
Press opportunities are a great way to get your name out there. By contributing a quote or analysis to an article, you're establishing yourself as an expert while also taking an opportunity to promote your brand.
But how do you connect with the press? Here are a few tried and true ways:
Follow journalists in your field on social media — sometimes they'll post about stories they're working on.
Sign up for a Help a Reporter Out (HARO) account.
Network with journalists at industry events to build a rapport.


Grow with the Flow
When done right, digital marketing for startups helps grow from a basement office space to an enterprise. So if you want to take your business to the next level, a good growth marketing agency is a crucial first step. Contact us to see how we can help launch your brand.