Numbers don't lie. And neither do we (we're definitely in the car and on the way…).
This is why we want you to have all the same digital marketing statistics we do. No gatekeeping, only support as you up your marketing game for 2023.
To do that, you'll need to look at the numbers — even if you simply want to continue the trajectory you're on. Digital marketing is changing as we speak (well, as you read), so your strategy and tactics should, too. Here are 13 digital marketing statistics and trends to know when you start planning for 2023.


SEO
Nope, SEO is not dead. Not now, and not in 2023, either. But that doesn't mean your grandma's SEO will cut it. New tactics are on the rise, "old" tactics are still going strong (*cough* backlinks *cough*), and Google algorithms remain ever-changing. And these are just a few of the digital marketing trends you need to know.


These are the SEO trends you need for 2023:


1. Mobile devices account for almost 60% of searches.
Make 2023 the year that mobile actually comes first. No more menus with micro-text or product pages with images that don't dynamically resize. And we're not just talking about your blogs and landing pages. In 2023, every step of your customer journey should be mobile-friendly, from lead forms to shopping carts.


2. By the end of 2022, at least half of all consumers will use voice search.
Parents using Siri on the way to soccer practice and Millennials meal-prepping with Alexa deserve the same search experience as the increasingly rare breed of human still Googling from their desktop. Find ways to cater to voice search in 2023. Our top tips: Focus on complete phrases and long-tail keywords, and answer questions in a conversational tone.


3. Posts with videos get 157% more search traffic than those that don't.
Keyword-laden metadata and well-optimized titles used to be all it took to rank. Ah, the good old days. But if you haven't kicked the technical SEO habit just yet, 2023 will be a great year to get started. Ranking isn't just about creating a great written resource for your target query — creating a killer content experience is just as important. And that means video.
Plan videos to go along with your upcoming content pieces, or add videos to existing content that needs a little nudge. You can even repurpose those video assets for some killer social posts (*air high five*).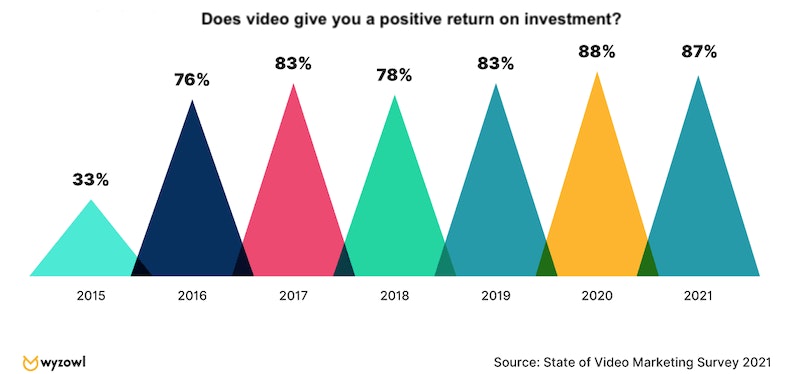 Paid Search
Google Ads and other paid search channels used to be the gold standard for digital marketing. But times have changed. Users are getting savvy to the ads, and many even realize that ads don't always offer the best answers to their questions. In 2023, the strongest strategies will leverage both organic and paid search. These digital marketing trends explain why:


4. Ads can increase brand awareness by 80%.
The early bird gets the worm. On SERPs, ads are that early bird since they're one of the first things to appear on the page. Even if a user scrolls right on by, they're still seeing your URL and your brand along with it. Though ads can also be a valuable conversion tool, don't sleep on their brand awareness superpowers in 2023. Craft copy that's memorable, both for those ready to buy and those who are just window (screen?) shopping.


5. Users are more interested in organic results than paid for 94% of searches.
If paid search is your first at-bat, consider organic results your clean-up hitter. Even though users may see paid results first, many users are actually more interested in organic results. That means your SEO can capture the clicks your search ads miss. In 2023, make every effort to de-silo your organic and paid search efforts since these two really are better together.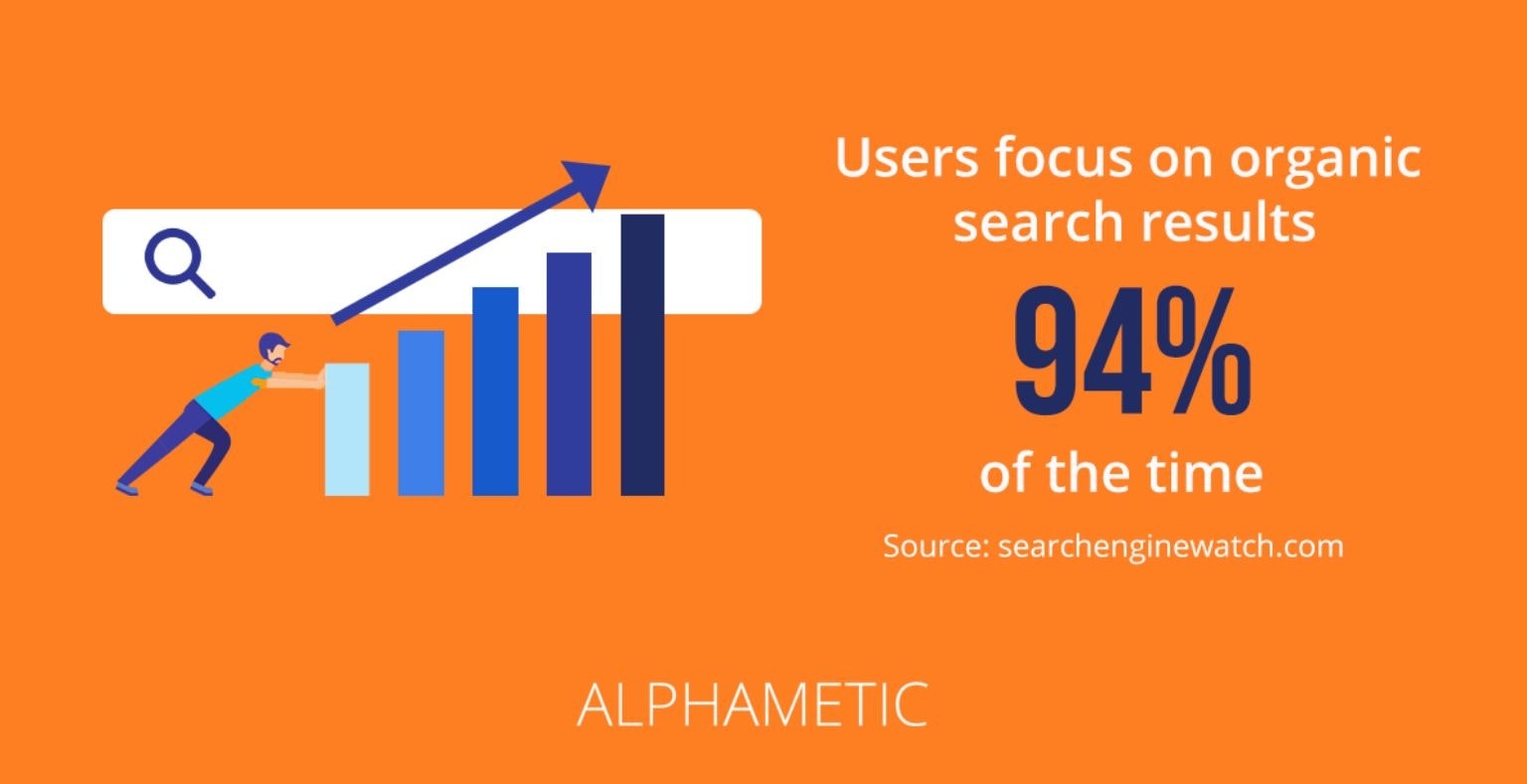 Content Marketing
What happens once a user clicks your link in the SERP and lands on your website? Well, ask your content marketing strategy. But if you're like the 40 percent of organizations that don't document their content marketing strategy, you might feel a little SOL. Fear not, though, because it's never too late to kickstart your content marketing program.


Here are some content marketing stats to consider:


6. A dedicated budget for conversion rate optimization can increase ROI by 30%.
In 2023, don't let your website drop the ball. Yeah, we said it. Even the most beautiful ads can't make up for a poor user experience. Conversion rate optimization means, well, optimizing for the conversion rate. It means making it as easy as possible for your customer to convert, whether that means clicking a button, filling out a lead form, adding an item to their cart, or completing the purchase. This can boost your revenue not only because it'll be easier for your customers to take action but also because Google rewards solid customer experiences.


7. 66% of marketers plan to increase their content marketing budget.
You wouldn't walk off a cliff just because the person in front of you did it first. So while we're not saying you should increase your budget because other marketers might, we are suggesting that you consider what a bigger budget can do for you. If your competitors are spending more on content marketing in 2023, what will you need to do to keep up? Your 2023 marketing plan should answer this question.


8. The top four content marketing formats are videos, blogs, images, and infographics.
It may seem like everyone and their mother has a blog. But that's because blogs work! So do videos, images, and infographics. If you're not already on the content train, get on it for 2023. This might look like creating an asset plan for all the new content on your calendar. But it also might look like developing videos, images, or infographics to spice up content that's already winning.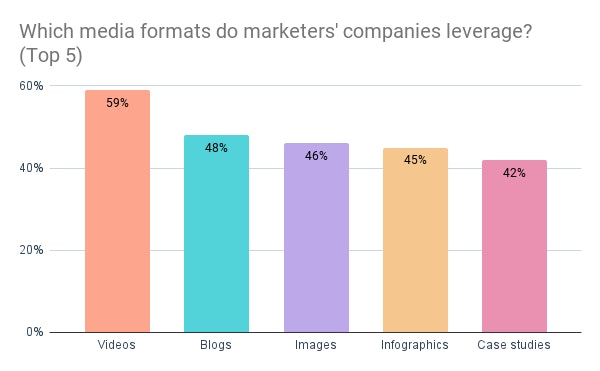 Lead Generation
Leads are like the Monopoly money of marketing; you might be able to pass Go without them, but you won't be buying properties (and by buy properties, we mean generate revenue) any time soon. But it's not just about getting the leads, it's also about keeping them in the loop until they're ready to make a purchase.


Here's how lead generation might change going into 2023:


9. Content marketing can generate 3 times more leads than outbound at just half the cost.
If leads are your goal (and, let's be real, they probably are), content marketing may be the key. In 2023, consider diverting some of your outbound budget to content marketing. This can help you keep up with your competitors who may also boost their budgets and pave the way to more sweet, sweet leads.


10. Leads convert after an average of 10 lead nurturing steps.
A user who fills out a lead form on their first visit to your website is probably a unicorn. Your average customer wants (and, honestly, needs) to be wined and dined first. Lead generation in 2023 will be all about nurturing. Consider where you can create additional touchpoints to keep customers close until they're ready to click "Submit" on that lead form.


11. Marketing automation can increase qualified leads by 451%.
If you're wondering how to nurture those leads, let us introduce you to marketing automation. Marketing automation can manage many of those new touchpoints for you. You set the strategy, and marketing automation can execute on it with very little oversight. If you're already using a marketing automation solution, consider how you can optimize your customer journeys for 2023. If you have yet to invest, consider how marketing automation can enhance your marketing program.


Data and Marketing Analytics
Data is also how you prove the value of your marketing efforts (look, ma, we did it!). If you're not already confident in your data, 2023 is a great time to get up to your elbows in analytics and keep up the latest digital marketing trends.


These marketing statistics illustrate why:


12. 88% of marketers say first-party data is a priority.
Welcome to the land of first-party data, where third-party cookies are a thing of the past. Though Google hasn't sunsetted third-party cookies just yet, that change is well on its way. Use 2023 to get ahead of the change by auditing and organizing the data you do have and establishing a strategy for collecting data you don't.


13. Data-driven strategies drive five to eight times more ROI.
The time has passed to just throw tactics at the wall and see what sticks. Use data to inform your 2023 marketing plan, but also incorporate data and analytics throughout all of your marketing activities. At a minimum, this means analyzing the data to decide which initiatives to move ahead with, then diving back into the data to see what worked.

Don't go blind into 2023. We have way too much data at our fingertips for that. But you also don't want to just guess at what might work for you. Digital marketing statistics like this can help, but so can a strategic approach to growth.
Start building your own growth marketing funnel, or let us help. Our 360 approach to growth can own specific services or your entire funnel. So whether you need more visibility, more conversions, or a whole lot of both, let's get you on the right track for 2023.
Sources