SEO is made up of multiple elements and working with a great partner that understands each in-depth is crucial to getting more opportunities. When looking for an SEO services partner, there are six primary services you want them to be able to offer. These services include SEO strategy, technical SEO, competitor gap analysis, content optimization, mobile SEO, and link building.
While there are many other SEO services that can be offered, these six will help you see the most success. Let's dive into what each of these services entails to know what a great SEO partner should provide.


1. SEO Strategy
To improve the likelihood of your website showing up in search results, you need to have a top-notch SEO strategy. Crafting an SEO strategy is where any SEO services partner will start. The strategy helps you create the right content that people are searching for. It also helps search engines index your site and rank your site pages.



2. Technical SEO
Technical SEO is part of improving items on your website to get higher rankings. When Google crawls websites, it wants to provide the best and most relevant results for its searches. Google determines what to show based on a variety of factors. By having improved technical SEO, search engines understand your website better.



3. Competitor Gap Analysis
Everyone knows everything these days — or so it seems. This means you need to identify your primary competitors, directly and indirectly, and find ways to set your brand apart. By performing an analysis, you will find questions that need to be answered, goals to set, and any other concerns for you to address. Performing an analysis quarterly will help you stay on top of any important changes you need to make within your strategy.

4. Content Optimization
Content is shared in so many different ways. The more content you create in your niche, the higher likelihood you are to pop up in search engines when that subject is searched. This means utilizing a variety of content types such as videos, podcasts, blogs, and newsletters while also making sure they are properly optimized. You name it — you should be creating it as long as it directly correlates with your brand and audience.


5. Mobile SEO
You're more than likely on your mobile phone reading this infographic right now. If you want to keep mobile users engaged and become your customers, you need to invest in optimizing your site to rank better on mobile. This creates a positive user experience, improves your SEO, and improves your users' perception of your business. Optimizing your site for mobile is easy and leads to great results.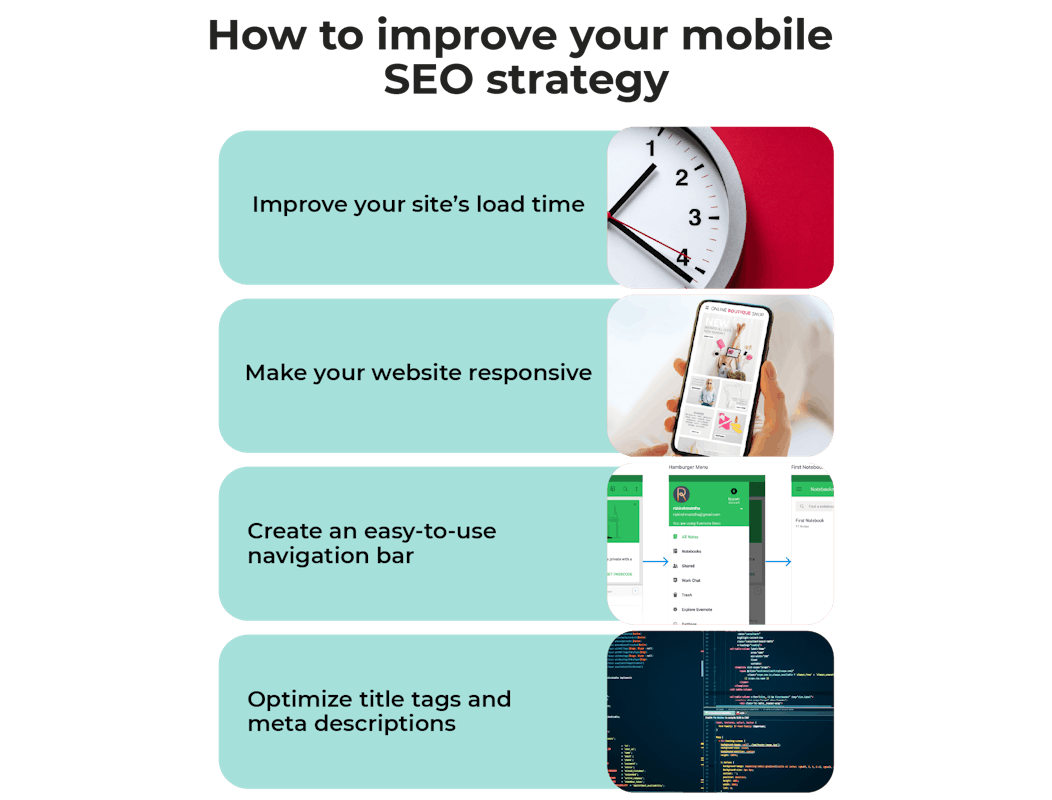 6. Link Building
Link building improves search engine visibility by utilizing one-way hyperlinks to a website. Gone are the days of analyzing page content, and instead, how many people link to that page is what determines the quality of a webpage. Keep in mind that just like you shouldn't keyword stuff, you shouldn't "link stuff" either. The quality of your link is taken into account, not just the quantity.



SEO is the most valuable and cost-effective way to reach customers. Working with an SEO services partner helps to build brand awareness and brand credibility and helps you measure and track success.
If you have questions about how an SEO services partner can help, contact First Page Strategy. We would be happy to connect and give you guidance on the benefits of working with an SEO partner.

Resources:
https://digitalmarketinginstitute.com/blog/what-is-seo-and-why-is-it-important
https://backlinko.com/link-building
https://www.webfx.com/seo/learn/mobile-seo/
https://blog.hubspot.com/marketing/seo-strategy
https://yoast.com/what-is-technical-seo/
https://backlinko.com/seo-stats