Yes, content is still king, but simply churning out content left and right isn't good enough anymore. Your brand needs to be equipped with a top-notch content distribution strategy. What good is all your content if your audience isn't seeing it? Let's dive into the world of content promotion and key content distribution tactics you can use to get the most out of your library of content.


Paid Ads 101
With the plethora of social media platforms available and the amount of time the average person spends on those platforms, paid ads are impossible to escape. On average, an internet user is exposed to 4,000-10,000 ads daily. This is good news for brands! Paid ads are a powerful way to get your brand seen by your current audience and to engage the lurkers.

Paid advertisements have a 200% ROI.
PPC generates 2x the visitors compared to SEO.
Ads can increase brand awareness up to 80%.
More than 50% of ad clicks are done on mobile devices.
Customers are 70% more likely to buy when they are retargeted.
9.21% of Facebook ads convert.
Instagram ads reach roughly 928.5 million people.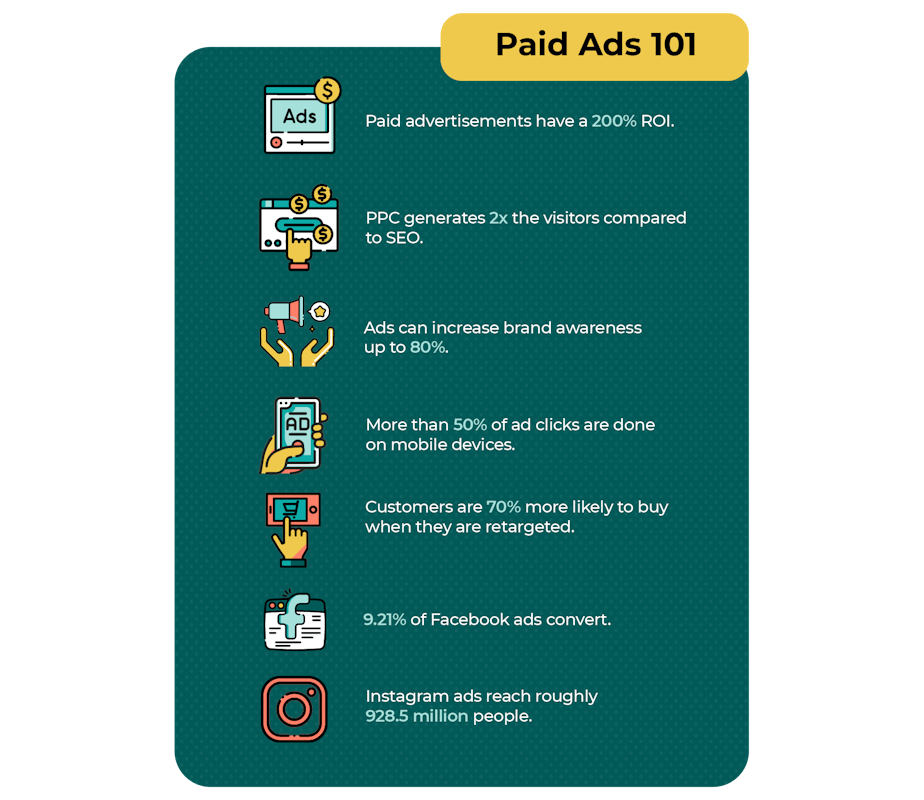 Ad Retargeting
The fact that customers are 70 percent more likely to buy when they are retargeted with an ad should make you instantly want to jump on the retargeting bandwagon. Retargeting is extremely effective on websites with high traffic. In fact, it can boost your conversion rate by 161 percent!
Here's how to set up an ad retargeting strategy:
1. Retarget Specific URL Visits
Retargeting with specific URLs, such as how a product the consumer was already viewing adds value, can help guide buyers back to your site.

2. Retarget Existing Customers
Retargeting existing customers is essential for reviving unresponsive customers who haven't purchased in a while.
3. Lead Ads Based on Page Engagement
Use Facebook's lead ads to gain customer information.

Social Media
By now, we all know the power of social media, both as a brand and as a consumer. As a brand, we use it to work wonders to increase our sales; as a consumer, we use it to stay up to date on things we care about as well as find new brands to follow and engage with. Social media has evolved from a networking platform to an advertising machine. Effectively using social media within your content promotion strategy can completely change the trajectory of your brand.
Here are some of the benefits of using social media to promote your content:
Facebook Ads

Users spend an average of 19.6 hours per month on the platform and 33 minutes per day on the platform.
The average Facebook ad cost-per-click is $0.43.
Facebook ad revenue in 2022 will top $58.1 billion.
Facebook's potential ad reach is 2.11 billion people.
Instagram Ads

Instagram has over 2 billion monthly users.
50% of users visit a website after seeing it in stories.
Product tags increase product page visits.
The average cost-per-click is $1.23.
TikTok Ads

TikTok has over 1 billion monthly users.
TikTok users watch 24 hours of content per month.
68% of users remember a brand better if they feature a song in their videos.
72% of users find ads on the platform inspiring.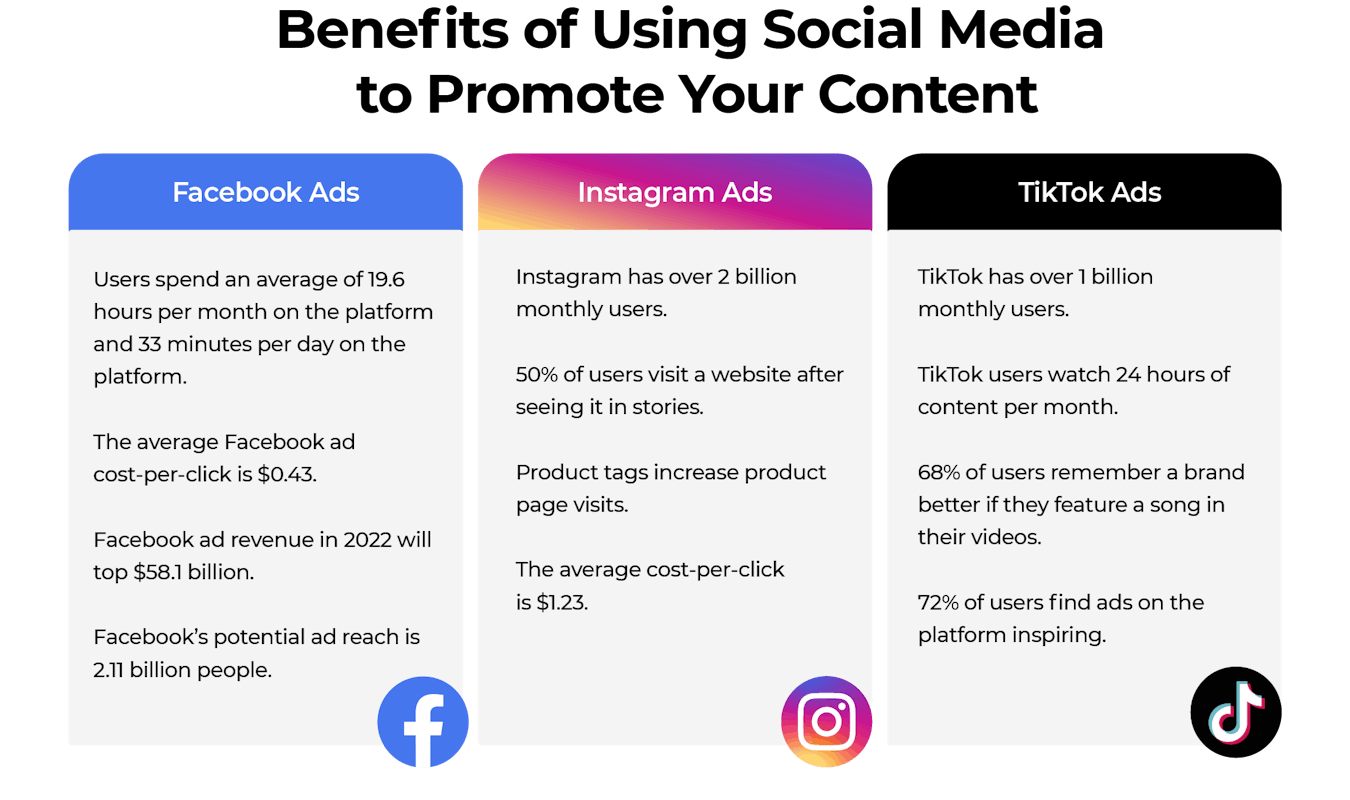 Influencer Partnerships
Influencer marketing is the latest effective source of paid advertising used to encourage your audience to choose your brand. Did you know that a brand that collaborates with a TikToker create can increase ad recall by 27 percent? Having an influencer marketing strategy can help you gain valuable partnerships.


How to Develop an Influencer Marketing Strategy

Step 1: Determine your goals.
Do you want to reach new customers, drive sales, or increase brand awareness?
Step 2: Who are you trying to influence?
To answer this question, you need to make sure you understand and define your audience.
Step 3: Know the rules.
Follow the FTC rules and include disclosure guidelines in your influencer agreements.
Step 4: Create a list of influencers you want to work with.
Find influencers with high engagement and ones who you trust.
Step 5: Reach out.
Reach out privately and personally with as much information as possible about the partnership.
Step 6: Collaborate.
Don't just rely on the influencer to create the content — work together to create something that works best for the brand.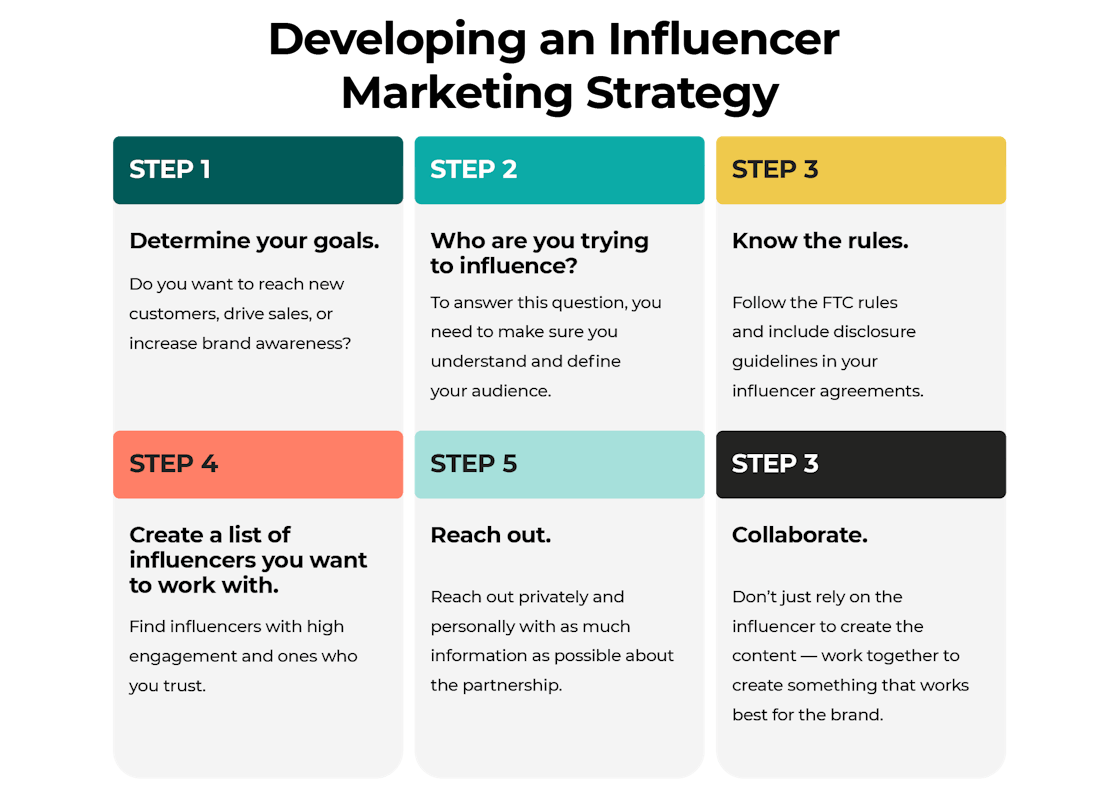 Guest Posting
Guest posting on high-authority sites is critical for promoting your content. When you find a website or blog to contribute to, you are not only seen as a thought leader but also establishing your backlink profile. And with more than 600 million blogs on the internet, you are bound to find more than a few to contribute to. Here's how to find those guest posting opportunities:
1. Look for blogs that:
Have content focused on your industry
Have an audience that will be interested
Has engaged readership
Has an active blog owner on social media
2. Let me Google that for you…
Use your industry terms followed by "submit a guest post," "guest post," "accepting guest posts," and do a Google search to find blogs accepting guest posters.
3. Competitor backlinks
Look at the backlinks of your competitors to see blog posts they have written and which websites they are on. Reach out to those same brands for a guest posting opportunity of your own.
Emails
Email is NOT dead. It is still well and alive! In fact, more than 306 billion emails are sent each day. Taking the time to focus on your email marketing strategy can elevate your brand. It's important not only to focus on your messaging and what the email looks like but to focus on the actual campaign creation and segmenting of your audience.
Consider this:
There are 4 billion daily email users.
37% of brands are increasing their email budget.
Subscriber segmentation is the most effective email marketing strategy.
77% of marketers have seen an increase in email engagement in the past year.
Use these tips to create your email marketing strategy:
Have a clear call to action.
Personalize it.
Segment your audience.
Make it pretty.
Get social.
Send regularly.
Now that you have a content promotion strategy, make sure to stay consistent and keep providing valuable content as you continue to distribute it. Take your strategy one step further by reviewing your analytics. This will help improve your content strategy by learning which areas are working best for you and which may need more focus.