SEO is an important lever in improving brand visibility and lead generation — especially when it comes to B2B brands. While SEO is arguably one of the most important customer acquisition channels for B2B companies, making sure that your strategy works is essential to improving brand growth.


So you've got the B2B SEO strategy, now what?
…We see if it works. Here's how.


What Is B2B SEO?
Simply put, B2B SEO or "business-to-business search engine optimization" is the practice of optimizing websites to attract other businesses as clients.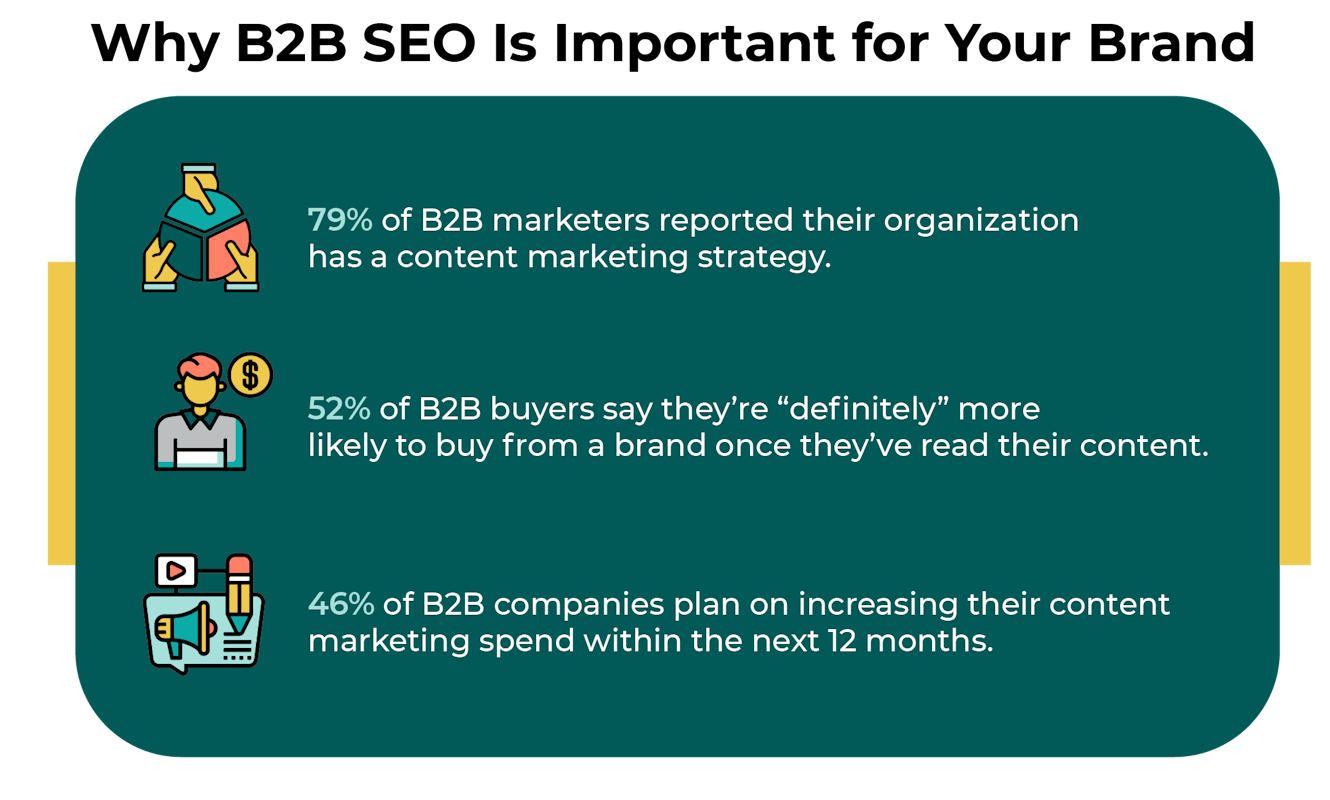 Key Differences Between B2B and B2C
As a business owner, you may think that the tactics for appealing to audiences and attracting customers are the same across industries. Not so fast.
While both B2B and B2C may have similar goals, how you approach each SEO strategy varies significantly.
In the B2B space, customers are looking to effectively answer questions or find a solution to a business problem through your service or product. Within the B2C space, customers typically enjoy a more leisurely experience when shopping. With this in mind, your marketing tactics can appeal to emotions and be more fun rather than informational and efficient to move a customer further down the decision process like with B2B marketing.
For instance, B2B marketing should involve more niche, long-tail keywords to appeal to a very specific audience, while B2B marketing should cast a wide net to target a broad audience. See the key differences between B2B and B2C strategies below.



Common Industries in the B2B Space
Because B2B industries are more niche and heavily rely on education to generate leads and convert customers, they typically leverage online platforms for e-commerce — making SEO all the more important.
A few common industries within the B2B space may include manufacturers, wholesalers, distributors, and technological services.
Knowing your target audience and clearly educating users on a business solution, through your content, can help attract new users and revenue for these types of industries.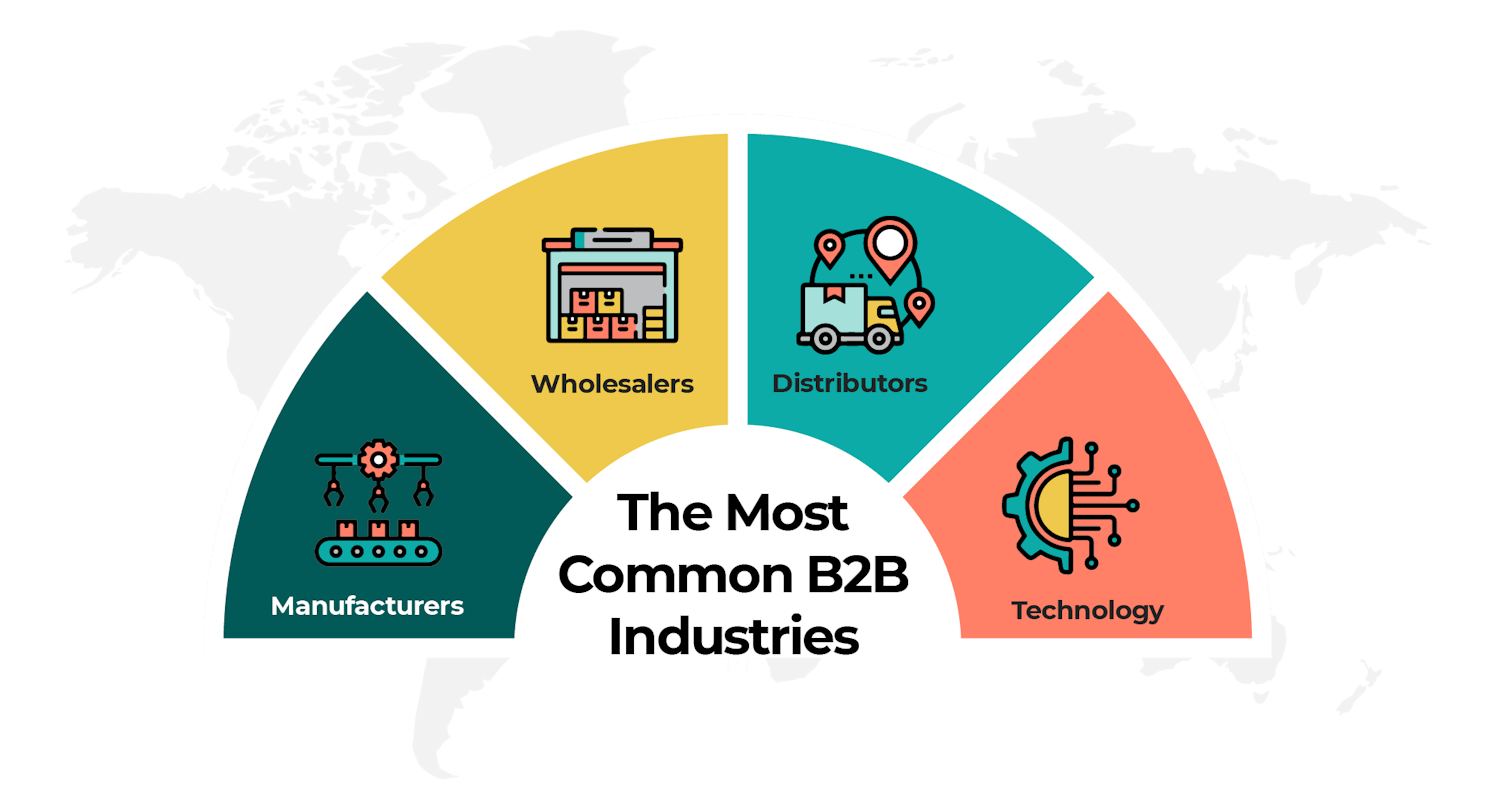 You've set the strategy, now it's time to see if it's working. While your first instinct may be to create a strategy focused on improving conversions, it's important that your content takes a more holistic approach that will also improve awareness, traffic, and authority. This will not only help you convert users to customers in the short term but establish brand trust, reach new audiences and garner more leads.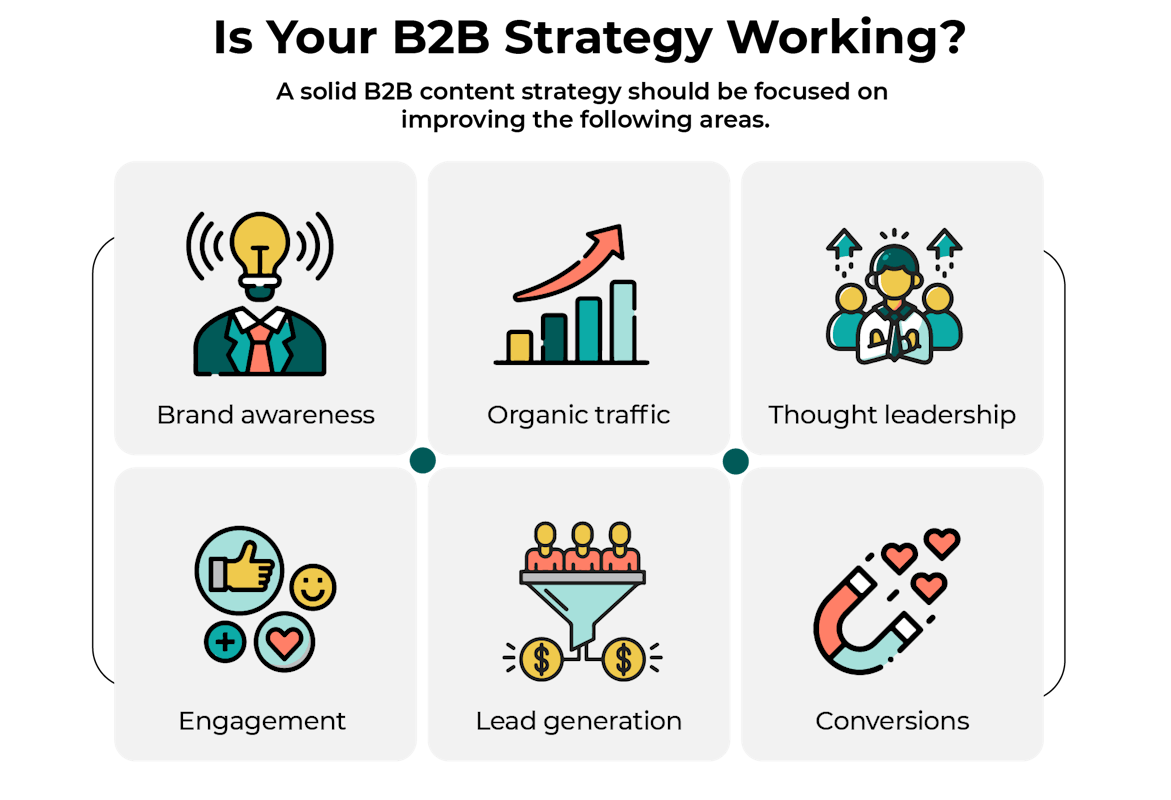 How to Develop a B2B SEO Strategy in 3 Simple Steps
Not sure if you're on the right track? Developing a solid strategy is the first step to B2B success. Here's how you do it.


Step 1: Audience and Product Research
You should map B2B marketing content with users at three different stages of the buying journey: top of the funnel, middle of the funnel, and bottom of the funnel. This will ensure you're providing the right content to the right people at the right time.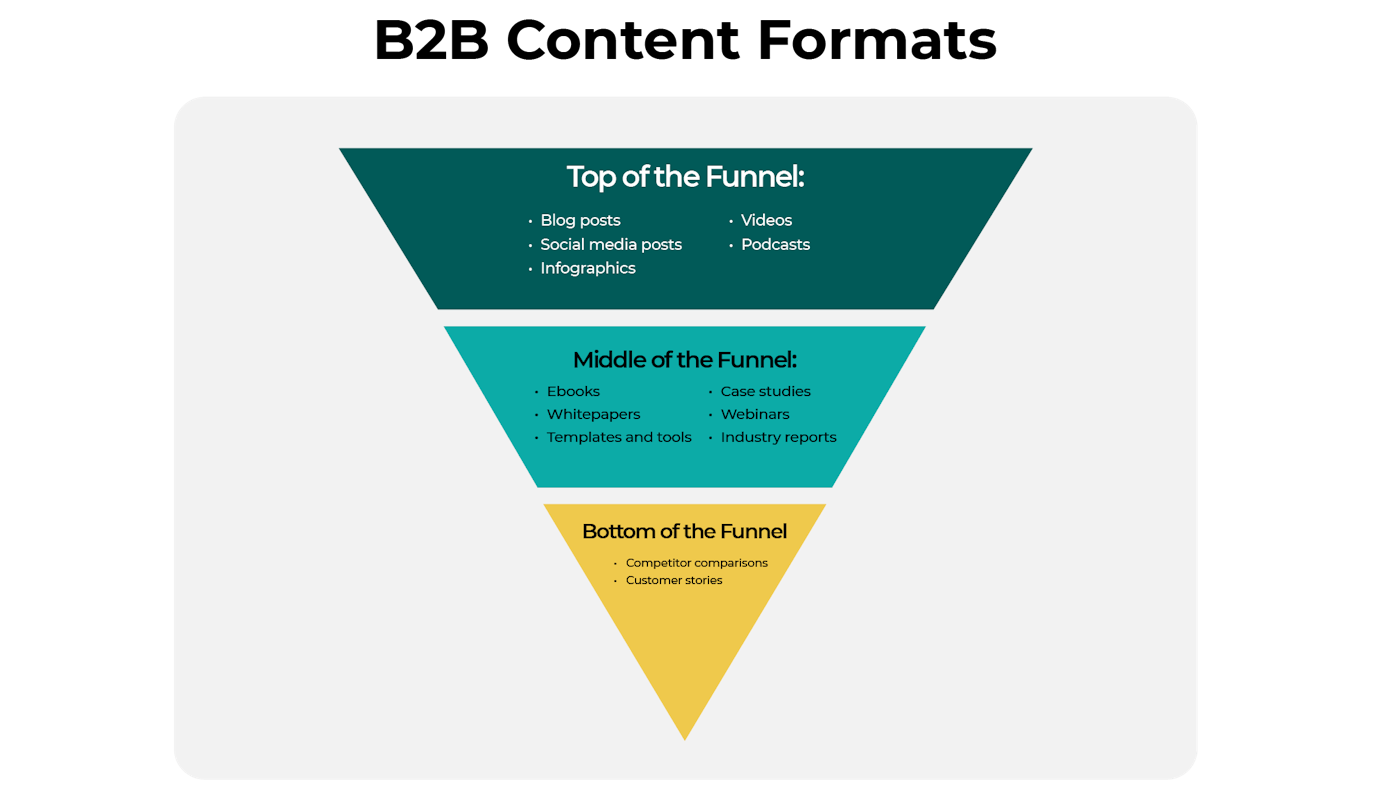 Step 2: Create Quality Content
Because of the niche nature of most B2B industries, you'll likely find that search volume for your target keywords are lower than in B2C industries.


Prioritize long-tail keywords: These will have a high intent with low competition.
Go after queries with a high cost per click (CPC): High CPC signals that a topic's value is high enough to invest PPC in it.
Use common keyword frameworks like:

PRODUCT cost
KEYWORD template
INDUSTRY JARGON
COMPETITOR vs. you
What is INDUSTRY JARGON



Step 3: Measure Your Results
Identifying your goals for content can help you hone in on your SEO Strategies. While it's ideal to improve backlinks, traffic, and conversions at the same time, it's most effective to focus on the area that you want to improve first.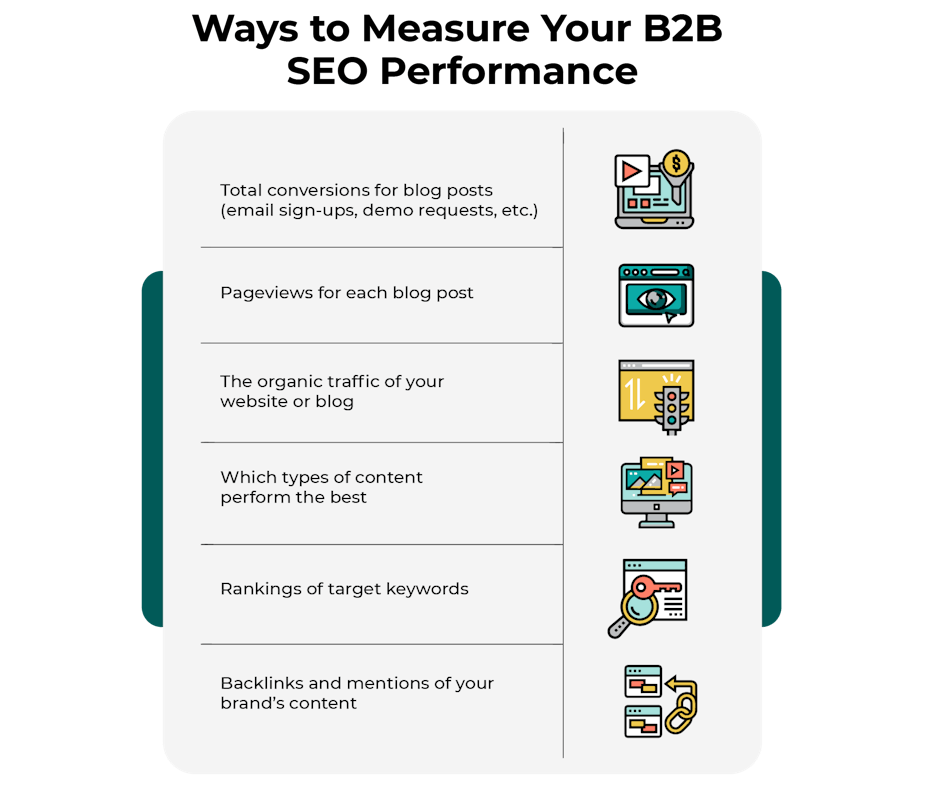 Common Challenges That Marketers Face
According to a recent survey from the Content Marketing Institute, B2B marketers who had less content marketing success revealed it was due to content creation challenges and strategy issues.



What's Working for B2B Content Marketers in 2022
Successful B2B marketers attributed their achievements to valuable content and regularly implementing website changes.



Listen, sometimes we don't see the SEO floodgates open on the first strategy attempt. With things like algorithm updates, new competitors in the landscape, and changes in user behaviors, it's likely you'll hit and miss a few times.
SEO can be a long-lead game, and it may take time for your efforts to convert. But if you set your strategy, consistently create quality content, and continue to measure what tactics are working and improve what's not working, your brand with ultimately be rewarded.