There's a new squeeze on the social media scene: Lemon8.
Part Instagram, part Pinterest, and from the creators of TikTok, Lemon8 is slowly gaining traction across the U.S. And while it's mostly content creators who are leading the charge, there's still an opportunity to be had for marketing teams ready and willing to test this new platform.
Will it be your company's next growth marketing engine? Truthfully, it's too soon to tell. But when it comes to new platforms, the early bird usually gets the worm.
That's why we're peeling back the curtain on what Lemon8 is, what we know so far, and key Lemon8 marketing tactics that'll help you integrate this new platform into your marketing strategy.


What Is the Lemon8 App?
The Lemon8 app is a new lifestyle platform from ByteDance, TikTok's parent company. On Lemon8, users can both share photos and videos and curate the content they see based on interests, including fashion, makeup, pets, travel, and so much more.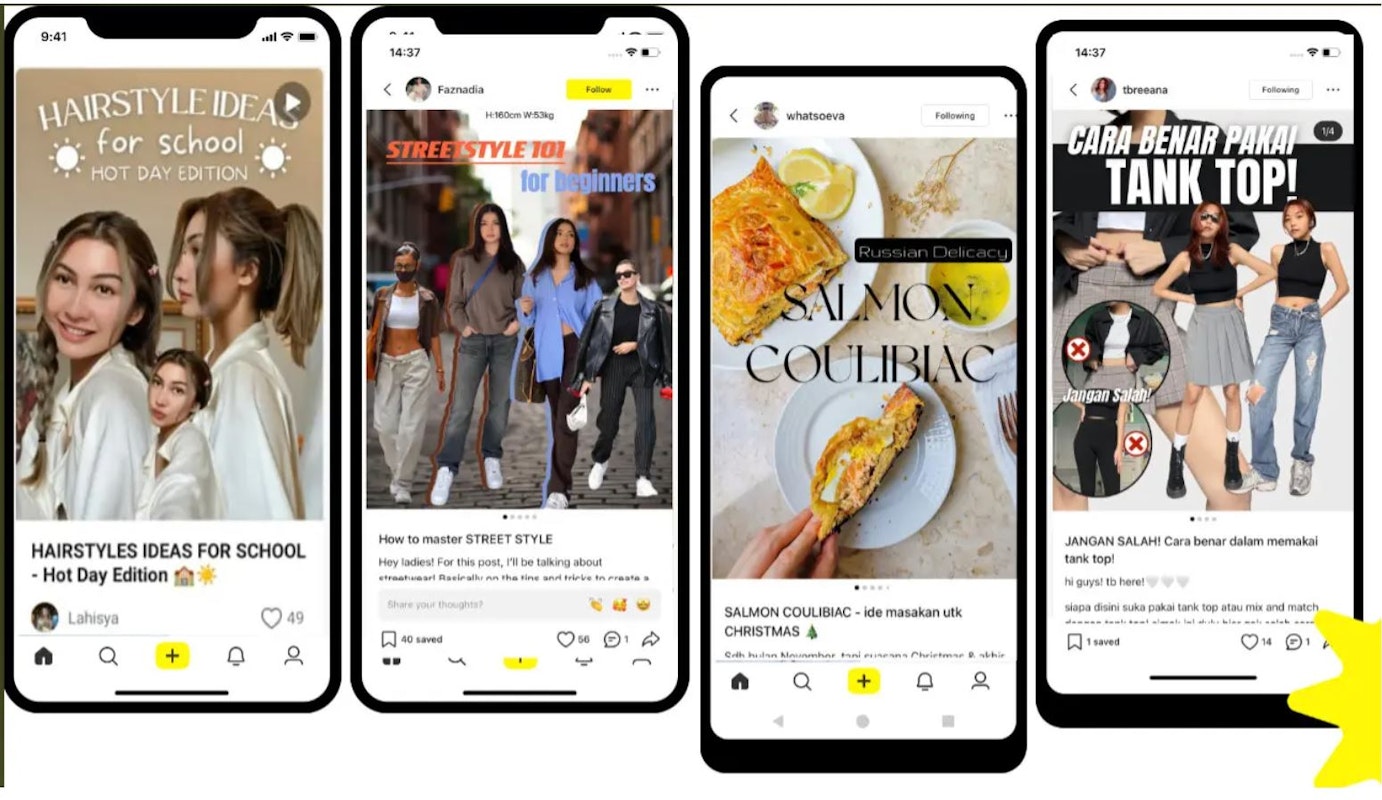 Though the buzz around Lemon8 is new, the app itself is not. Lemon8 launched across Asia in 2020 and racked up 7.4 million downloads in Thailand and 5 million in downloads in Japan — just to give you an idea of how popular it already is.
So why all the buzz now? Lemon8 hit the app store in the U.S. and the U.K. in February 2023. If you're wondering whether it's got staying power, consider this: in the month following its launch, it surged into the top 10 in the App Store even though it barely broke the top 200 in the three years prior.


How Does Lemon8 Work?
Lemon8 is a very visual app. Instead of TikTok's vertical scrolling, Lemon8 favors video and image tiles clustered around a given topic. Users can express what topics they're interested in, and they'll be served content — lists, recipe tutorials, get ready with me's, and so on — relevant to that topic.
It also takes Instagram's transactional features one step further. While the shopping options on Instagram can stand out, Lemon8's are seamless. Influencers can tag each post with product details, links, and prices so users have all the info they need without marring the platform's clean aesthetic.
Lemon8 also reportedly shares the same "recommendation engine" algorithm that TikTok uses. This algorithm is highly unique, and using it for Lemon8 suggests that brands who've found success on TikTok could be equally successful on this new platform.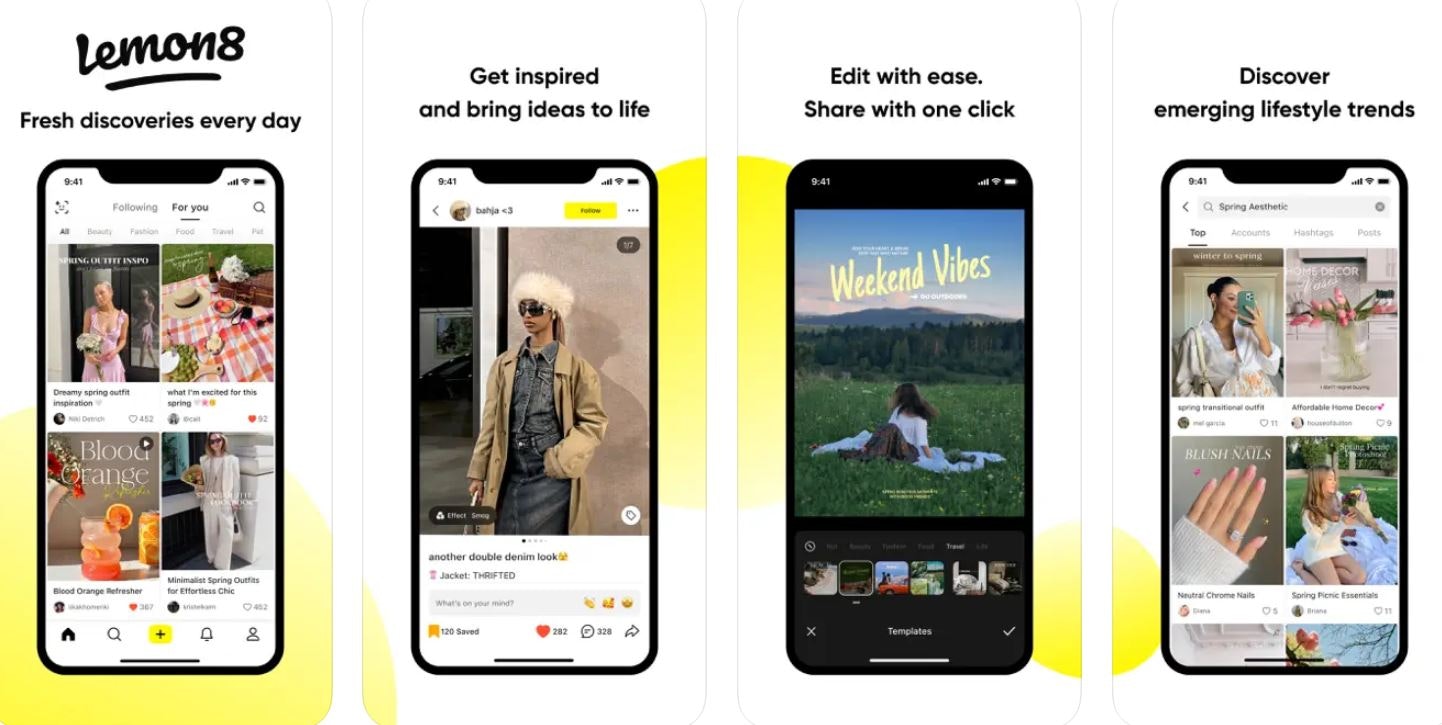 How Is Lemon8 Different?
Lemon8 may be the latest in a long line of lifestyle platforms, but it's looking like all those platforms may have walked so Lemon8 could run.
What do we mean by that?
Like Pinterest, users can search for and curate content they love. Unlike Pinterest, it also allows users to engage with each other about that content — a feature Pinterest lacks.
It may also one-up Instagram because users don't just post photos and videos — they can create micro-communities about even the most niche topics, creating genuine connections that comments and likes alone just can't match.
Lemon8 seems to be ByteDance's answer to anyone who ever wondered if the quality of social media content could ever keep up with the quantity. Maybe that day is finally here.


Lemon8 Pros and Cons
The key word is maybe. While Lemon8 may very well revolutionize the social media game, the reality is that it's still new. There are some very real potential pros but also some cons that might lead Lemon8 to fall just as quickly as it rose.


Possible Pros of Lemon8
You'll be an early adopter: Many brands haven't tested Lemon8's waters. If you have the time and budget to do so, you may be able to carve out a community for yourself before other brands get a chance.
It's cost-effective: Lemon8 is a new app, which means many creators are still growing their presence. You may be able to find lower-cost partnerships than on other, more established apps.
It's about connections: There's a whole new set of users out there who might really resonate with your brand. If you can tap into a micro-community that's uniquely relevant, you may be able to find a ready-made group of people who will love your products and/or services.


Cons of Lemon8
It's niche: Social media, shopping, finance, food, and drink are the top topics on Lemon8 right now. If you fall into one of those categories, that's great news. But if you don't, you might struggle to really make a mark.
Your reach will be limited: Lemon8 may be popular, but it still doesn't have the reach that Instagram, Pinterest, and TikTok do. Be prepared for your posts to reach fewer potential customers.
Sponsored content may not thrive: Micro-communities could be a valuable opportunity for brands, but we don't yet know whether those communities will welcome or reject the participation of companies — even the cool ones.
It may be banned: Lemon8's connection to TikTok may become a problem. The United States Congress is already considering banning TikTok, as are many other countries, because it may pose a threat to national security. If TikTok gets banned, Lemon8 may be next on the chopping block.


9 Key Lemon8 Marketing Tips
When it comes to new channels, we always recommend testing the waters. Without experimenting, you can easily miss out on something great or go all in on something that isn't as fruitful as you'd hoped.
Many brands haven't taken the Lemon8 leap just yet, but it may be worthwhile to dip your toe in the proverbial waters — especially if your brand hits any of the Lemon8 topics that are already trending.
If that's you, here are nine marketing tips to help you make the most of your new Lemon8 profile:
Optimize your profile: You already know how important your profile is. Use all 80 characters of your bio to make an impact, and even throw a call to action in there. Don't forget to choose a photo that represents your brand — your logo may be just the ticket.
Share your new profile: Once you've created your profile, you can copy the link and share it with your community. Send it in an email newsletter or even post it on your website so your customers know they can find you on Lemon8.
Research what's relevant: Like TikTok, it's important to join the conversation — not shout into the void. Set aside time to figure out what content is both relevant to your industry and racking up the engagement, then strategize about how you can create more of that kind of content.
Get niche: Lemon8 encourages users to get specific about their interests. When you set up your profile, Lemon8 will also ask you what's of interest to your brand. Select topics that are relevant to your niche or a niche that's adjacent to yours.
Leverage user-generated content: Say goodbye to thinly-veiled sponsored content. Anything you post on Lemon8 should be something your average user would have and could have posted themselves. Work with users to get user-generated content or find ways to make your own.
Add value: Don't post for the sake of posting. If you're going to join Lemon8, do it because you have something unique to add. Want to join a micro-community for girls with curly hair? Make a get-ready-with-me packed with styling tips they don't already know. Interested in posting about your new subscription service? Show an uncensored, unedited unboxing experience.
Experiment: Lemon8 may be new, but that doesn't mean you have to fly blind. Treat every post as an experiment, and slowly scale up your efforts to post more of what works and less of what doesn't.
Choose hashtags carefully: You're only allowed up to 10 hashtags per post, so make them count. Focus on relevant hashtags, but don't be afraid to test trending hashtags to see if you can build extra traction that way.
Collaborate: Like with other platforms, collaborating with creators can boost your brand. And since Lemon8 is so new, fewer companies will be vying for creators' attention.


The Lemon8 Opportunity: Bring Spontaneity Back
Lemon8 may not be for everyone. At least, not yet. But if you fancy yourself a social butterfly, Lemon8 might be the next great place for your brand to build some connections — assuming you have the assets to do it.
Stock photos and videos won't cut it, and neither will generic posts about how great your product or service is (even if it truly is great). Use Lemon8 as the opportunity it is to build a more off-the-cuff social presence, one that reflects the genuine spontaneity of the real people who love your products or services.
Want help building a more authentic social media presence? Check out our tips for user-generated content.