Peanut butter and jelly. Batman and Robin. Your product and your users? Well, maybe.
Yes, we are just listing some dynamic duos, but consider this the inspiration for the heights your product (and company) can ascend to if you get one important thing right: user retention.
Part of product-led growth is getting users into your product, but it's also about creating a product that's so good users can't walk away. When you create experiences users love and keep going back to, you foster high rates of user retention and engagement.
So, if you're struggling to keep users engaged once you get them in the door or you're looking to increase your user retention rate even more, check out these product retention strategies that you may not have tried yet.
8 PLG Tactics to Boost User Retention
1. Don't Fix What Ain't Broke
Your product is unique for a reason, which is why users will dedicate their precious time to it. Your goal isn't to match other products, it's to meet your user's needs and expectations — and to do that for a long time to come.
Make sure any updates you make meet a genuine need your users have and not just to keep up with the Joneses. Fill your product roadmap with new features or fixes based on user feedback. If users see the product improving just how they need it to, they're much more likely to stick around.
2. Create a Seamless Onboarding Experience
In product-led growth, your onboarding experience is everything. At this stage, there's no human holding their hand. It's just your users and your product.
Users need to enter the product seamlessly, set up the product for their specific use case, and interact with the product's features, all without encountering any errors or unanswered questions.
If you do this right, users can easily get into your app and start seeing its value.
3. Make Targeted Suggestions
Netflix may have a different reputation now, but back in 2007, it was a case study in product retention strategies. The first users of their streaming service could access the entire catalog for free for an entire month.
As they watched, Netflix collected data and, as the month went on, suggested new videos to stream that matched the viewers' preferences. The experience got better, more targeted, and, more importantly, users got hooked.
Consider how you can make suggestions based on users' past activity to keep them coming back to your product, like recommending features they haven't used before but would benefit from.
4. Personalize Your Product Experience
Freddie Mercury and Bob Dylan are both iconic in their own right. Yet, if they both used the same music-making product, they'd probably need a very different experience for that product to be worth their while. The same goes for your users.
Whether you're serving CEOs, dog owners, or glasses-wearers, it's likely that no two people in your product are exactly the same. Why should you serve them the same experience?
Call them by their name. Tailor their experience based on what you know about them and how they're using your product.
5. Build Habits
No matter how special your product is, the novelty may wear off over time. This isn't always a bad thing.
Your goal isn't necessarily to knock your users' socks off day in and day out. It's to create a product that so seamlessly fits into their day-to-day that accessing it becomes second nature. How do you do that? Help your users build a habit.
Whether you ping them if they're about to break their usage streak or use notifications to remind them of essential tasks, building a habit that involves your product is a great way to solidify user retention.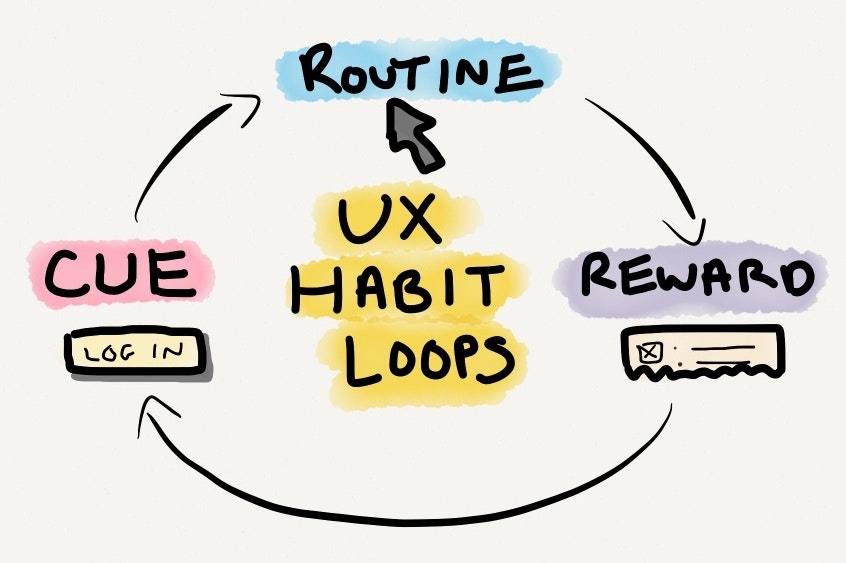 6. Use Product Signals in Sales
Many people think that product-led growth sidesteps salespeople. But this is a pesky misconception.
The reality is that PLG bumps sales further down the funnel, so salespeople only come in to add value to the experience the user is already getting. To do that, make sure every conversation your sales team has relies on product signals.
A user's behavior within your product can signal if they're a freemium user in need of an upgrade or even a paid user who could benefit from an enterprise plan. Your sales team should use these signals to have in-depth conversations customized to that specific user.
It's these personalized and value-adding conversations that can help turn first-time users into product evangelists — a key part of fostering user retention for the long haul.
7. Build a Referral Loop
Product-led growth is at its best when the product becomes its own acquisition engine. What does that look like?
A product that's so undeniably awesome that your users can't help but tell their friends and coworkers about it. It's freemium users becoming paid adopters becoming evangelists — all because they love the product.
Take Dropbox. They created a product that met its customers' every file-sharing need, then offered storage credits in exchange for a referral. Increased storage led to a better product experience for current users, while the referral links brought new users to the platform in droves.
Build a Better PLG Strategy
User retention is a big part of product-led growth, but making it work requires data, automation, design, testing, and more — all working in concert to create a flawless and indispensable product experience.
Sound daunting? It doesn't have to be. Get in touch to start building the right PLG strategy for your product.