So you're looking for an SEO agency. Complete a quick Google search and you'll likely find hundreds or even thousands who'd love to work with you. Should be easy, right?
Well, not so fast.
The truth is that you're as likely to find a seasoned SEO expert as you are to find an agency peddling snake oil. That's why we're sharing nine questions that we think all startups should ask their SEO agency-to-be.
But first…


What Should I Look for When Hiring an SEO Agency?
To a degree, what you should look for when hiring an SEO agency depends on what you want to get out of SEO. Building your brand is very different than building a growth marketing engine. Whatever your goal is, make sure the agency you choose has expertise in that area.
That said, there is one overarching indicator of an effective SEO agency: results. To get a feel for just how good they are, look for:
Testimonials
Sample SEO strategies and tactics
Review each of the above in detail. If an SEO agency has a history of producing the results you're looking for, partnering with them could very well be a home run.


What Should an SEO Agency Provide?
An SEO agency should provide everything that good SEO entails. Yeah, we know that's vague. But the reality is that SEO is multi-faceted and never really ends. Your agency should be equipped to handle everything from an initial audit to on and off-page optimizations down the road.
The best SEO agencies should provide the following:
SEO audits: They should complete a deep dive to understand where your SEO is now — including the keywords your website ranks for — so they can create a custom plan for where your SEO will go.
SEO strategy: They should then weave in-depth keyword research, audience personas, your buyers' journey, and more into a personalized, growth-driving strategy.
SEO content: You can't have SEO without content. Your SEO agency should have content experts who can help execute your new strategy.
Technical SEO: This is an afterthought for many SEO agencies, but the best agencies know how to leverage on and off-page tactics like H1/H2 tags, metadata, site speed, and more to push your content even further.
SEO link building: Backlinks help improve your search rankings. Your SEO agency should identify opportunities to build your backlink profiles — white hat strategies only.
Optimized video content and blogs: Your SEO agency should have the skills to craft videos and blogs that work for your strategy. That includes expertly optimizing new ones and refreshing old ones to give your brand a boost.


9 Questions to Ask an SEO Agency
Now you know what to look for and what an effective SEO agency should provide. But what should you ask an SEO agency to be sure they've really got the goods?


1. Who are some clients you've worked with, and in which industries?
If an agency has successfully worked with a similar business or industry, there's a good chance their work will be a win for you, too. Don't be afraid to ask for a client list or even for permission to interview a few of their clients.
You can also do some internet sleuthing of your own. Check online reviews, read their case studies, peruse their social media, and even listen to podcasts they've appeared on. This will help verify that what they say and what they do actually match.


2. Walk me through your process for creating an SEO strategy.
Yeah, we know this isn't a question. But when it comes to their process, you want to be as open-ended as possible.
Look for an SEO agency that dives into the details without hesitation. They'll know their stuff and they'll be excited to tell you just how in-depth their process is. Their answer should also be fairly sequential (e.g., we do this, then this, then this) — you don't want your agency to start cranking out content before they've even completed a strategy.


3. How will we work together?
This is more of an operational question than it is an SEO question. Boring, we know. But important nonetheless.
A true partner should be responsive, efficient, and keep you in the loop. Find out who exactly will support you — an account manager, an SEO expert, a content expert, etc. — and how often you'll hear from them. Again, the more details they offer, the better because it signals they've done this before and they're well equipped to do it again.


4. How will you report on your work?
This question may sound simple, but you're actually looking for two separate answers.
The first is measurement. How will they define success? Traffic, clicks, conversions, backlinks? You want an agency that not only has some tried-and-true KPIs but also has the skills to match your most important goals to measurable outcomes.
The second is the format. How will they deliver those metrics? A custom dashboard? A monthly reporting call? Make sure their reporting meets your needs. If they're only willing to send a dashboard, but you aren't that comfortable interpreting data, they might not be a great fit for you. Likewise, if they typically report on traffic, but you primarily care about conversions, you may want to kick the tires a little more.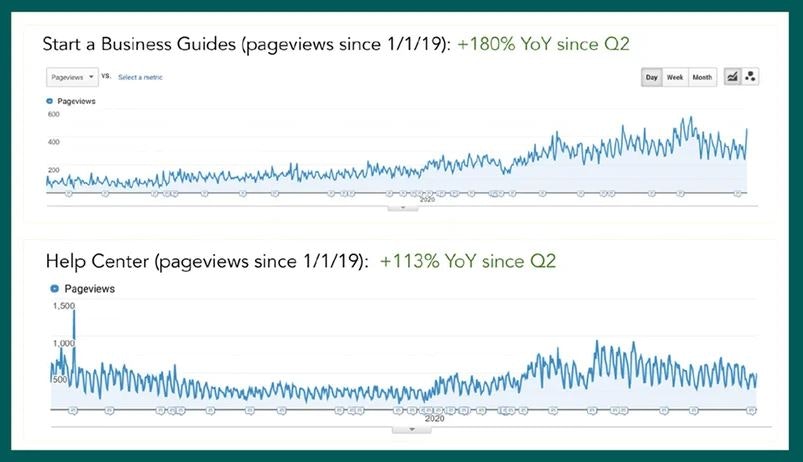 A dashboard snippet from one of our case studies.


5. How will you respond if, for example, my rankings drop?
Even the best agencies can't ward off a drop in rankings. Algorithms change, Google introduces new features on the search engine results page, and your competitors create new content — all of these and more can negatively affect your rankings and are outside of your SEO agency's control.
What matters isn't that the rankings dropped. It's whether your SEO agency knew about it.
A good agency should answer this question by explaining how they monitor your rankings, how they diagnose any red flags, and how they'll work with you to fix them.


6. What is your approach to content in SEO?
We probably don't have to tell you that content matters. But you'd be surprised how many SEO agencies lack content expertise. Without it, though, they're about as useful as telling you your house needs a foundation but offering you no guidance on how to pour it.
Look for an agency that both explains the role of content in SEO and has a well-thought-out approach to executing content creation and optimization. Pay attention, too, to whether they mention updating existing content. New is great, but strengthening your existing content can be equally impactful.


7. How do you incorporate data into your SEO?
There is no SEO without data. But it's not all about keywords, either.
Your SEO agency should leverage multiple kinds of data: qualitative data about your target customers, website data pulled from your analytics tool of choice, traffic data from Google Search Console, and much more.
Look for an agency that will explain all the different data sources they use and how they weave them into an elegant and effective SEO strategy. If they only talk about the data gathering bits and bobs in their favorite SEO tool, consider that a red flag.


8. What do you need access to?
This sounds like a no-brainer. But the truth is that there are some SEO tactics, like keyword research and mapping, that an agency can execute without accessing your website or your analytics. You want an agency that will go deeper.
Look for agencies that would want access to the back end of many of your digital properties — Google Analytics, Google Search Console, and your content management system, to name a few. The best SEO partners won't pass go until they have the access they need.


9. Can you scale as my website grows?
More than likely, your goal is to grow. If you're doing it right, you may even reach a point where your website becomes larger than the sites your SEO agency typically works with. This is a great thing for you but a crossroads for your partnership.
When you ask this, you're looking for two things. The first is whether or not they have enterprise-level capabilities they haven't shared with you yet. If they do, you'll be able to grow together. Heck yes.
But you're also finding out if they're invested enough in your success to help you offboard if the time comes.
It's totally okay — and maybe even ideal — to work with an agency with deep startup expertise. Just make sure that if and when you need to move on, they'll support you in that, too.


Grow Your Brand With SEO
SEO should be a growth driver. While many see SEO as the tortoise to paid media's hare, the reality is that SEO is a critical part of reaching and converting more customers.
The right SEO agency should be an essential part of that formula. But you won't know if the agency that's courting you is the best fit until you ask. Start making the most of your discovery calls by using these questions to ask your SEO agency.
And if you still aren't finding the right partner? Let's talk.