Ping! Your email has arrived in your customer's inbox. They've got two immediate options: read it or delete it. And if your business name is one your customer recognizes but doesn't identify as useful, they may even take the time to click into the email and unsubscribe from your list.
Emails are a crucial part of any good growth marketing strategy. But keeping customers engaged with your email marketing involves writing accessible, engaging, and productive emails.
Let's dive into what makes customers unsubscribe from your email list — and how to course correct.


1. They Don't Know They're Subscribed
People are put off by unsolicited marketing efforts, from door-to-door sales to advertising emails in their inbox. So while some companies might beef up their email lists by scraping customer emails from orders or inquiries, this will most likely result in deletes or unsubscribes.
The fix: Make sure you get consent from your customers before adding them to your email list. You can do this by asking customers to opt in after placing an order or when they navigate to your site.


2. Your Emails Are Too Complicated
So, you've spent hours developing the perfect email, complete with moving images, large text, and multiple HTML elements. While it may land perfectly on devices that can download it, not every phone or computer is going to be able to handle your email, which means it might only partially download (if at all). In those cases, the people who can't see your email may simply delete it.
The fix: Strike a balance between aesthetic and functional. Develop emails that are both simple and visual. Email template programs like Mailchimp can help with this.


3. You Email Too Often
We get that you want to connect with your customers. But trying to connect too hard with them via email can make your company come off desperate or annoying. Use your email list sparingly, only communicating the essentials at any given time.
The fix: Allow customers to set how often they want to receive emails (daily, weekly, monthly, etc.) and why they want to receive emails when they opt in to your email list.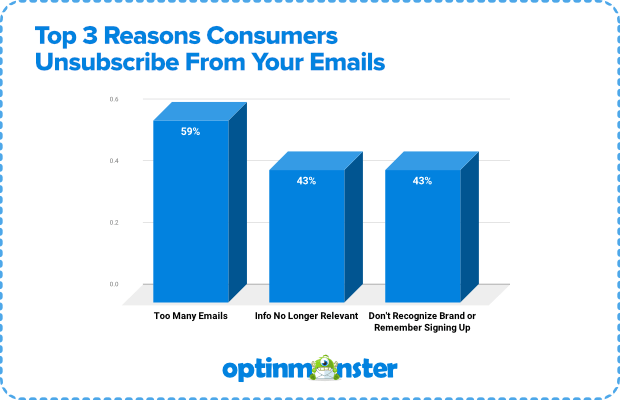 4. Your Emails Are Repetitive
Another reason why people unsubscribe from emails is repetition. Your customers are going to get tired if you keep sending them the same email. So while sales may be your priority, consistently sending out sales emails will lead to more unsubscribers than it does conversions. Vary your email strategy so that your messaging is always fresh and offers your customers something they haven't seen recently. You should limit explicit sales emails to once per week maximum.
The fix: Keeping a strong editorial calendar for your email marketing will help ensure that you're not sending too many of the same types of emails.


5. Your Emails Look Like Spam
Customers expect professionalism from email lists they've subscribed to. So if they click on your email and it looks spammy, they are likely to unsubscribe to avoid receiving similar emails in the future. What you may think of as attention-grabbing with bright colors and a salesy subject line may actually come off as spammy.
The fix: Make your emails professional front to back by polishing your wording and imagery from subject line to CTA.
Spammy words to avoid include:
Act now
Buy now
Cheap
Affordable
Open now
Hurry
Urgent
Free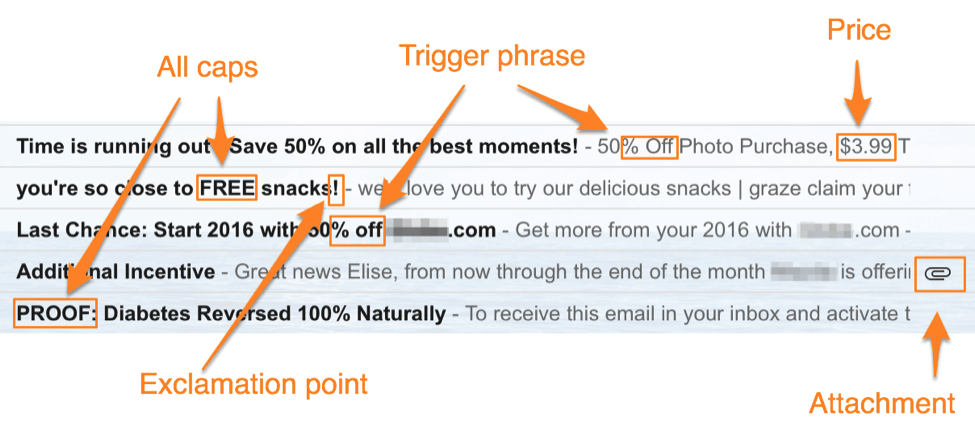 6. You Send Them the Wrong Content
Customers more than likely subscribed to your email list for a specific purpose. So if they start receiving automated email content that doesn't directly align with that purpose, they'll unsubscribe. Use analytics and personalization features to make sure customers are getting the content they're actually looking for at the time they're looking for it.
The fix: Segmenting your email list by who signed up and why can help make sure you're always hitting parts of your list with the correct types of emails. Create a set of customer personas to understand the different groups you'll be emailing. Then create a list of triggers or data that will dynamically segment your lists. Finally, build out a personalization strategy for every segment's email content.


7. You're Only Goal Is a Sale
More often than not, customers want to feel connected to brands they're subscribed to. So if they're only met with salesy emails, they might start to feel like they're being used. A good email strategy is comprehensive, meaning it provides multiple different content types ranging from informative to interesting and, yes, sometimes salesy. Make sure you provide more than just a sales pitch in your email marketing strategy to make your customers feel valued.
The fix: Send updates with company news, industry happenings, and other fun facts alongside the occasional sales email.


8. They're Just Not That into You
It happens. Sometimes customers are a one-and-done deal that isn't going to go for the long haul. And in those situations, they'll unsubscribe after they've realized they aren't going to need your service anymore. In those cases, it's best to just let them leave with a good memory of your brand.
The fix: There isn't a real fix in this case. Though, you should consider opting customers out of your email list automatically when they haven't opened your emails in a significant period of time so they don't start getting annoyed with your brand.
Productive email campaigns are essential for your growth marketing strategy. And a good strategy will toe the line between being salesy, professional, and relatable. It'll make your customers feel like a valued partner while still showing them the benefits of giving you their business.
Seem easy? We know it doesn't. Luckily, there are email marketing experts who know how to perfectly craft email campaigns to grow your business. See if hiring an agency makes sense for you.