How often do you take the temperature on your lead gen strategy? You know you need to find new business leads, but you aren't sure where to start. If "where" and "how" and "why is it soooo hard?" has been your constant refrain, no worries — we've got the best medicine: all the steps you need to find leads and get them into your funnel.
And if you think you're alone in this, you're not. Finding new leads is the top challenge for lead gen pros everywhere.
If it feels like finding new leads is leaving your funnel congested and stopped up, we've got the remedy — and it's better than a shot of vitamin C for your brand.
How to Find New Business Leads
These tips will give you some actionable ways to plan and prepare your business lead generation strategy and tactics you can employ right now to hunt down and win over new leads. Think of it as your lead gen Rx.
Create a Strategy Based on Quality, Not Quantity
More leads, more results — right? Not exactly. When it comes to effective lead gen, it's not how many leads you've got — it's how closely they're aligned with your buyer persona and where they are in the buyer's journey. But most marketers find seeking out high-quality leads a serious obstacle.
When you're trying to target new business leads, don't cast your net too wide. Instead, focus on implementing some of these tried-and-true quality boosters in your lead gen strategy:
Make use of personalization whenever possible.
Amplify your content and make sure it's what your buyer persona wants to see.
Reevaluate your current 3rd-party data sources.
Utilize marketing automation and AI.
Conduct In-Depth Competitive Analysis
No matter how unique or niche your product or service is, you've got a competitor out there and they're willing to woo your leads away — unless you beat them to the punch.
Chances are you already know your biggest competitors are in your market. But just in case (or if you genuinely aren't sure), conduct a few searches around your top industry keywords. You might be surprised at what you uncover. Once you have a list of your top competitors, run an audit to find out how they're finding and acquiring new leads. Pay close attention to:
The content they're producing and any lead magnets, gated or downloadable assets, etc.
How they're using social media, including the platforms on which they're most engaged, how they talk to their followers, and what those followers are sharing
Partnerships or collaborations with influencers, celebrities, or industry thought leaders
How they're collecting information on their website, including popups, form fills, newsletter signups, and so on


Set Up Your Google My Business Profile
Google is the top search engine by a mile, and it can also be used as a powerful tool for creating your business lead generation strategy. Google My Business is a relatively new offering to companies who want to be found by prospective customers. It's free and simple to set up. But don't think a bare-bones profile will bring in the leads.
Optimize your GMB listing with these tips:
Check your info regularly to make sure it's up to date, including contact number, website, operating hours, etc.
Add photos that convey your brand at a glance. Research shows that listings with photos receive 35 percent more click-throughs to the listed website.
Make sure you have messaging notifications turned on so you always know when a prospect is trying to reach you via your profile.
Double-check your business category and services and update as needed.
Ask existing customers to leave a review on your listing. These will be clearly visible in your profile, and recent reviews will be tagged as "New."
Be sure to check the "insights" section for data on visitor behavior and the action they take after they view your listing.
Leverage LinkedIn
For B2B brands, using LinkedIn isn't really optional. But it's more than a place to connect with other professionals in your industry — it can be an incredible source of new leads for your business.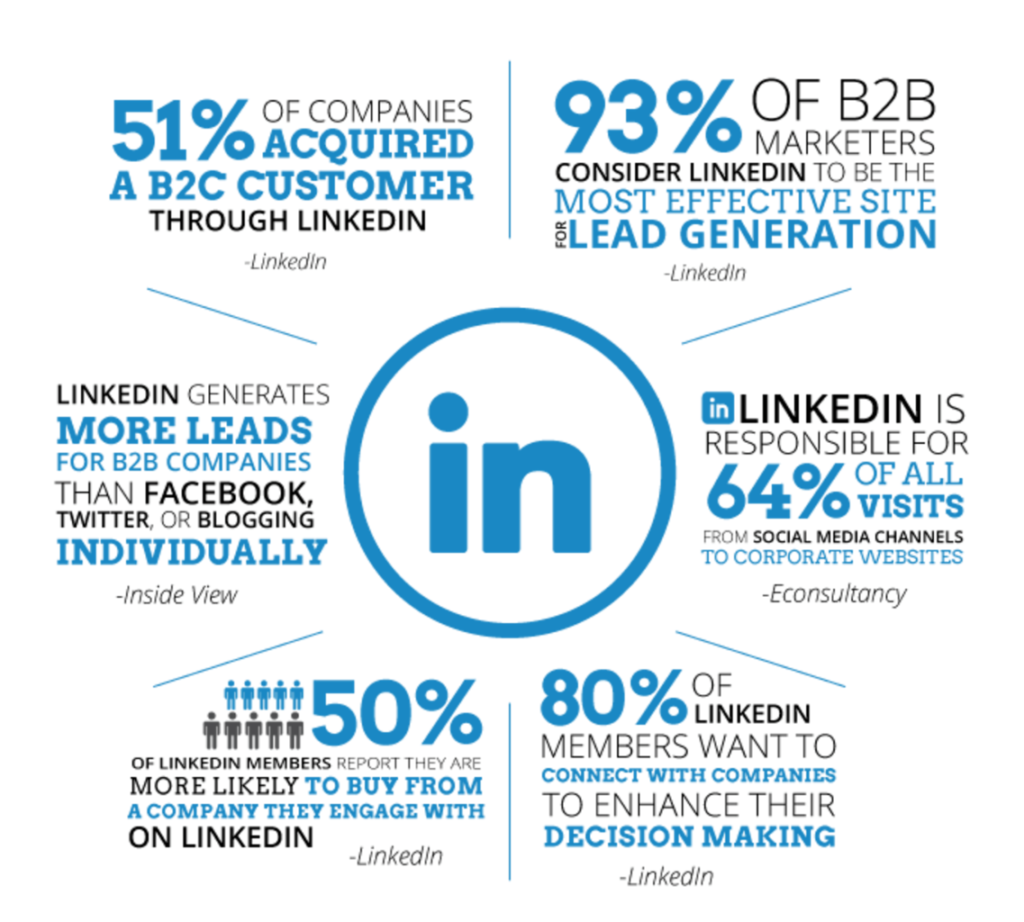 Here's how to use LinkedIn to find new business leads:
Make sure your brand's profile is optimized. Think of it as your digital business card, your elevator pitch, and your first impression, all in one.
Connect with your marketing team, but don't forget to connect with other industry professionals and thought leaders.
Post regularly — at least once a week, if not daily.
Ask for recommendations from professional connections and industry colleagues.
Skip the automation. LinkedIn prohibits AI and can detect and shut down a campaign if you're using it.
Use LinkedIn's lead gen forms to create a highly effective campaign.
Build Your Referral Engine
A significant majority of new leads for B2B brands come from referrals.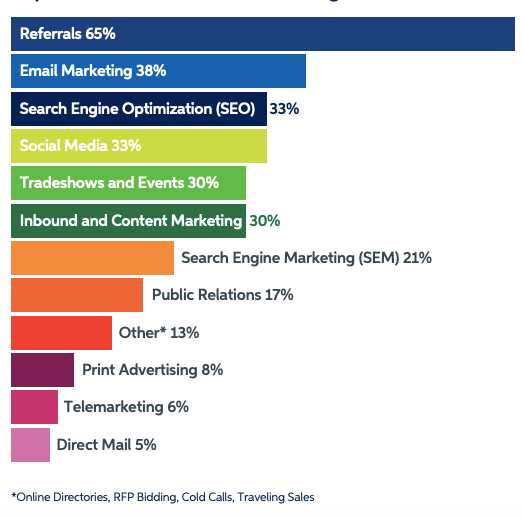 Referrals are a powerful way — if not the most powerful way — to bring in new business leads. Referrals are also a key component of growth marketing and part of the "pirate funnel." Make referrals an easy process for existing customers by:
Starting a customer loyalty program, incentivizing them to refer their network.
Build a template for referral that makes the process hassle-free.
Give them other ways to get involved, like writing a review or submitting a testimonial.
Engage with customers on social and create referral-based content they can easily share.
Ramp Up Your Content
Speaking of content, yes, it's still king. And it's still one of the prime ways to drive new leads. The trick is knowing which kinds of content will drive traffic and leads and at which stage of the journey.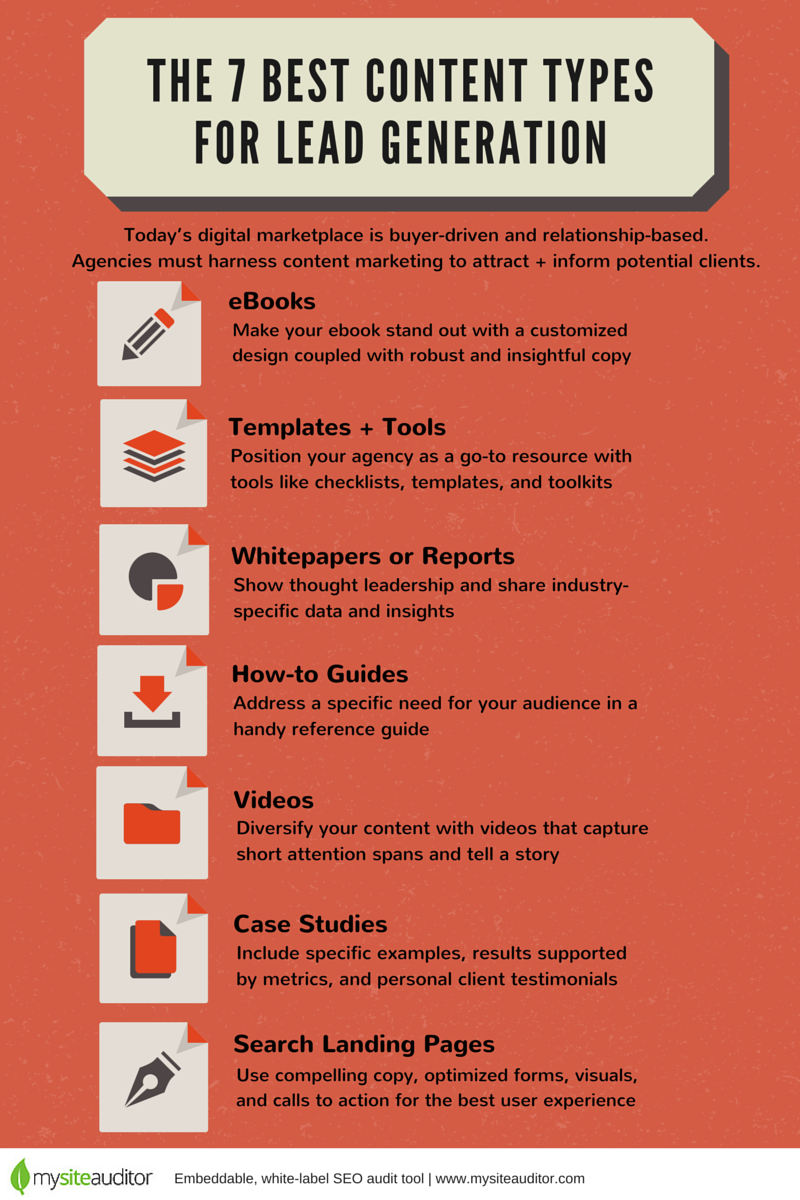 Be sure to map all of your content to your funnel so you understand how to get the right message to the right audience at the right time.
Boost Your Outreach
Backlinks are a tried-and-true way of getting more eyes on your content and more leads in your funnel. But your outreach plan should include more than building your backlink portfolio. Incorporate these methods into a comprehensive outreach strategy:
Submit articles for guest posting opportunities with other publications or websites within your industry.
Utilize HARO (Help a Reporter Out) to find resources for your own content and build backlinks.
Look for industry influencers and thought leaders and build collaborations and partnerships.
Answer questions on online forums like Quora and Reddit.
Implement Paid at the Right Time
We used to think turning to PPC was "if all else fails." Now, we take a different approach. Paid advertising can be great for a quick growth injection. But it works best when paired with an overall organic or inbound marketing strategy. A paid campaign can get you rapid results while you wait for organic leads to catch up. Together, they are a powerful force to drive growth and hit your aggressive revenue goals. But you've got to know the ins and outs of paid advertising before you can reap the rewards. And always remember: As soon as the campaign stops, so too do the results.
Need Help Building a Growth Strategy That Brings in New Business Leads?
Check out our four-week DIY Growth Marketing course! This self-guided class will be delivered directly to your inbox, where you can download all the assets you need to build a comprehensive growth marketing strategy that includes lead generation, content, and much, much more. Sign up today!