SEO in marketing is a lot like the tortoise in that fateful race against the hare. While the tortoise may not be quite as quick as the hare (in this case, paid media), an effective, slow, and steady strategy can generate big wins in the form of traffic, leads, and conversions.
The truth is that there is no SEO silver bullet. But finding the right strategy for your company can and does pay off; in fact, we've helped clients increase their traffic by 400% and their revenue by 300% in just one year.
Want 2023 to be that year for you? Here's how to make SEO a key marketing channel in 2023 and beyond.


Commit to the Long Game
As amazing as it would be to wake up tomorrow with a fully-fledged, revenue-driving SEO machine, the reality is that effective SEO doesn't happen overnight. It can take months — and sometimes years — for content to rank on Google's coveted first page.
Ahrefs found that the average page ranking in the top 10 was more than two years old. They also found that only 5.7% of the 2 million pages they analyzed ranked in the top 10 within one year.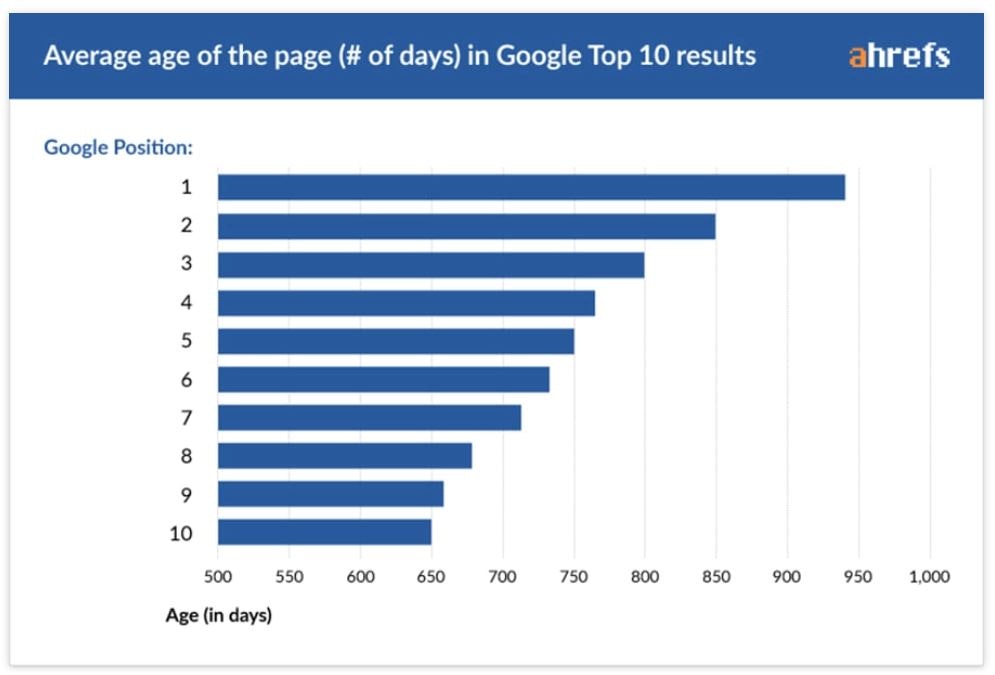 All that is to say, there's no time like the present to get started since SEO really is a long-term commitment. Commit to focusing on an SEO marketing channel so you can reap the rewards of organic traffic later on. Here's how to do it.


Conduct an SEO Audit
Even if you don't think you've been doing SEO, you still have an organic presence. If you have a website (of course you do, it's 2023), Google has cataloged all those pages, and those pages are ranking. Rather than churning out new content, start reviewing what you already have. You might be surprised by what's ranking well and what's not — and, more importantly, what's already driving organic traffic and revenue.
This will also help you measure the success of your SEO efforts since you'll have to know where you started to fully appreciate where you're going. Want to audit but not sure how to get started? Our free SEO content audit will walk you through it.


Curate Your Keywords
A list of 10 to 20 keywords may sound like a lot, but the reality is that those 10 keywords are just scratching the surface. As of 2022, Google processed 99,000 searches per second. Even if only a fraction of those searches are relevant to your organization, isn't it likely that those searches used more than just 10 different keywords?
Let's say three people are shopping for shampoo. One might Google "shampoo," another might Google "shampoo and conditioner," while the third could Google "best shampoo." Yet all three of those people could be looking for the same product.
Your keyword catalog should be ever-evolving and account for all the relevant keyword variations a potential customer might use. You can even check out which keywords your competitors are ranking for and include those terms as well. The point is, if a potential customer is searching for something, you'll want to know about it so that your content is what they'll find.



Analyze the SERP
Google is one giant question-and-answer machine. Plug in those keywords you've already curated and analyze that SERP. While those ever-expanding features can push your content further down the page, they can also tell you a lot about your potential customers.


User Intent
The first thing Google can tell you is user intent. Good SEO technology can also do this for you, but there's nothing wrong with plugging in a term and seeing what Google has to say. Let's go back to the shampoo example.
If you search a shampoo-related term and the first thing Google shows is a list of products, that's a good sign that the user's intent is transactional, meaning they're ready to buy. But if the first thing Google shows is a list, that can mean that the user really just wants more information about shampoo. These are vital signals because they can help tailor your content to deliver the experience a user is really looking for.


Content Type
Google can also help you make decisions about the optimal content type for a search term. If there are videos in the SERP, consider creating a video to go along with your blog. If the SERP is filled with listicles, maybe that's what you need to create, too.
Remember that if it's on the SERP, Google's algorithm already knows users love it. If you want on that SERP, make sure to create something that follows suit.


Set Your Strategy
Strategy is often misunderstood when it comes to SEO. But what it boils down to is this: SEO strategy defines how you will organize and optimize content to appear higher up in the search results. All of the research you've done — your audit, your keyword research, and your SERP analysis — all stack up to your SEO strategy.
Your strategy should define when you'll refresh existing content, when you'll create new content, and how often you'll report on your efforts based on whether your goal is to drive traffic, leads, revenue, or some combination of the three. The more data-driven your strategy is, the more likely it is to yield the results you're after.


Be Consistent
We said it earlier, and we'll say it again: SEO is a long game. That game plays out day-to-day, optimization-to-optimization until you're consistently generating traffic and leads. But don't think you can just set it and forget it.
The real art of SEO is not only following your strategy but adapting as you go. Some keywords may be less successful than you thought, while some might knock your predictions out of the park. Some rankings might stay strong, while others might fluctuate after an algorithm update. Heck, a particularly crafty competitor might even knock you out of the first few spots in the SERP.
For all those reasons and more, SEO is also iterative. Once you make SEO a key marketing channel, be prepared for your strategy and tactics to evolve as Google does. Keep up for the long haul, and you just might build a strong, revenue-generating SEO program.


The Future of SEO
SEO is and has always been an important marketing channel. But it's also a moving target, thanks to competitors trying to bump you out of the SERPs and even Google itself, which has made as many as 4,500 changes to search in just one year.
In 2023 SEO will only continue to evolve in 2023. Are you ready to keep up? First Page Strategy's comprehensive content and SEO strategies help you get and stay on top of the SERPs to produce consistent, meaningful results. Learn more here.