Ready for the grudge match of the century (okay, maybe the last 15 years)? Who will come out victorious – inbound marketing, or SEO?
Nah, not really. We're a little more peace, love and exponential growth around these parts. Can't we all just along?
We can. And while it's important to understand the key differences between inbound marketing and SEO, it's not actually a competition, and there's no need to choose. But since we all like a little drama...
Inbound Marketing Vs. SEO – Who Wins?
Okay, maybe we should have put a spoiler alert at the start of this article. Because the hot take here is this: inbound marketing + SEO = YOU'RE the winner.
But before you strap on that title belt, there's some work that needs to be done. Let's find out how both SEO and inbound marketing can be used in partnership to achieve your aggressive growth goals – no boxing gloves required.
What is SEO?
SEO, or search engine optimization, is a digital marketing strategy that focuses on optimizing web content for search engine algorithms to rank higher on search engine results pages (SERPs). In short, having a good SEO marketing strategy in place will help you attract more visitors to your site. These visitors that land on your site via search results are referred to as "organic visitors" because they find your site as a result of unpaid (organic) search results.
In fact, SEO is the leading traffic driver across the board.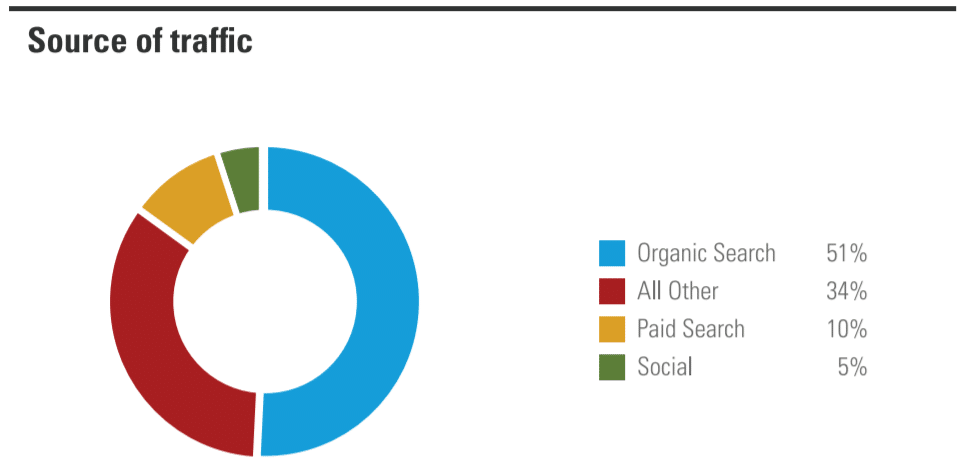 A good SEO plan will often incorporate qualifiers to enrich the organic traffic that lands on a web page. It is targeted at specific search queries that have a very specific intent for relevant visitors. And when you have a solid SEO strategy in place, it can help your brand achieve long-term, sustainable growth.
So, how can you begin putting together an exceptional SEO marketing strategy?
Understanding the factors that go into improving a site's organic visibility and rankings can be broadly divided into two categories: on-page and off-page SEO factors.
On-Page SEO Factors
On-page SEO factors rely on three critical elements:
Content: Content is without a doubt the most important element of on-page SEO. It is the primary medium through which users understand your site. Depending on the type of website, content could either be educational, informational, or entertaining. Content in the context of SEO refers to text, videos, images, graphs, and animations. It is the foundation on which your SEO marketing strategy is built, and therefore, it is important that your content be relevant and high-quality aligned to user intent. Let's take a quick look at how you ensure your content is relevant and high quality:
Relevance: Content relevance is determined by keyword usage, the freshness of content, and how well it answers user questions around the central theme.
Quality: Content quality comes down to the value that your audience derives after consuming content on the website. A few factors that influence content quality include spelling and grammar, factuality, and depth of the subject matter covered.
Website Architecture: Website architecture refers to the structure of the content on your website. It typically features a hierarchical order of pages where users find content and technical factors that improve site crawling. Here are a few essentials to keep in mind when building a website:
Mobile Friendliness: Search engines are increasingly prioritizing accessibility for mobile users when indexing websites. This can also include voice search, which will be critical for your brand's SEO performance in the months and years to come.
Load Time: How long does it take for your website to load? Lower load times make for better SERP ranking. Regardless of whether users browse your site through their desktops or mobiles, the load times should remain low.
Site Security: A valid SSL certificate is important to the overall user experience of the site and affects SERPs. HTTPS sites rank better than HTTP sites.
HTML: HTML coding is the channel through with your website communicates with search engines. HTML tags send information to search engines about your content that help it render faster. Here are a few ways you can optimize your HTML code to boost SEO:
Page Titles: Your page title is the most important HTML signal that helps search engines understand what your page is about. Titles also tell users about the content they can expect to find on your website. Your HTML title tag is what shows as the clickable link in SERPs.
Descriptions: A meta description is an HTML tag that describes your page in search results. Meta descriptions appear below the title link in SERPs. Descriptions should be representative of the content on your page.
Content Tags: Content tags like headings help in creating a hierarchical layout of your content. Your page title will typically be tagged as H1 and subheads represent lower levels of content and could feature H2, H3, and H4 tags. We recommend using keywords in your H1 and H2 tags to provide search engines with a comprehensive understanding of your page content.
Accelerated Mobile Pages (AMP): AMP is an open-source HTML feature developed by Google to help pages load faster on mobile devices. Although not a ranking criteria, AMP impacts load time, which, in turn, affects ranking.
Off-Page SEO
Off-page SEO refers to factors invisible to users that impact raking. Off-page SEO primarily includes three key components:
Site Authority: Site authority is determined by how trustworthy a website is and whether it is recognized as a leader in a subject category. For instance, Amazon will have a very high site authority for the category ecommerce. Your site authority also determines how well a search engine ranks your website.
Links: Link analysis helps search engines understand whether content on a site is trustworthy and relevant to users searching for a particular term. Links could refer to both external website and internal site links. Search engines tend to prioritize ranking for pages that link to other high-quality pages within a website or across the web.
Context: Context emerged as a key factor in website ranking as search became more sophisticated. Context can be determined on the basis of geography, user experience, and search intent.
There you have it. SEO is a strategy that makes websites and pages more discoverable to organic visitors. Next up, we explore inbound marketing and how it differs from SEO.
What is Inbound Marketing?
Inbound marketing refers to the process through which potential customers discover a business online. Inbound marketing heavily relies on content to attract, engage, and delight audiences. It also boasts some of the best ROI in the marketing biz.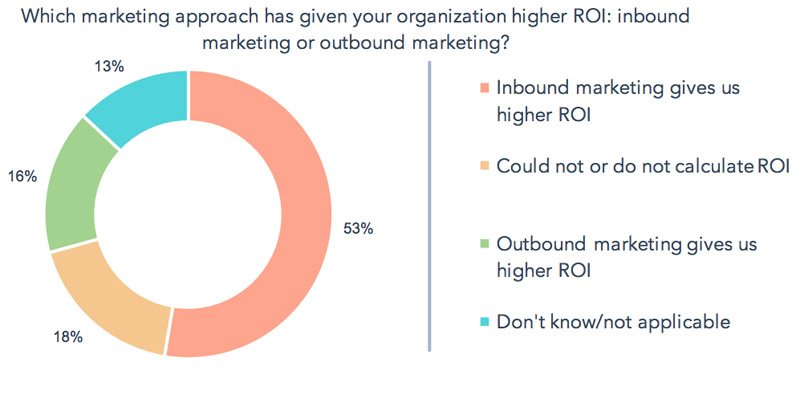 An inbound strategy can be broken down into three components:
Attraction: As we saw above, content is the cornerstone of inbound marketing and determines how effectively a company can attract potential customers. Content in this context typically takes on the form of blogs, videos, assets, and social media content that addresses customer needs and provides them with a solution or promotes a product/service.

Here is where SEO comes into play. An effective inbound attraction strategy is reliant on content and the company webpage being optimized for search. Additionally, using specific keywords will help users easily discover a company website and progress to the next stage in the inbound marketing model.
Engagement: Getting leads and customers to your website does not guarantee a sale. You must retain their interest by providing them with valuable and engaging content around your company or product/service. Engagement strategies typically involve applying marketing tactics such as email marketing, lead management, deploying conversational interfaces, and marketing automation to lead customers to purchase.
Delight: Once your customers have made a purchase, supporting them to deliver a positive post-purchase experience is the final stage of an inbound strategy. Supporting and assisting customers post-purchase fosters a positive brand perception and leads to repeat business.

You can delight your customers by providing a seamless support experience through a combination of intelligent tools like chatbots, social listening tools, and feedback collection systems. You can also deliver new support content via emails, blogs, and videos.

Ultimately, happy customers mean good reviews and future referrals. And that means that inbound marketing should play a key role in your overall growth marketing strategy.
So What is the Difference Between Inbound Marketing and SEO?
The breakdown above should have given you some insight into how inbound marketing and SEO are unique approaches to getting your brand in front of its intended audience. But while the specifics vary, most of the time, each are most effective when used together. In fact, you can stop looking at them as two separate methodologies, and instead, see SEO as a critical part of an overall inbound marketing strategy.
Still think it's a battle to the death? Check out (and share) our handy infographic.


Bottom line: there is no grudge match here. If anything, you should be tag-teaming your SEO and content strategies, under the umbrella of inbound marketing. And all of that together should fall into a carefully designed growth marketing strategy. Overwhelmed? We know, it's a lot. But our growth marketing agency relies on some of the best SEO, content and inbound marketing experts in the biz, and they're ready to jump in the ring. Contact us today to get started.