It's only been a couple decades since A.I. was little more than a futuristic film and an impending existential crisis. Well, kids, the future is now, and the robots have arrived. So far, we don't seem to be at risk of sentient androids taking over, but that doesn't mean there aren't some major freakouts happening — especially in the marketing world. Are the bots coming for our jobs? Can they create better ads than we can? Or can we use them as tools to do our jobs better?
Here at FPS, we're optimists, so we think it will be the latter. But however you slice it, AI is here to stay, and companies and brands around the world are adopting it in various formats across a multitude of use cases.
Top AI Tools the FPS Team Has Used and Enjoyed
We can't stop the robot revolution, but we can use it to our advantage. And we've tested out some of the top AI tools you can put to use right now to up your marketing game. Here's everything you need to know about our team's top picks:
If you aren't hearing about ChatGPT like a hundred times a day, you're probably living off the grid or in a cave somewhere (and therefore probably aren't reading this article). ChatGPT has taken the internet by storm, and marketers have a keen eye on how they can use it for content creation and much more. We put ChatGPT to the test to see how it would do with several marketing prompts and were pretty surprised at the results.
Used for: Creating content from user queries that sound authentically human
Words of advice: The more detailed your prompts are, the better your results will be. Use SEO keywords to ensure an optimized result. Include specific social media platforms or any additional parameters such as word count or hashtags.
Best for: Sparking ideas for blog articles, social posts, and long-form content. It's a great way to get a framework for a longer piece of content that you can then customize to your needs. It's also a good way to ramp up content production if it's hard for you to maintain a consistent schedule.
Warnings: The content ChatGPT creates is surprisingly high quality, but it still needs quite a bit of editing to ensure it's true to your voice and tone. In testing, dialogue seemed to be where the bot struggled the most. Blog posts sounded very human, while speech had a more robotic or stereotypical feel.


By now, we've all seen the nightmare-inducing images of photorealistic people with extra limbs or trippy dreamscapes that seem to come from another universe. The world of AI art is constantly evolving, but Stable Diffusion has made recent advancements that could make this service a marketer's dream.
Used for: AI-generated images, including photographic, illustrative, and advertising-style artwork
Words of advice: To get the most out of Stable Diffusion, you'll want to set up an account with the DreamStudio Beta, a suite of tools that will give you much more control over the quality and style of the images you get. With DreamStudio, you get a thousand credits at signup and can purchase more as needed.
Best for: Artistic inspiration. You may not want or be able to use all the images as marketing materials, but it can give designers some great ideas. Now, through DreamStudio, you can also upload brand logos and to customize your results better. These could be tailored and professional enough to use in more casual situations, such as social posts.
Warnings: Skip the free demo on the Stable Diffusion homepage and go right to DreamStudio. The demo images you receive are the stuff of horror films (so if that's what you're after, go for it). In the prompt below, I made up a soda brand and asked for an ad featuring that brand with a "kangaroo in outer space." As you see, there may be some copyright or trademark infringement, so you must do your due diligence in monitoring anything you plan to use publicly.


Developed by the creators of Stable Diffusion, Gen-1 is an AI video tool that uses text-to-video and video-to-video prompts to generate creative content in many different styles.
Used for: Custom video content creation. You can upload text and video prompts, and Gen-1 will transform your video into something highly stylized according to your needs.
Words of advice: Gen-1 isn't yet in wide distribution, so if you want to use it, you can sign up to be on the waitlist for early access.
Best for: Use cases are still somewhat unknown, but it will likely be a way for brands to elevate and repurpose existing video content across a variety of platforms.
Warnings: As with many AI tools, you must be vigilant about plagiarism and misuse of intellectual property. It seems Gen-1 will allow you to upload images to influence your finished video, which could be problematic if users select photos they don't have rights to. Most AI services are putting protections in place to avoid this, but so far, there's no word on how Gen-1 plans to manage that.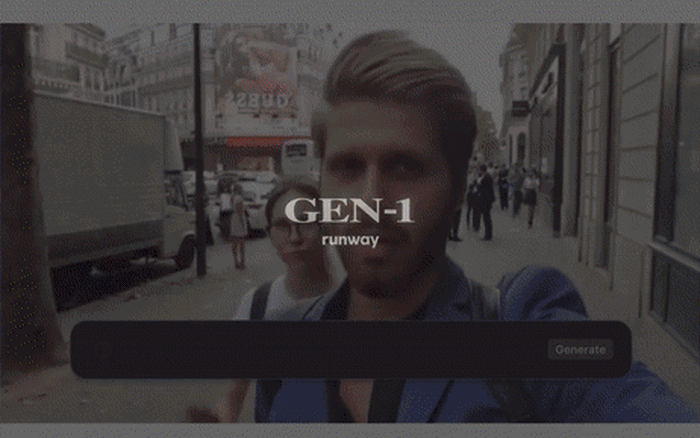 This little-known tool is one of the AIs I'm probably most excited about. With a few clicks, you can create a professional video presentation to use across multiple platforms. It's a little less end-user marketing and more internal business ops, but if you're making a lot of presentations, it's a major time-saver.
Used for: Creating polished, digital, and interactive presentations in just minutes. It's highly customizable, and the base plan is free to use.
Words of advice: If possible, start from a URL. For example, below, I pulled a previously published FPS blog, and the program generated a finished presentation using the information it contained. You may not want to use everything from a given web page, but it can quickly generate a framework you can customize to suit your needs.
Best for: Internal business presentations. It could also be used for client pitches, analytics reports, and much more.
Warnings: At a certain point, the program will cut off the number of slides you can have in your presentation. You'll need to add them manually. While we've been operating from the free plan, most of those issues can be remedied by upgrading to a paid plan.


While it doesn't write blogs or create videos or anything too flashy, Otter.ai is a fantastic and useful program for anyone who has to sit through Zoom meetings and isn't able to take copious notes.
Used for: Transcription, either from live meetings or from audio files. Can also compile notes, pull out themes and manage your calendar.
Words of advice: Take time to explore Otter.ai's features. It can now pull visual images into your notes for quick reference and can connect groups of employees to ensure even impromptu meetings are on record and have a paper trail.
Best for: Transcription services. The AI used in the program is extremely accurate and can identify different speakers and detail even unclear transitions.
Warnings: Like all transcription services, there are definitely errors, and much of it depends on your sound quality. If you're uploading an existing audio file with poor quality, you can expect some errors. It also takes some time for Otter to process a file, so expect to wait anywhere from 10-30 minutes for a finished transcription, depending on the length of the file or meeting.


Anyone else tired of hearing that AI bot voice everybody loves to use on TikTok? AI voices are getting consistently better, and Eleven Labs is at the forefront of intelligent voice design.
Used for: Text-to-speech rendering for use in content creation.
Words of advice: The beta is free to use for up to 10,000 characters. If you want/need more, you can subscribe for as little as $5/month. If you're just testing out the program, you can get away with the free version, but for very little investment, it's probably worth the upgrade.
Best for: Any of your text-to-speech needs, whether it's social media videos, website accessibility, or anything else. With Eleven Labs, you can choose from nine premade voices, design your own, or upload audio samples to clone your own voice (or a voice you have rights to) with a premium account.
Warnings: On the free plan, you can't use anything you create in a commercial capacity. Only with a subscription will you receive a commercial license for your creations (which starts with the minimum $5 plan). Keep in mind that you'll also need to have rights to any of the text you use. Also, cloning your own voice is a trial-and-error effort, and it might take a lot of audio files and a lot of tweaking to get it right.


Is AI the Next Big Thing in Marketing?
Honestly, it's not next — it's now. We can't stop the robot invasion, but we can learn to work together with them and use them to make our human marketing even better. We hope our review of these up-and-coming tools gives you some inspiration and lessens any fear you might have of the unknown. Remember that there's one thing AI can never do — be human. For now, anyway, we've got the market cornered on that.