Hot off the presses: most everyone loves remote work.
Okay, so it's not exactly a revelation. After all, what's not to love?
The answers to that are probably more surprising, as noted in Buffer's 2022 State of Remote Work report.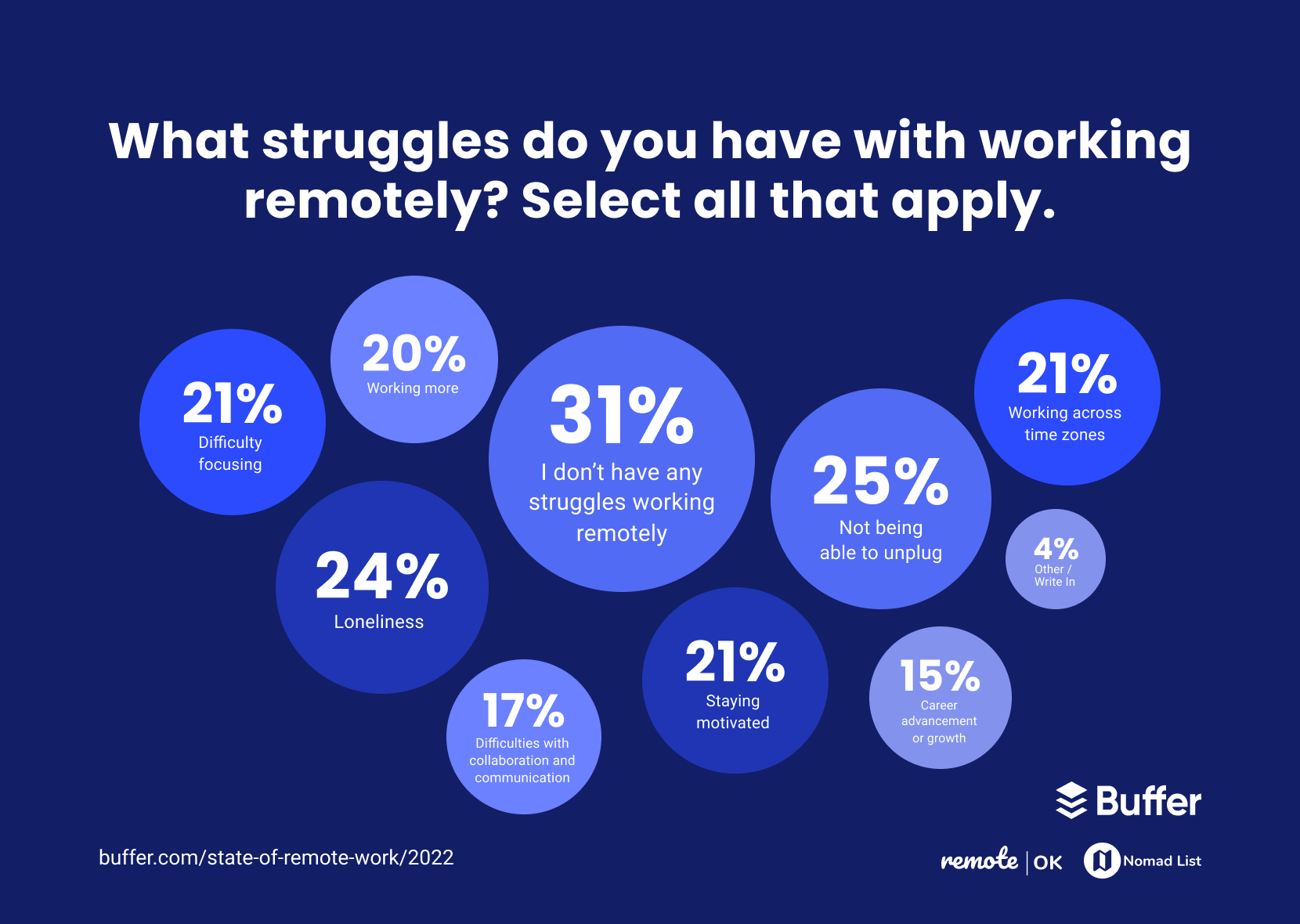 After these long pandemic years, loneliness and the feeling of being "always on" are still the biggest struggles. But up to a quarter of all remote workers report additional challenges, like staying motivated and having difficulty focusing.
Fortunately, there's a wealth of tools, apps, and resources designed specifically to address these issues. And lucky you — we've tested out most of them so you can go straight to the ones that work the best. Because, science.
But we aren't just talking about the tools everyone knows — like Slack, Google, Zoom, and so on. We're digging deep into everything the internet has to offer. So, here are our top little-known remote team management tools (in no particular order):
Communication Tools
There are two kinds of people in the world: those with zero inbox notifications and those with approximately 2,482,391 inbox notifications (it's me; I'm that person). Spark aims to get you back to "Inbox Zero" by prioritizing emails and only sending notifications for messages from your contact list. You can even share inboxes across teams for unparalleled collaboration.
Remote team management has never been quite this easy. Perfect for onboarding and training remote employees, Connecteam covers everything from time tracking to HR.
Is Meta going to take over the world? Possibly. But at least they're doing it in style. Their Workplace has been dubbed (by them, of course) as "Facebook, but for your company." And just like Facebook, Workplace offers a newsfeed for your remote team members, a messaging function and video calls. It's an all-in-one communication powerhouse that feels as familiar as your favorite social platform.
Similar to Workplace, Workvivo feels more like social media than a work tool. Engage with employees, give shout-outs, or even raise money for a good cause, together.
Zoom isn't the only player in the video conferencing game. Join.me, now owned by GoTo, offers a comprehensive video platform that makes screen sharing a breeze. It also offers capabilities to create and host webinars and is optimized for mobile devices — perfect for the WFA crowd.
Productivity Tools
Constant distractions putting a crimp in your productivity? HazeOver can help! Designed for Mac, HazeOver is a "distraction dimmer" that darkens everything on your screen except what you're trying to focus on. Perfect for anyone who answers the siren song of multiple monitors.
Okay, admittedly, I have a little too much FOMO for this one. But it's super effective (if you aren't crippled by the anxiety of not being on Insta for more than five minutes). Serene prompts you to plan your goals and set your intention for the day, then blocks the websites and apps that cause distractions. It comes with tools like countdown timers and focus music — and will even block your incoming calls.
If you don't already have the Todoist app, drop everything and download it, stat. This simple, straightforward app literally changed my professional life. The mobile version is a breeze to use — simply add your daily tasks, assign to a folder, add a priority, keep notes, attach files, and manage your daily to-do list with ease.
I haven't personally tried Zapier, but I have many colleagues who swear by it. The automation tool connects all of your work apps and allows you to design workflows up to 100 steps. You can set up if/then conditional logic to ensure Zapier takes the right action, every time.
Research shows that music — when it's the right kind of music — improves our concentration and increases productivity. That's exactly what Brain.fm does. Its functional music playlists are data-backed and proven to help you focus on the task at hand, while a neural phase-locking song helps you stay engaged.
Can working alongside strangers really help you be more productive? It can, and Focusmate proves it. This app pairs you with a random focus partner for sessions of varying lengths. After a quick check-in and goal-setting chat, you and your focusmate will work quietly and individually, with cameras on, for the length of the session. Afterward, you'll share what you accomplished. Sounds weird, we know, but for thousands of Focusmates around the world, it works.
Protect your time and make sure you have enough to go around. Reclaim is a calendar that works to give you more of what we all need — time. Make time for your habits, manage tasks, schedule 1:1s, and add automatic buffers around meetings to ensure you get time to process and regroup.
What is it about a bustling coffee shop that just compels us to get our work done? Coffitivity knows the science, and we reap the rewards. Feel like you're in a Parisian café or hiding in the stacks of a big university with ambient soundtracks for every occasion.
Balance Tools
Part productivity tool, part lifestyle app, part game, Forest really has it all. Using Forest, you'll plant both metaphorical and literal trees, allowing them to grow while you focus on what matters, whether it's work, time with family or a meaningful project. Leave the app, and your tree dies. Stay focused, and you'll earn coins you can spend on having real trees planted.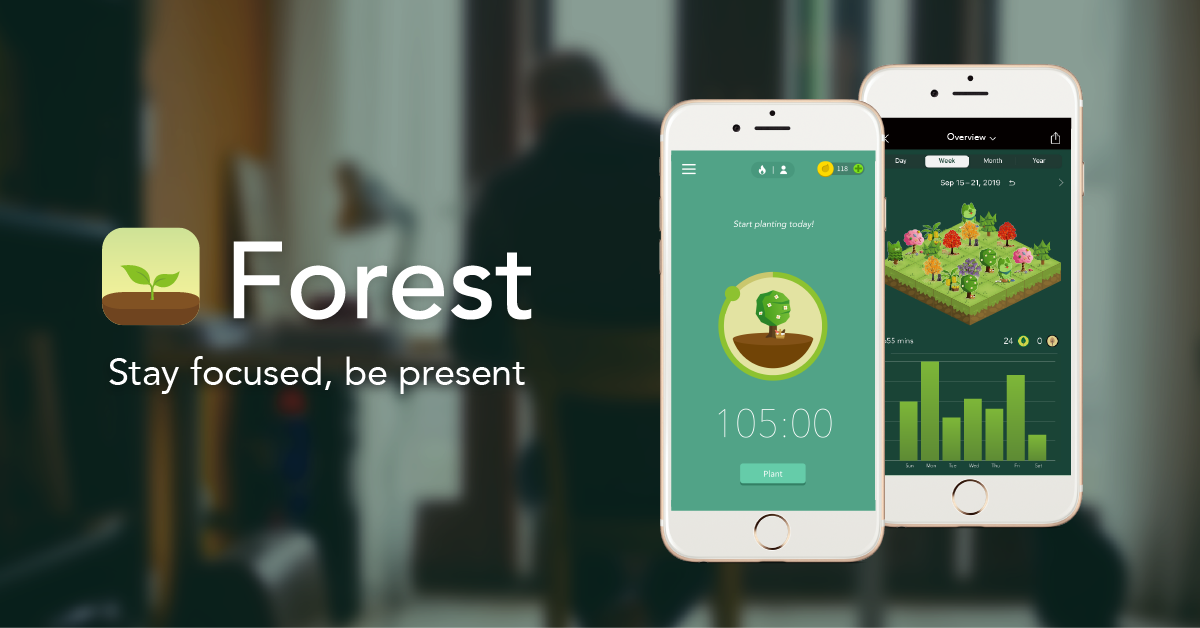 Remote workers are more prone to dealing with loneliness, depression, and other mood disorders. Loop works as a support tool by assessing your level of social anxiety (hey, after the last couple of years, we've all got it) and helping you build skills to better cope. Then, you'll be able to join in on virtual group exercises to practice your skills with other members.
Feel a sense of panic every time you misplace your phone? Space will help you work through it by decreasing your reliance on your mobile device. You'll set goals around your phone usage and can track your progress against friends or colleagues. Space even offers a business plan with workshops and training for employees.
Trouble sleeping? Wind down with Loona, and expect a better, less stressful, and more productive morning. This app includes stories and music designed to help you have a calmer evening and fall asleep faster. Sleepscapes guide you to color in a highly detailed, 3D image while taking you through a peaceful meditation. I can vouch for their efficacy — start a Sleepscape before bed, and you'll soon be out like a light.
The Headspace app combines mindfulness, meditation, and stress management in one convenient spot. There's also a dedicated work version of the app where your team can learn to balance their professional and personal lives and practice valuable self-care.
Other Collaboration Tools for Remote Teams
Another of my personal faves, Otter is extremely useful for those of us conducting regular interviews, phone calls, or video meetings. Otter's transcription services are unparalleled, and you're sure to get an accurate, detailed transcript of any audio file in moments. Sync calendars with your team and share notes within transcriptions for easy, simple collaboration.
Sunama is a great tool for integrating all your workspaces into one accessible spot. Use it to map out your workday to maximize productivity and achieve better work/life balance. Sunsama integrates with all of your email accounts, productivity tools, and project management platforms so you have big picture visibility of your day. Pull emails into tasks or drag-and-drop items from Todoist so nothing gets lost in the shuffle.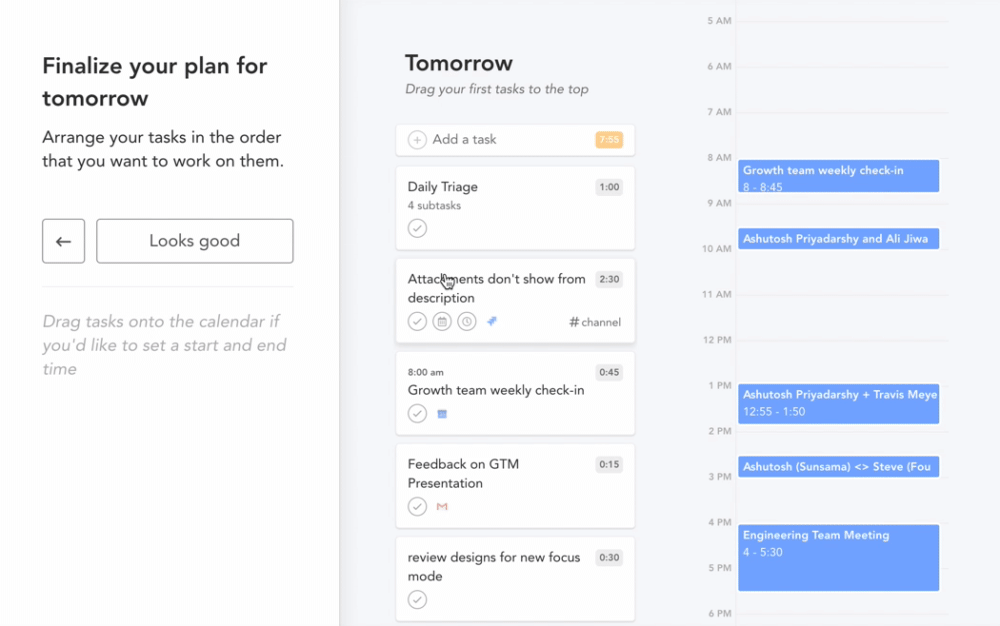 Freelancers, contractors, and digital nomads will love Bonsai. Track your time and manage projects and tasks, then easily pull your hours into automated invoices. Submit via the platform and even receive payment directly to your bank account. You can also use Bonsai for financial planning, tracking income and expenses, and paying estimated quarterly taxes.
When you're a remote worker, it isn't just your team that needs your collaboration — your family does, too. Cozi is a planning app designed for families, where you can create grocery lists, manage household chores, and sync calendars with other family members.
Working on a fully distributed team with colleagues around the world? This will be your best friend for planning meetings across time zones. Add locations to compare global times and instantly schedule your events or calls via Gmail or Outlook.
Remote collaboration and communication isn't always easy. The right tools can help.
There's something else that helps — working for a company that's dedicated to the WFA lifestyle, provides access to numerous tools designed for remote workers, and supports team members as they strive to achieve a better work/life balance.