When you hear the phrase, "remote work routine," what do you picture? Most of us have an ideal image of remote life that involves hours of maximum productivity (while working from a cozy European café or lakeside cabin), interspersed with calm, zen breaks for meditation and light stretches, followed by a healthy, energizing lunch.
The reality of working remote, however, doesn't always live up to that ideal. For many of us, our days are often more like this: Changing into your daytime jammie pants while answering emails from the bathroom, muting your Zoom meeting so no one notices you surreptitiously chewing your lunch, chatting up the Amazon delivery guy because he's the only human interaction you've had in weeks, and dragging your laptop into the walk-in closet for a little peace and quiet when your WFH spouse is on calls all day (oh, look, it's me).
Remote workers, whether they work from home or work from anywhere, are overall more productive, but it can come at a cost. They often feel more isolated and alone, and their mental health can suffer as they struggle to balance the demands of living, working, and traveling simultaneously. When that happens, they run the risk of burnout, which tanks productivity and can severely impact both physical and mental wellbeing.
We won't pretend that having a work-from-home schedule or routine will fix all the challenges of working from your home or anywhere else, but it can certainly help. So whether you #WorkFromHome or #WorkFromRoam, we've got the tips you need to build a schedule that increases your productivity while keeping you sane. Read on to find out how to do it:
Discover Your "No-Snooze Muse"
What gets you up in the morning (besides strong coffee and obligation)? Waking up tired, full of dread or resentment is going to steal your productivity, no matter how much coffee you have. Set yourself up for better mornings by giving yourself something to look forward to. Good mornings don't start when the alarm goes off; they start with the prep you do the night before. Here's how to wake up on the right side of the bed:
Take care of small tasks the evening before. You know the stuff: picking out clothes, tidying up the kitchen, prepping the coffee pot, and setting up something enjoyable to start your day (maybe pull up a yoga routine on YouTube and have it ready to go, lay out the crossword puzzle you've been meaning to get to, etc.). You don't want this to become another tedious chore, so don't spend more than 30 minutes prepping for the next day.
Get real about wake-up time. Instead of setting your alarm for 7:15 and hitting snooze until 7:53, cut yourself a break and set your alarm for 8:00. You'll wake up better rested and ready to get at it, rather than resenting the alarm and lurching through your morning routine like a zombie.
Set your morning ritual, and do it every day. We've talked about morning rituals before, and when you work from home (or anywhere else) they are the key to starting your day the right way. Plan a fitness ritual, a coffee ritual, a nature ritual — whatever inspires you to breathe and enjoy the moment. Avoid anything work-related until your morning ritual is complete (if the work waited all night, it can wait a little bit longer).


Put Down the %*#@ Phone
And we don't mean just because it emits a siren song of irresistible distractions like social media and online shopping. Having your phone on you at all times is essentially like carrying your office in your pocket. You'll be tempted to check work emails while taking a quick walk or respond to instant messages long after you're off the clock. Make a commitment to answer emails only when you're at the computer. And kick that FOMO to the curb. If there's an emergency, people do still actually have phones to call, we promise.
Schedule Your Bio Breaks
Okay, yes, when you've gotta go, you've gotta go. Don't compromise your kidneys waiting for a scheduled break. But do schedule them anyway. Remote workers tend to forget about self-care, and when they're in the zone, they may not want to walk away for any reason.
But even if your mind is going strong, your body needs a break. Ignoring your physical needs pushes you closer to burnout and eventually, your body's going to go on strike. Here's how to take breaks that contribute to productivity rather than blocking it:
Set alarms. Set one when your break starts and one when it's over. Most of the time, 15 minutes should be enough to meet your physical needs and get back to the action.
Make sure your break includes movement. You don't need to cram in a full workout, but just getting up to stretch or do a lap around the house, cabin, or resort can clear your head and get your blood pumping.
Hydrate, hydrate, hydrate. Put that energy drink back in the fridge and fill up a bottle of cold water. We don't want to sound like your mom here, but we promise, you'll thank us.
Leave the phone behind. Yes, for real. You don't need it in the bathroom, on a walk, or while you eat a snack. It will be there when you get back.
Fill That Calendar
But not just with work. Scheduling your off hours is just as important as scheduling your on-the-clock time. When you block off your downtime and make sure your calendar is visible to colleagues and supervisors — they'll be much less likely to schedule meetings or make last-minute requests.
A Google Calendar is easy, free, and extremely effective for blocking out your day. HubSpot offers a remote work calendar template that can walk you through building a routine that ensures you have enough time to work, live, and play.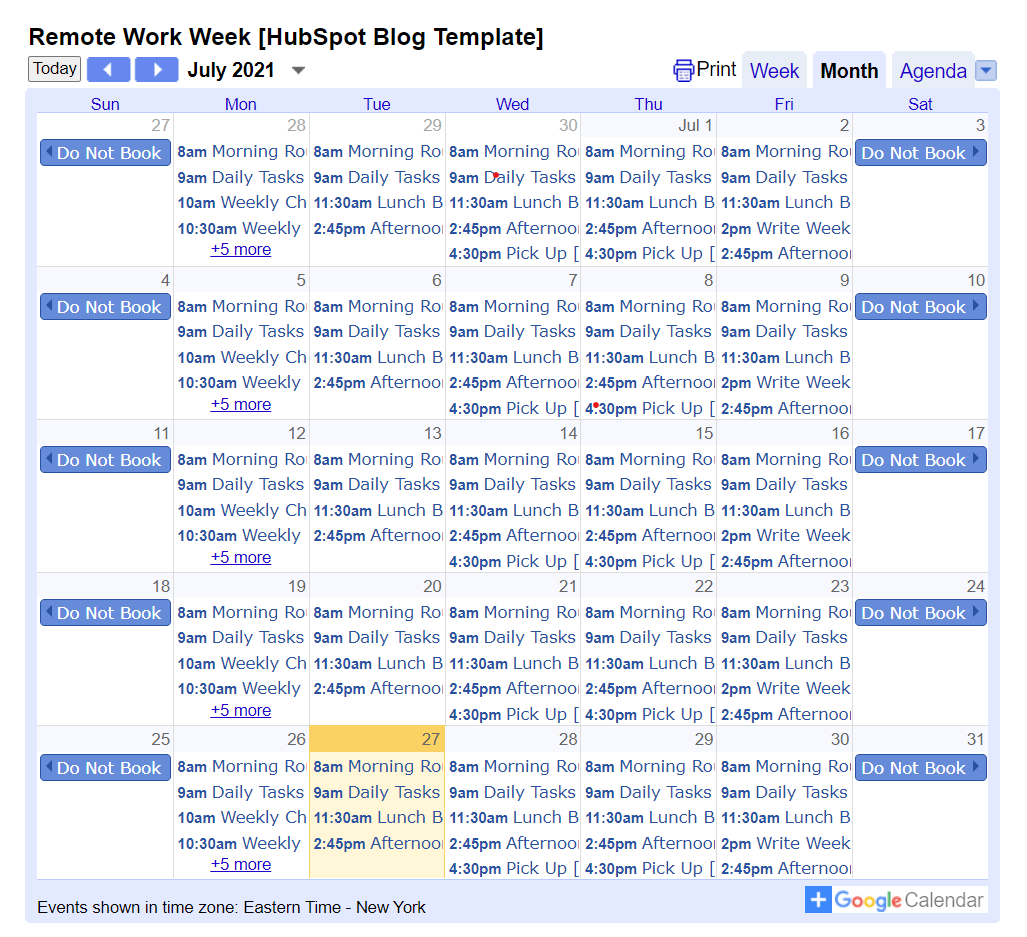 Change Your Perspective
Literally. The great thing about remote work is that you aren't stuck with the same boring cubicle view day after day. Even if you're mostly working from home, you can still benefit from a change of scenery. At Buffer, they call it "Workstation Popcorn." Basically, your work hours are plotted out by location, and you group tasks together to complete at each spot. That might be the coffee shop, the library, and your home office...or the beach, the hotel room, and the cabana (or if you're like me, the dining room, the backyard, and the aforementioned walk-in closet).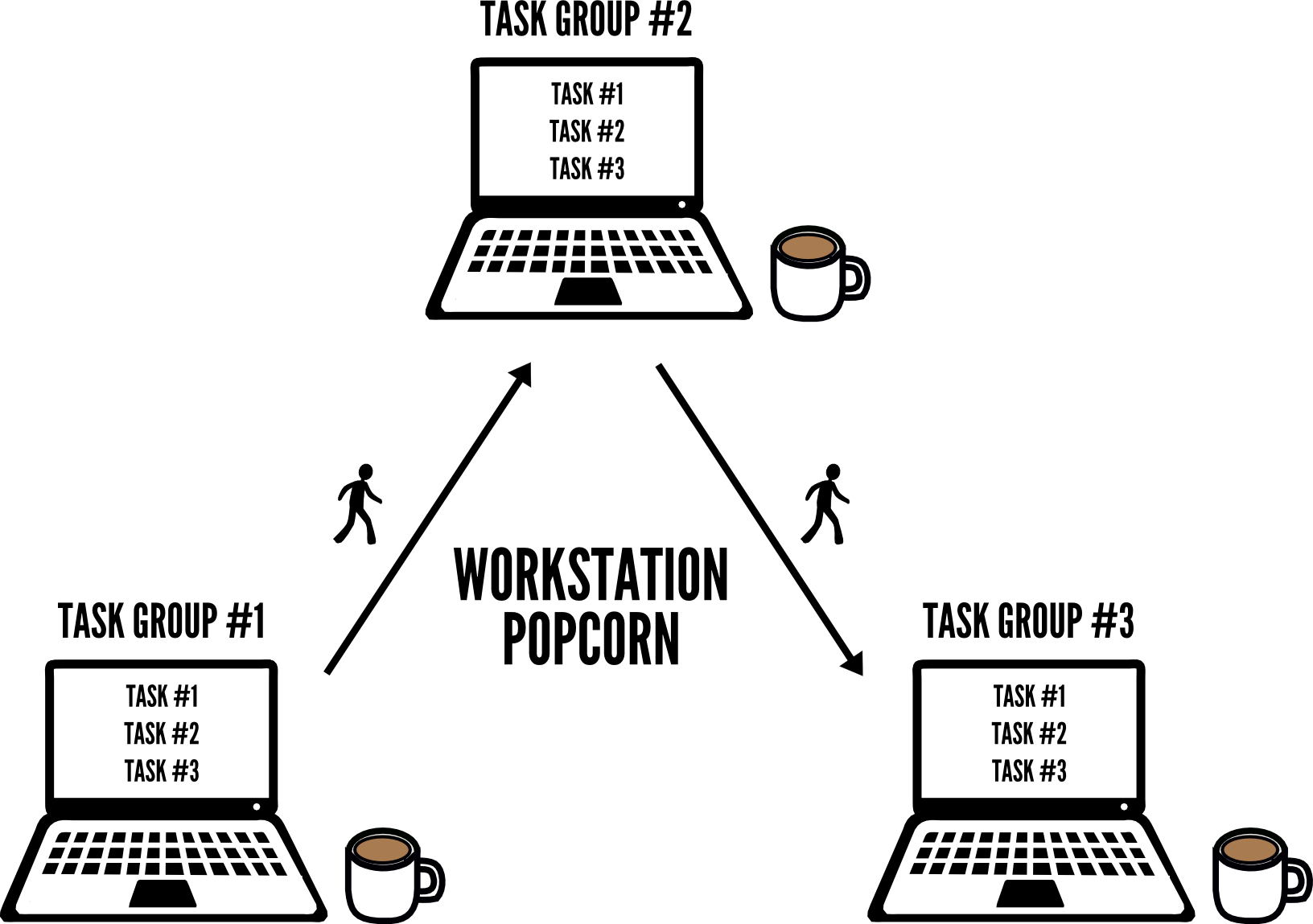 Make sure you set up groups of tasks you can complete together in one spot to maximize your productivity.
Don't Be Afraid to Get in the Zone
And let your team know you're there. If you're constantly available, you might find you're receiving constant requests. At First Page, we utilize Slack statuses to let our colleagues know when we're out of the office, traveling, in a meeting, and — you guessed it — in the zone. In the zone is the status we set when we're working on projects and prefer not to be disturbed. It automatically sets the status for four hours, but you can manually turn it off if you're finished before then.
If you use a communications tool like Slack, look at ways you block time and set statuses to inform your colleagues that you need dedicated work time. This reduces the amount of disruptions and also sets the expectation that they won't likely hear from you until your zone time is over.
So What Should My Remote Schedule Look Like?
Ultimately, that's up to you. But we've put together a breakdown that can help you map out a productive remote workday.
8:00 a.m.
Wake up. No snoozing! Your clothes are laid out and the coffee pot is on, so you're ready to roll.
8:10–8:30 a.m.
Morning ritual. Sip your coffee while you listen to your favorite podcast or read the newspaper, take a leisurely walk around the block, or do some light, energizing yoga.
8:30–9:00 a.m.
Check email. Prioritize emails so you respond first to the most urgent. If you're still weeding through them at the end of this block, save them for later — they'll still be there.
9:00–10:45 a.m.
First work block. Get in the zone if you're able to, or attend meetings and catch up on tasks.
10:45–11:00 a.m.
First bio break. Get up and stretch those legs, get a snack, and drink some water.
11:00 a.m.–1:00 p.m.
Second work block. Same as above.
1:00–2:00 p.m.
Lunch break. Make it shorter if you have meetings or deadlines, but aim for the full hour and make it feel like an actual break. Avoid eating while working — it's less satisfying, less productive, and less healthy.
2:00–3:45 p.m.
Third work block. Same as above.
3:45–4:00 p.m.
Second bio break. Same as above.
4:00–5:30 p.m.
Last work block. Same as above.
5:30–5:45 p.m.
Reflect on your day and plan for the next. Set reminders for tasks you didn't complete and get your work organized so you're ready to jump back into it tomorrow.
5:45–8:00 p.m.
Spend time with the family, cook dinner, meet up with friends, do something fun. Stay off that phone!
8:00–8:30 p.m.
Prep for tomorrow's morning ritual, tidy up your office space, and make sure you can settle in for the evening without stressing about loose ends.
8:30–bedtime
Relax! You've worked hard, and you're ready for the day ahead. For now, chill out with some great TV, a book, or people you love spending time with.
Your remote workday won't look exactly like this one, but that's okay. You can adjust the hours to your own internal clock (for instance, if you're more of a night owl) and to accommodate required work hours and meeting times. No matter how you structure it, the most important element is sticking to it. A routine is only as effective as the one who's maintaining it.