So, you've been bitten by the work-from-anywhere (WFA) bug. Or maybe you've been stranded stateside since the onset of the pandemic and now you're itching to up your globetrotting to a gallop.
If you're wondering where to wander, we've got some insights that could help you decide. Many digital nomads seek out thriving international cities, European centers steeped in history and the arts, or far-flung adventures in places no one in your family knows how to pronounce. Some, on the other hand, just want a little sunshine, a killer view, and a pina colada in one hand while they're sending emails with the other.
If the latter sounds a lot like you, you're in the right place. Or at least, you soon will be. For a few years now, most of the top digital nomad hot spots have been centered in Asia, largely due to the beautiful scenery and low cost of living.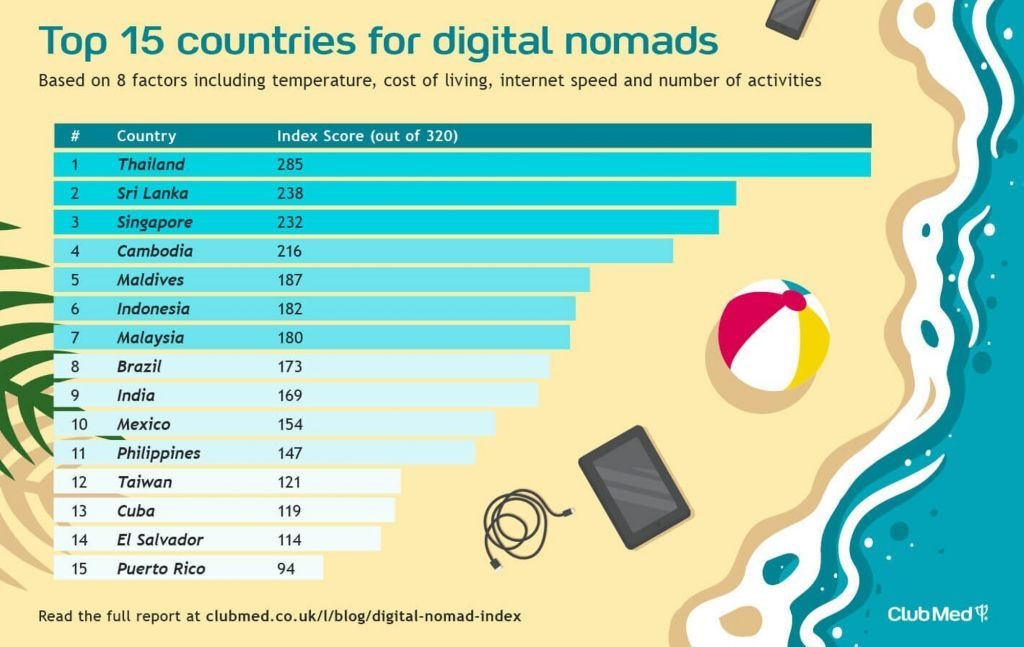 But what if you could have all that and even more? You can, and you can get it all in a place that's a little closer to home while still feeling a world away. We're talking about Central and South America, and it's not hard to see why several Latin American countries are quickly rising in popularity among digital nomads.
Let's explore why. But be warned: this blog may cause unexplained urges to start packing your bags.
Why Central and South America?
Our founder, Jeanna, has a lot to say on this topic, and rightly so. She's lived in Belize ever since leaving her corporate America gig and starting First Page. It's a choice she hasn't regretted making. Countries in Central and South America, like Belize, are friendly to digital nomads and offer plenty of benefits to sway them south.
Cost of Living
It doesn't matter how gorgeous a place is — if you can't afford to feed, clothe, and house yourself while you're there, it isn't going to work. Luckily, there are several countries in Central America that boast some of the lowest cost of living indices in the world.
Honduras and Costa Rica are both low-cost havens for digital nomads. And South America has even more financially sound options.
Most of these countries are amenable to both digital nomads and retirees because the rent is reasonable, food costs are minimal, and many accept the U.S. dollar, making paying for services and products an easy transaction.
Time Zones
While the countries of Central and South America are spread across multiple time zones, they are all aligned with North American time zones, making communications during "normal business hours" a breeze. If your job requires you to be "on" during a certain window of time, or if you have regular meetings and calls with colleagues or clients in North America, you'll be able to accommodate those without upending your entire schedule.
Internet Access
The digital nomad's most valuable resource isn't time or money — it's high-speed internet. No Wi-Fi = no work. No work = no money, and...well, you get the picture. Luckily, that's not a problem in Latin America, where there are around 450 million internet users, up from 200 million just over a decade ago.
Overall, South America has the highest internet penetration at 72 percent, but Central America isn't far behind. Bottom line, pretty much wherever you go, as long as you're in a relatively inhabited area, you're going to find internet access.
Weather
In the early months of the year (when, let's face it, most of us outside of California and Florida don't really want to be in the U.S.), Latin America boasts the world's "most perfect weather." That's pretty hard to beat.
Of course, like most places, the weather can be unpredictable. From El Nino to hurricane season to disruptive dry spells, it won't always be sunny skies. But it will be reliably warm and tropical in most locations. Plus, you'll always be near the varied geography of Latin America, which includes lush rainforests and stunning mountain vistas.
Culture and People
The countries of Latin America have some of the friendliest people you'll find anywhere in the world. They are overall welcoming, warm, and ready to embrace expats. In fact, studies have listed numerous Latin American countries as being among the most friendly to expats.
Culture is strong in most Latin American countries, with vibrant arts and music scenes, delicious and fresh local cuisine, and a laidback style.
Other Perks
As if that wasn't enough, Latin America offers plenty more benefits to digital nomads from the U.S., including:
Prevalence of English speakers
Recreational activities like watersports, hiking, and much more
Acceptance of U.S. dollar for easy purchasing
Best Digital Nomad Cities in Latin America
Okay, you're sold on Central and South America as a prime spot for living your best digital nomad life. But which city do you pick for your international headquarters? Here are some of the top selections:
Medellin, Colombia: Known for its low cost of living and exceptionally gorgeous weather, it's been called the city of "Eternal Spring." Colombia also offers a thriving digital nomad community and numerous coworking spaces across the country.
Caye Caulker, Belize: Stunning beaches beckon almost as loudly as the reliable Wi-Fi and first-class infrastructure, which make working and living here easy-breezy. Plus, Belize is known to be ultra-friendly to digital nomads, often offering incentives to sweeten the deal.
Cochabamba, Bolivia: Affordable, bursting with culture, and on the rise among digital nomads, this is a great city with a strong infrastructure and good internet access. In fact, Bolivia is overall a great choice for nomads on a budget (this couple spent nearly two months there for just over $2,000!).
Santiago, Chile: If you're looking to start your business outside the U.S., this is a great pick, as the city is very welcoming to startups and often awards grants for those who choose to locate there.
Of course, there are many more cities, towns, and villages in Latin America ready to welcome you with open arms. Do your research, look for incentives and always check restrictions for traveling, extended stays, and working as a digital nomad in a foreign country.