The way we travel is shifting, and so is the way we work. In many cases, the lines between the two are blurred. For digital nomads, it's always been that way. But now that more workers than ever are joining the remote lifestyle, we can expect to see even greater overlap between the jobs we work and the far-off places we explore.
Remote work and digital nomadism had been around for many years before the COVID-19 pandemic, of course, but the global health crisis still served as a catalyst for many who hadn't yet realized the opportunity of working from home — or working from anywhere — was available to them. Now, three-quarters of workers say they'd prefer to live away from their employer's headquarters.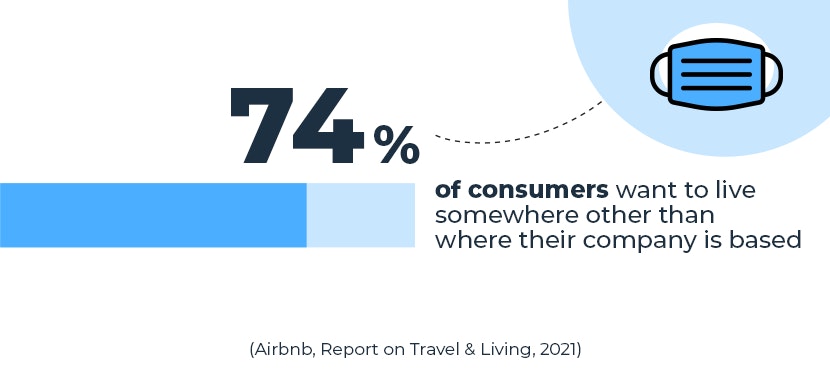 Without being tied to an office (or even a particular city or state), remote workers are discovering new ways to perform their jobs in the surroundings they choose.
And after a rough couple of years for the travel industry, it seems things are finally on the upswing. Both business and personal travel have begun to rebound, though there are still numerous concerns.
Taking Remote Jobs to Hotels, Resorts, and More
In spite of these worries, many hotel chains, both small and large, have uncovered an opportunity to cater directly to remote workers looking to travel to far-flung locations or simply seeking out a brief change of scenery. Whether you're looking to work somewhere just down the street or on the beaches of Central America, we've got all the recommendations you need.
We've compiled some of the best accommodations designed with remote work in mind. Here are our top picks:
Major Hotel Chains
Work Anywhere from Marriot Bonvoy: If you're just looking to get away from your tired home office, Marriot's day pass will deliver. You'll get 12-hour access to a guest room with a desk and private bathroom, plus complimentary coffee and bottled water. In some locations, you can also take advantage of the facilities' business services, such as printing, faxing, and scanning. Day passes are available at many of Marriot Bonvoy's worldwide locations, but it's still best to call before you go.
WorkSpaces by Hilton: This is another day-use option for remote workers hoping to stay local or find a quiet place to work while on the go. Book a private room for the day, and you'll get a full-service workstation with an ergonomic chair, high-speed Wi-Fi, and all the coffee and tea you need to power your productivity. Many rooms also include inspiring views and executive lounge access.
WFH (Work from Hotel) with Kimpton: Kimpton hotels, part of the IHG family, are known for their commitment to wellness. As part of their Business Edge initiative, guests will be signed up for the rewards program, which guarantees free Wi-Fi, complimentary bike rentals, and a yoga mat in your room. Individual locations also offer separate WFA packages, with either private or communal office spaces, meet-and-greets, wine tastings, and more.
Work from Hyatt: You want options? Hyatt's got them. The hotel chain offers a number of packages for remote workers, from day passes to extended stays. Their "Great Relocate" package is designed for nomads who want a full, immersive experience. Stay for more than a month in their properties in Paris, Mumbai, Dubai, and more, and you'll get access to everything you need to work, play, and relax.
Resorts
Casa Delphine: Don't let the resort's small size fool you. With just five rooms and an intimate coworking space, the Casa Delphine in San Miguel de Allende, Mexico, is a dream come true if you're looking to get away but not get off the grid. You'll still have access to Wi-Fi and plenty of workspace, but you'll also be able to take advantage of one of Casa's Sabbatical Sessions, where you can learn beading, weaving, ceramics, and more.
La Samanna: Why WFH when you can work-from-villa? This St. Martin resort goes above and beyond the standard high-speed Wi-Fi. Here, you'll also get beachside morning yoga, an afternoon massage, and a private cabana. The three- and four-bedroom villas are perfect for traveling with coworkers or with family and friends.
Casa Chameleon: Take a weeklong break in Costa Rica with one of Casa Chameleon's "Workcation" packages. Perks include a personal assistant during the course of your stay and a poolside daybed that you can use as an outdoor office. Plus, the resort is all-inclusive, so you'll never have to worry about what to eat or where to find a meal.
The Turtle Inn: For obvious reasons, we can't forget about Belize. The Turtle Inn's "Inn Residence" package is designed for remote workers looking for an extended stay. Stay for a month or more and you'll get 20 percent off the standard rate and all your food and beverage purchases. You'll also get a $300 credit for resort adventures and downtime fun.
Viva Las Office: Want to add a little glitz and glamor to your WFA life? Hit the Vegas strip and stay at the world-renowned Bellagio or Aria resorts. Take advantage of exclusive perks like a dedicated assistant, early check in and late check out, and credits for food and drinks. You may also qualify for discounted airfare.