Ever get the feeling that most corporate leaders have their heads in the sand, oblivious to what's actually going on around them? Us, too.
We can understand the desire to put your fingers in your ears and sing "La la la" while the world burns. Like the spring of 2020. It was a crazy stressful time. Global health crisis, social injustice, and a massive shift to remote work for a majority of knowledge workers in the country –that's a lot of stress. At companies that hadn't previously made any efforts on the remote work front, the change was sudden, unexpected and in some cases, brutal. Adjusting to daily Zoom calls instead of in-office meetings, Slack chats instead of water cooler talk and makeshift home offices was a major culture shock.
But you know what? The workforce persevered. And for the most part, they discovered that working remote offered them the flexibility and autonomy to balance their professional and personal lives, and the time and ability to be even more productive.
In fact, earlier this year, a vast majority of remote workers said their hope for the future was to remain fully remote, or remote-first.
Soon after, though, there was another rallying cry –the one from C suite execs demanding employees return to the office (*cue eye roll*). It's too soon to know for certain if this will be a dumpster fire of a disaster (spoiler: it will), but already, we're seeing some pretty dangerous fallout from forced office returns.
In fact, Slack's Future Forum report uncovered a lot of disturbing trends. Most notably, the fact that knowledge workers in the U.S., after finding job satisfaction and overall happiness in their remote work situation, now say they're feeling less balanced and more stressed than ever.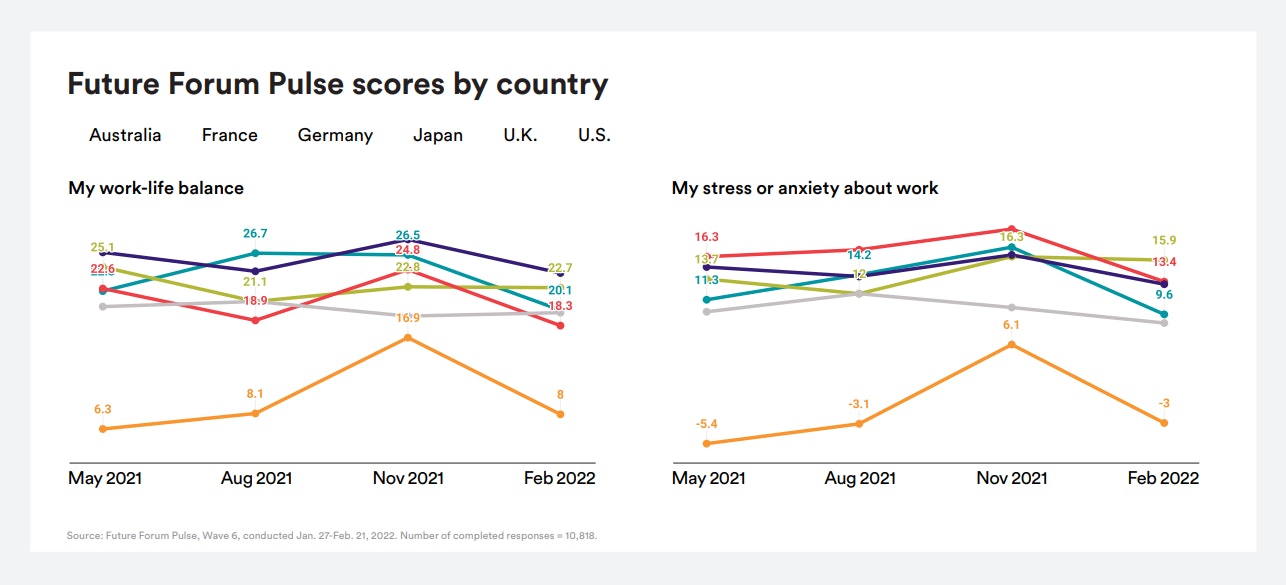 If you're a remote worker or manage a remote team, the report is a must-read.
So, why now? And why is there such a disparity in opinion between execs and remote employees? Let's explore:
Why the Return to the Office is Going to Flop
Some companies are pointing to the research above as the reason employees should return to the office. But in the desperation to "get back to normal," the mental health and wellness of most knowledge workers is being overlooked. Here are some of the top reasons this is a giant fail in the making:
Out-of-Touch Executives
Never has the distance between C-level execs and their employees been more obvious. And while executives are most likely to support a return to the office, they are the least likely to be behind the desk. In fact, non-executive knowledge workers are twice as likely to be in the office as their bosses.

This shows a major disconnect between employees and leadership, and is a major cause of dissatisfaction in the workplace.
In-Office Perks that Fall Flat
So, you're stocking the break room fridge with La Croix and Topo Chico? Replacing the conference room table with a ping pong table? Super (/heavy sarcasm). While we can't fault companies for trying to make the transition back to the office easier, many of them haven't yet realized what their employees actually want – flexibility, autonomy and the ability to manage their work/life balance as it suits them.
Bottom line: it doesn't matter how many catered lunches, beer carts or in-office slides you provide, if an employee can't pick up their kids from school, take an elderly relative to the doctor or make time for an appointment with their therapist.
The Great Resignation
In 2021, the quit rate across U.S. industries hit an all-time high, and it's still climbing. There are many reasons for this (see below), but overall, the American workforce is unhappy, underpaid, and unwilling to settle for less than they deserve.
This crisis will have long-lasting impacts, and when combined with supply chain disruption, a volatile political climate and overall worsening mental health, it's not going to get better until decisive action is taken.
Burnout
Research into the Great Resignation has detailed numerous reasons that employees are leaving their jobs. And number one on the list? Burnout.
With so many people quitting their jobs and widespread difficulty with recruiting and sourcing new talent, the workload is simply being redistributed. Add in a stressful return to the office, a daily commute, more meetings and more work in general, and the U.S. workforce is, simply put, struggling.
What Can We Do to Minimize the Damage?
If you're a manager with a company that's pushing for a return to the office, or simply want to be prepared to make a case for continued remote work, here are a few tips to keep in mind:
Define what "remote work" means to your team. Remote work varies from company to company. It may mean that employees can work from home, but have to be there and available during all regular business hours. It may mean that they can work from anywhere, on a flexible schedule that works for them. Or it may mean adopting a hybrid schedule, with some time remote, and some time in the office. Whatever you decide, make sure this is clearly communicated to employees, and be sure to seek out their opinions and viewpoints before committing to something that may end up pushing employees to resign.
Offer perks that matter. As we mentioned earlier, no one really cares that you're providing snacks and beverages when they haven't seen their family in a week straight. If you're able to keep them remote or remote-first, ask them what benefits you can provide that would have a positive impact. Maybe it's a stipend to fix up their home office. Or maybe you agree to cover the cost of their Wi-Fi, or a subscription to a meditation or wellness app. Whatever you do (and we seriously can't stress this enough) – ASK YOUR EMPLOYEES WHAT THEY WANT. It's not rocket science. It's as easy as having a conversation, or sending out a poll. You won't be able to accommodate everything, but your employees will feel heard and valued, and that counts for a lot.
Be on the lookout for burnout. Burnout sucks. And now, more than ever, we understand the fallout. Burnout takes a serious mental, emotional and physical toll on your employees, and that impact extends to their families, their communities and to your company. Watch out for the signs of burnout, including missed deadlines, change in attitude, hopeless outlook, tiredness and withdrawal. When you see someone who may be struggling, reach out to them. Ask what they need, and look into the options and resources you can help them connect with.
Stay flexible. As noted above, flexibility was the most valued benefit of remote work overall, but it's true whether employees are in the office, at home or anywhere else. Be accommodating when you can, keep the lines of communication open, and connect with your team whenever and however possible.
Will the Return to the Office be a Hit or a Flop?
Only time will tell. JK, we already know. It's a huge fail, largely because it demonstrates how disconnected the upper echelons of the corporate world are from ordinary employees, and how little they value the wellbeing of knowledge workers. But it's not too late to turn things around! As remote teams thrive and reach out to support employees and industry colleagues, we can make a difference and continue to grow acceptance of the WFA lifestyle.
Want to work for a company that just gets it? Why not work for us! At FPS, we're fully remote and fully committed to the wellbeing of our team. We offer perks that people actually want, a flexible schedule and unparalleled autonomy. Check out our job listings to see if there's a great fit for you!