So, by now, we all know that remote work is viable, sustainable, and for many employees (and even employers), preferable to traditional office work. We could tell you how remote workers are often more productive, get more done and appreciate the autonomy that comes with freedom from the "butts in seats" mentality.
We could...but you already know that, so we won't.
Instead, we're going to tell you some of the coolest perks that come along with the remote work lifestyle and point you in the right direction to learn more. We've curated some great info on what it means to live that WFH life, and it might be enough to give you the push you need to go fully remote (or it might be a reminder on the days you'd rather wear a cat filter than show your face on Zoom that this is still a pretty sweet gig).
(Above: All of us in late March 2020)
Benefits of Working from Home
Here's our roundup of the top perks of working remote and where you can go to find more information on how to make working from home work for you.
Don't Worry, Be Happy
So, it hasn't all been sunshine and roses. So, you wore the same wrinkled dress shirt with your rainbow-print leggings for a week's worth of virtual meetings. So, you spent more time on TikTok than e-learning with your kids. So, happy hour felt a little more like "cry into your wine hour."
The last year and a half has been rough, but that's not the fault of remote work. In fact, most employees who made the shift to totally virtual now say that they'd be happier not returning to the office in a post-COVID world.
Check out more statistics about job satisfaction, remote work, and overall happiness in OwlLab's State of Remote Work 2020 report.
The bottom line is this: most remote workers report being happier and more fulfilled while working from home. Why? We're about to find out.
More Flexibility Than a Yoga Instructor
Feeling lower than a downward-facing dog? Remember this: many people who work from home have the ability to set their own schedules, especially when they work for fully distributed companies. In fact, that flexibility is the biggest benefit among all remote workers post-2020.
Imagine a world where you aren't watching for the clock to hit 5 p.m. or scrambling to run 30 errands over your lunch break (while you forget to actually eat lunch, of course). Remote work — when you're with the right company — means your work and your life aren't in constant competition. You can work when it makes sense for you, and spend your time the way you want.
But how do you manage it all? Get the tips and resources you need in this comprehensive how-to guide for working remotely.
Get 8 Days a Week
It's not just a Beatles song. On average, remote workers gain over 8 hours in a week of free time —that's one full workday!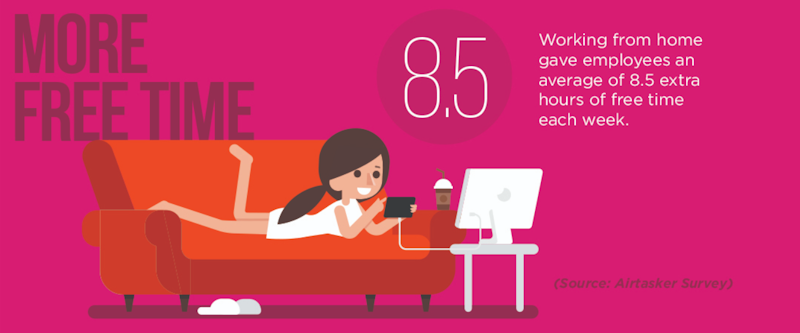 What would you do with an extra day in your week? Read (or write) that bestseller? Spend time with your family? Learn a new skill?
You can do all that and more, but with great (extra) time comes great responsibility. A daily remote routine will help you get your work done while leaving time for things you enjoy.
And if you need more advice on how to take care of yourself when working from home, check out this guide with tips from remote workers who are killing the WFH life.
Find Your Zen
When your work/life balance is out-of-whack, nothing feels particularly fun. Remote workers are at greater risk for blurring the lines between work and home. They often feel they have to be "on" at all hours, are more susceptible to loneliness, and have difficulty distinguishing between work time and downtime.
"This is not a cool perk of remote work," you say. And you're right. The perk is that working from home gives you the opportunity to achieve a better work/life balance than you've ever dreamed of. Flexible schedules, more autonomy, and asynchronous work mean you can get your tasks completed when and how you want. And once you've got that nailed down, you'll find your work life and your home life suddenly in tune.
FlexJobs, a leader in helping workers find remote jobs, has a guide on achieving a better work/life balance when working remote. And for a little extra credit, check out our write-up on Self-Care 101.
Save the Earth While Working in Your Jammies
What's better than working when you want, where you want, and how you want? How about helping the planet at the same time?
Working from home reduces the time you'll be in the car, clogging up the ozone layer. It also cuts back on the amount of disposable goods wasted each year (you're more likely to use washable plates and cups when you're at home).
Want to know more about how remote work benefits the environment? Find out in this guide from VirtualVocations.
Make $$$, Save $$$
It doesn't feel like it in the moment, but that morning trip through the Starbucks drive-thru adds up. So do those work lunches, office parties, gas for your daily commute...and the list goes on. In fact, most WFH employees save up to $4K a year in transportation-related expenses.
What would you do with an extra $4,000 a year? Put it toward retirement? Vacation? Or start your business? The possibilities are endless, and it all starts with making smart choices as a remote worker.
Want to learn more ways remote work can grow your bank account and find inspiration to start saving? HalfHalfTravel has 12 tips to save money while working from home (or anywhere else).
Are you convinced about the perks of working from home? Or ready to see the remote work glass half full again? At First Page, we're experts in the perks of remote work. From book clubs to quarterly awards to shared Spotify playlists, we understand remote work culture, and we find a way to make our employees feel appreciated, understood, and valued. We think that's the biggest perk of all. Learn more about the perks of working with First Page, and see if there's a job opening that's right for you!