It's a simple equation: more leads = more business. Except it's not really all that simple. It's more like this: (the right leads + the right messaging + the optimal channel / cost per acquisition = revenue) x infinity = growth.
Have we lost you yet?
Okay, we're not exactly math whizzes, but we do know that growing and converting leads can be a major headache for brands. In fact, it's their number one complaint:
Fortunately, we've got some tried-and-true tips on bringing in more leads (and turning them into conversions) that will help you achieve long-term, sustainable growth.
How to Generate New Leads in 7 Easy Steps
Okay, here's an equation that actually is really simple (we promise): better leads + top-notch strategy = better results. When it comes to lead gen, it isn't really a numbers game.
In fact, we'd go so far as to say that less is more, with the caveat that the less has to be comprised of the highest quality leads. Marketers know that it's not about finding the most; it's about finding the best.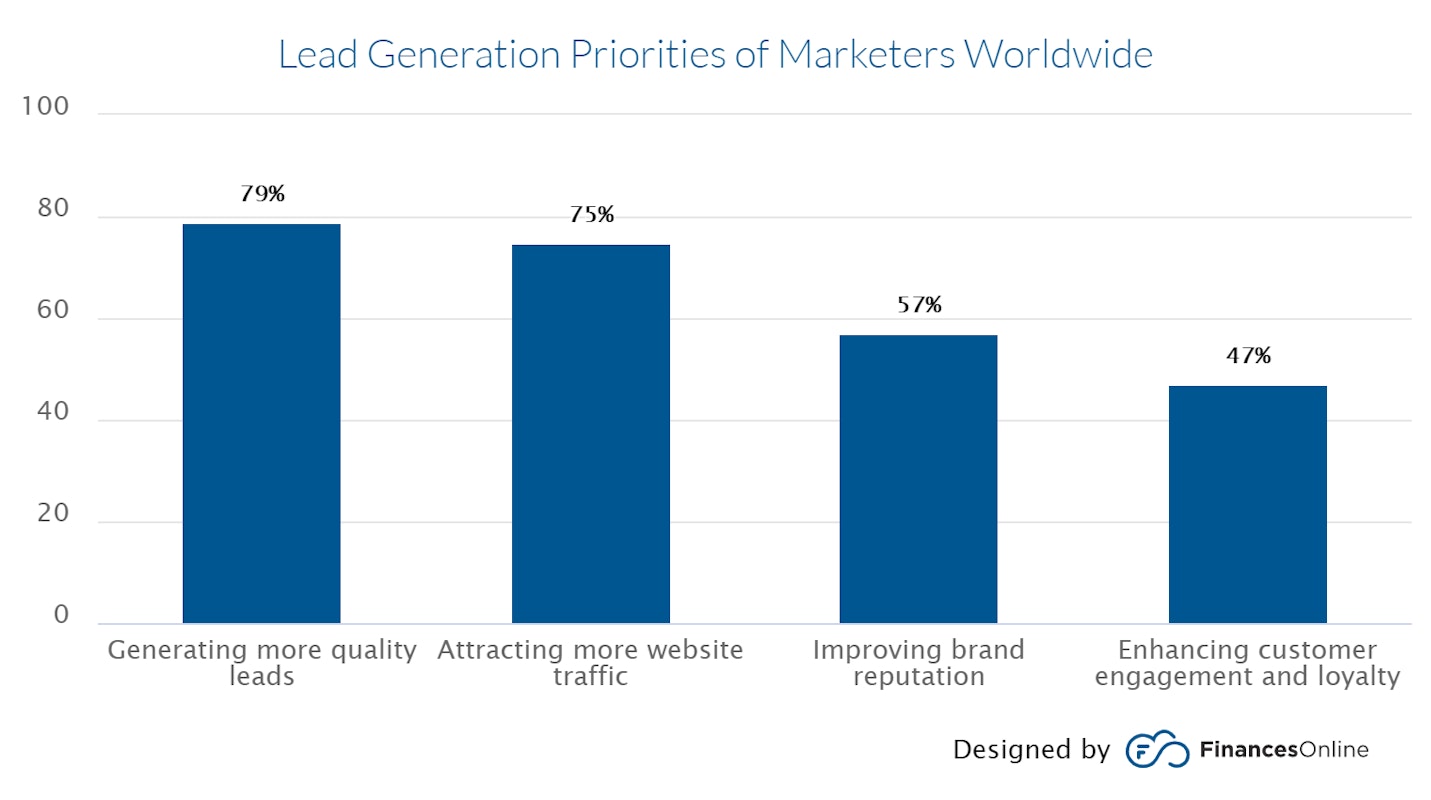 Of course, as you can see, getting more overall traffic is still a high priority. So here, we'll tell you how to do both: generate more new leads and ensure they're the right ones for your brand.
Paid Ads on Social Media
Your brand's presence on social media has never been more important than it is now. But thanks to shifting algorithms and privacy settings, you can no longer rely on organic reach alone to connect you to the right audience.
Paid ads are vital for lead generation, and even on a modest budget, they can be an effective tool for delivering your message to the right audience. In fact, social is now the fastest growing medium for ad spend and is predicted to overtake television ad spend for the first time ever.
You may have already chosen the best social platforms for your business, but navigating paid ads, boosted posts, targeting, and more can be tricky. As a HubSpot certified agency, we always recommend their marketing services and we especially love their ad management software.
What makes them such a great pick? HubSpot integrates ad management with your CRM to find leads that are already interacting with your brand via your website and helps you create customized social campaigns that drive results.
Their precise, in-depth segmentation leads to highly effective retargeting campaigns and automated ad sequences that capture, nurture, and retain your leads.
Email Marketing and Newsletters
Before you scoff at our recommendation for email marketing, you should first read about its renaissance in a post-pandemic marketing world. Yes, email marketing is a true comeback kid, and it's one of the most effective lead gen tools in your inbox, especially if you're looking to boost ROI.
There are a few things you need to keep in mind when using email to generate new business leads:
Personalization is the most effective way to convert leads through email.
A majority of consumers open emails exclusively on mobile devices and will ignore/delete emails that aren't optimized.
Interactive content improves open rate, while embedded video content increases CTR by 300 percent.
Blog Posts with CTAs
Creating content for blog posts should focus on serving the needs of your existing customers while simultaneously catching the eye of new leads. But simply writing articles about your business isn't enough. The best lead-generating blogs also contain strong CTAs that offer gated content in exchange for the user's data. Carefully crafted and positioned CTAs not only bring new leads; they also drive blog revenue.
But if your blog CTAs aren't getting clicks, it might be because they aren't optimized for lead gen. It all starts with placement. The most effective CTAs are generally those that are positioned in the middle of your content.
If you've been saving CTAs for the bitter end — stop. As a general rule, simple CTAs perform better near the top of your content, while complex CTAs are better off at the bottom. However, a middle-of-the-road form fill for lead gen is best suited for the first half of your content.
Product Demos
Creating video content is easier and more cost-effective than ever before, and besides that, it's a great way to bring in qualified leads. Demos and how-tos continue to gain popularity on YouTube, and with more than 100 billion monthly users, you'll have a wider audience than if you'd advertised on cable TV.
When creating product demos, be sure to give enough information to leave viewers feeling satisfied, but always give them a reason to learn more. Instruct them to click the link in the video description to find out even more useful tips and insider pointers on using your product, and offer a user guide or instruction manual they can download.
By this time, they know your product, they understand how to use it, and they've been elevated to the rank of highly qualified lead.
Downloadable Content
These days, data is worth its weight in gold, and amidst heightened privacy and security concerns, it's not something your audience is always willing to give up.
Creating gated content and lead magnets is a great strategy to capture information, but it has to have enough value to justify the exchange. If your content is packed full of information your readers can find with a simple Google search, well, that juice isn't likely worth the squeeze.
Instead, you need to craft content that is compelling, unique, and useful to your audience. A solid content strategy includes downloadable pieces like guides, checklists, calculators, spreadsheet templates, and more. You want to design assets that make their lives easier while simultaneously moving them through your sales funnel.
Be sure your content downloads are positioned in places that match buyer intent; for example, you wouldn't want a quick-start checklist on a blog that's tailored to existing customers who already understand your products and services.
Optimized Landing Pages
Creating landing pages that serve the needs of leads who click through from outside sources is a perfect way to connect meaningfully within the first few moments someone visits your site.
Your landing page should match the content that you're advertising and promoting. So, if you're asking users to download a guide, they should be taken to a specific landing page that talks about this guide, has an image with the guide, and includes a form for them to fill out to obtain the guide.
An optimized landing page rewards leads who engage with your content by providing answers to their problems and supporting their journey. So, how do you create a landing page that's sure to generate leads?
Skip the short and sweet. Longer landing pages are proven to perform better.
Use click-throughs instead of form fills. Leads are more likely to pony up personal info with a clickable format rather than a standard form.
You can't have too many landing pages. Increasing the number of landing pages increases your number of leads by more than 50 percent.
Keep it to one offer per page. More offers or conflicting CTAs are confusing to visitors, and most will just bail.
Make it visually appealing. Include high-quality images, make sure CTAs are obvious but not intrusive, and embed clickable graphics.
Forms and Qualified Calls
Forms are the most important part of your landing page. You need to ask the right amount of questions to get the data you need, but not so many that your potential leads get bored or frustrated. Name and email are no longer enough to count someone as a qualified lead. Ask specific questions, like their purchase intent, professional role, or goals in using your product or service.
At First Page, we've been using Typeform to create custom questionnaires embedded in our website that dig deep into our potential leads to ensure they're qualified. If they want a phone call from our founder, they have to complete every question, and by then, we know that they are the type of lead we want to nurture. In the follow-up call, we can ask questions tailored to their specific needs, pain points, and budgets.
Effective lead generation is more than yelling into a megaphone and crossing your fingers that the right people will hear you. You don't need to be louder; you just need to be smarter. Honing your strategy based on the tips above will help you reach the right audience, at the right time, with the right message — your message. Contact us today to get started (and don't forget to fill out that form!).