Skyrocketing prices at the pump. A chaotic housing marketing. And record-breaking inflation at the highest level in 40 years. What a time to be alive, eh?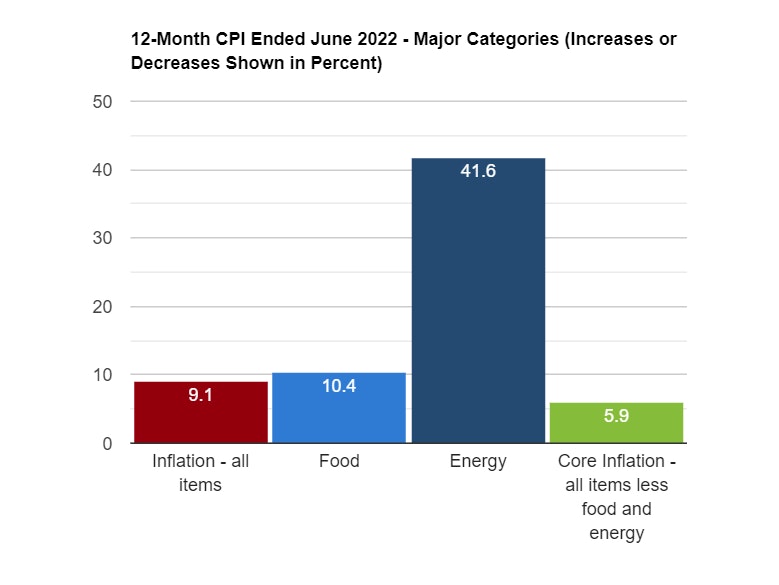 If you're feeling your blood pressure rise along with the cost of, well, just about everything, you're not alone. Recessions are not uncommon, and it's predicted that as prices continue to soar, another one is due any day now.
And it's not just your personal bank account that's feeling the pinch. If you're a marketer, you're likely already plotting your strategy to protect your brand through economic downturn. But if your plan is to start slashing budgets and pulling ads, you might want to think again.
Marketing Through Recession: A Brief History
As we said, recessions are not uncommon, and they're certainly nothing new. Researchers have been keeping tabs on marketing and advertising spending during volatile economic times for the last century. And what they consistently find over and over again might surprise you.
Brands that increase their marketing spend during times of recession usually fare better than those who rein in their budget.
It sounds counterintuitive, but it's been proven time and again. Here's a quick timeline, in case you're still skeptical (we don't blame you):
1930s: During the Great Depression, Kellogg was fighting its largest competitor, Post, for market share. While Post pulled back on its marketing efforts, Kellogg doubled down...literally. The company doubled its advertising budget and won the market — and the hearts of consumers. To this day, it remains the leader of the pack.
1970s: Toyota increased its advertising during a recession while Honda pulled back. It became (and still is) the number one foreign import vehicle in the U.S.
1980s: A research study conducted by McGraw-Hill during a recession period found that brands that continued or increased their advertising and marketing budgets saw 256 percent growth over brands that decreased their marketing.
1990s: McDonald's cut its ad spend during the recession, while Taco Bell and Pizza Hut ramped up their efforts, resulting in 61 percent growth for Pizza Hut and 40 percent for Taco Bell.
2000s: During the recession of 2008, brands decreased their advertising and marketing budgets by 5-27 percent. Amazon, on the other hand, offered an alternative to consumers looking to save money, launching their Kindle device and promoting the cost-efficiency of reading ebooks. By 2009, they'd increased sales 28 percent.
Marketing through economic downturn isn't just "nice to do" — it's an absolute must. So if you're preparing for the next recession, what should you do?
Recession Marketing: How to Get It Right
If your first instinct is to freeze those credit cards, you'd better learn how to fight the urge. As noted above, cutting your marketing budget doesn't do your brand any favors in the midst of a recession. But when money gets tight (for your brand and your consumers), how can you ensure you'll come out stronger on the other side? Here are our best tips:
Understand Consumer Behavior
Back in 2009, in the midst of the Great Recession, the Harvard Business Review published its guidance on marketing during a downturn. The advice hasn't changed much — dig deep into your buyer persona and understand how they'll be impacted by the recession and how they're likely to react.
Once you have a good handle on their potential response to hard times, you'll be able to market to them more effectively.
Don't Pull Your Budget
It should be clear by now that locking down your marketing spend during recession is bad for business. Instead of cutting your marketing and advertising spending, look instead at ways you can reallocate it.
Maybe you want to make a longer-term investment like SEO, so you can start seeing results once the economy turns around. Or maybe you want to take this as a chance to rebrand and build awareness.
Pay Close Attention to the Competition
Many of the examples in the timeline above came about because one brand seized an opportunity to outshine a competing brand. The way your competitors deal with recession can serve as a lesson — and a motivation — to do things a different way.
If you notice a competitor pulling back in a particular channel, make sure your brand is there to fill the void. If they go quiet when consumers are struggling the most, make your voice the loudest. And speaking of your voice...
Adapt Your Brand Voice to the Times
Messaging and tone are critical during an economic downturn. Brands that don't adjust run the risk of sounding out of touch or unconcerned. On the flip side, if you try too hard or make the recession the sole focus of your marketing, you may be seen as condescending or opportunistic. Instead, make your voice authentic, compassionate, and understanding.
Change Your Tactics
The second piece of the Harvard Business Review guide went into detail on how to reach consumers during a downturn. This included offering loyalty rewards, payment plans, or reduced product sizes — all tailored to the different types of consumer behavior.
It might be 13-year-old advice, but it's still pretty spot-on in our current times.
Watch Your Performance Like a Hawk
Probably the biggest benefit we have in this day and age is our access to real-time data. Of course, you should be monitoring your KPIs and tracking critical metrics regularly no matter the economic climate — but if a recession hits, you're going to want maximum visibility.
This will allow you to make informed decisions and change tactics when something isn't delivering the results you want to see. This is also a great time to ramp up A/B testing to dig deep into what your consumers want and need to hear to stay loyal to your brand.
Worried a Coming Recession Will Derail Your Marketing Efforts?
Have no fear. History has proven that big risks come with big rewards. Be fearless, but also be strategic when it comes to planning your marketing budget during economic decline.
Need some help? We've got you covered. We can help you maximize your budget and design a strategy to deliver new leads into your funnel and nurture existing leads through even the most dire times. Get in touch with us today to find out how!