Let's say you run a pizza chain that's looking to grow its customer base as quickly as possible. You're considering multiple strategies that range from running a set of ads on Google Ads, putting a flyer in the local newspaper, sponsoring an event to get exposure, or even opening a new location.
When first presented with these options, you're not sure which one is most likely to actually get more customers in the door. You think that an event sponsorship might be the best way because it not only gets your name out in front of hundreds of local customers, but they also get to try your pizza for themselves.
So you could go with your gut and choose to do the event sponsorship because you feel like it'll work the best. It's your first time doing it, so why not try something new?
But your marketing team has done some research. They've discovered that most of your customers are more the stay-at-home type and not ones to go to events.
Instead, they're more likely to type "good local pizza for delivery near me" in their Google search bar and order from the one that offers their favorite type of pizza. After analyzing this research, you realize that putting an ad that speaks to your most popular pizzas on Google is most likely to bring actual customers to your restaurant the quickest.
So, you put out a few variations of an ad and adjust it weekly, using the results from the previous week to improve your ROI over time. After a few weeks, you put out an ad in the local newspaper and send an email to your existing customer base using the creative from your top-performing digital ad.
What Is Growth Marketing?
This is a great example of how growth marketing works by leveraging customer data, rapid testing, and cross-channel marketing to quickly scale your business over a period of time.
Growth marketing doesn't replace traditional marketing but is instead a great tool for maximizing the results from these activities. As you can see in the instance above, a growth marketer may still leverage the tactics of both traditional and digital marketing but do it in a rapidly scalable and highly strategic way.
While traditional marketing focuses primarily on the awareness and acquisition stages of the buyer's journey, growth marketing covers the complete flywheel from awareness to referral. This is because a major portion of your revenue comes from targeting and actively engaging your existing customers.
So, how does one do this? Well, a successful growth marketing strategy is made up primarily of the following components:
A data-driven approach: Rather than just throwing up an ad and hoping it works, a growth marketing approach analyzes previous campaigns, takes what worked best, and improves upon them.
Rapid testing: It's impossible to know what will work best for your products/services and for your target audience without testing things. Conduct A/B tests on strategic hypotheses and be willing to fail — and available to make adjustments to improve on the fly.
Regular analyzing and optimization: Review your campaigns on a regular basis and make adjustments to improve results over time. During this step, you must work to understand what worked and what didn't so you can use these learnings for future growth.
Growth Hacking vs. Growth Marketing
While different from growth hacking, growth marketing takes many of the principles of hacking to help businesses scale quickly and sustainably over time. Growth hacking primarily:
Focuses on a very short period of time for quick results
Combines marketing and technical teams (such as analytics) to develop high-speed growth strategies
Has aggressive metric goals and rigorous testing
On the other hand, growth marketing primarily:
Infuses marketing tactics such as content marketing, SEO, and PPC together but not always on a short-term basis
Is a long-term sustainable strategy with a focus on revenue and CAC
Values customer retention over quick customer acquisition


Why Growth Marketing Works
In this blog post, we talked about how Canva leveraged growth marketing to acquire more than 15 million users in seven years, with over 300K paying customers. These kinds of results don't just happen by accident.
Canva isn't the only business that has found success through growth marketing. The website builder Squarespace started in 2004 thanks to a $30,000 loan from the founder, Anthony Caselena's, father. In the first year, it earned $50,000 in revenue. By 2017, however, the company brought in over $300 million — a 6,000x increase from its first year. All of this was accomplished through a growth marketing mindset.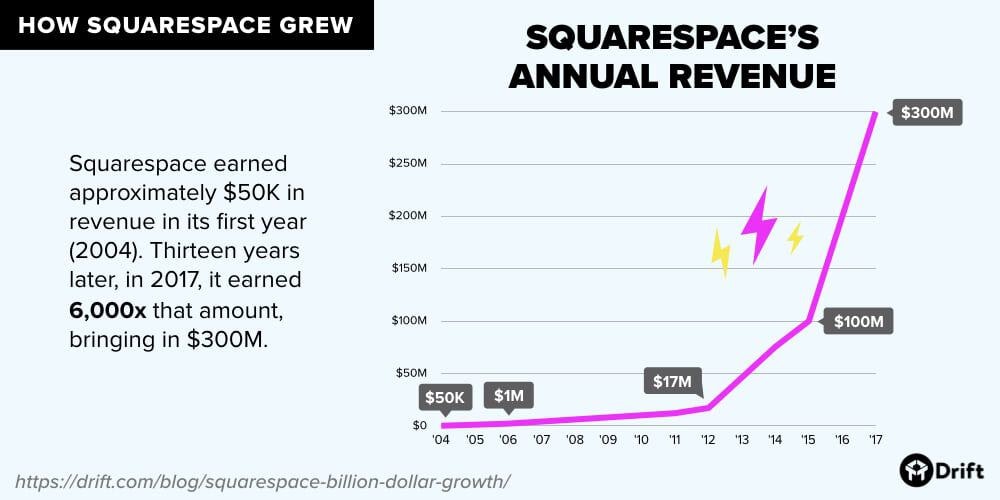 And whether you're still working at home or back in the office, there's no accident why Zoom calls became the new normal during the COVID-19 pandemic. Since March 2, 2020, first-time downloads of Zoom's mobile app jumped up 728 percent, according to market intelligence firm SensorTower. This was also due to a concrete growth strategy.
Getting Started with Growth Marketing
As you can see, growth marketing is one of the best strategies your business can use to skyrocket your growth over time. However, it's also one that requires many different components and tactics, all of which must work together to create a highly scalable, sustainable, and solid growth machine.
There are multiple components to successfully implementing a growth marketing strategy. These include:
1. Create Incredible Content
While 91 percent of B2B marketers report using content marketing, less than 40 percent admit to having a documented strategy.
That means that over 51 percent of content marketers out there are just throwing words on paper, a person behind a video camera, and a photo behind a tweet, hoping that one day they'll generate the revenue they need to be successful.
If that sounds familiar, then you know that this tactic doesn't last very long. That's why a growth-focused content strategy is critical for your business to grow successfully.
Start by learning some actionable tips for building this strategy for your business.
2. Focus on Organic Growth
In our pizza restaurant example above, we mentioned using ads in both PPC and traditional format to generate growth for the business. However, paid advertising isn't — and shouldn't be — your main focus.
Instead, focusing on organic growth is key to creating a long-lasting, sustainable strategy that grows your business over time. That's because an organic growth strategy means growing from within your own business and leveraging the resources you already have.
Learn about five organic search tips for boosting your SEO growth strategy that you can apply today.
3. Optimize for Conversions
It's all well and good to drive thousands of visitors to your website every month. But if you're getting only five conversions per month on average, then that's a problem that will prevent your business from scaling the way it needs to in order to be successful.
That's why every growth strategy must focus on optimizing for conversions, not just for awareness. This means analyzing your marketing tactics, such as your website, and looking for weak spots that might be preventing people from converting.
Do you have enough calls-to-action (CTAs)? If so, are they placed and worded correctly and clearly? Even small things like the color of the button can make a big difference in the psychology of getting visitors to convert into customers.
Find out more about building a better conversion strategy as part of your overall growth marketing approach.
4. Make Data-Driven Decisions
As we explained above, a successful growth marketing strategy relies on regular testing, analysis, and optimization. And as you saw at the beginning of this article, without the right data, it's possible to make the wrong decision, especially when just relying on your intuition.
If you're not already, you need to start collecting and analyzing your data from day one. Growth marketing depends on data to work. You can use it to identify patterns, determine the best content type, find micro-conversions, and other insights to improve your marketing return on investment.
Learn more about why making data-driven decisions is so important for growth marketing.
5. Work with the Right Partner
Working with a partner who has proven success managing all of these components and helping businesses achieve their growth goals is critical to ensuring it works for you. One component gone wrong can cause frustration, budget cuts, and possibly business failure as you work to figure out what has gone wrong.
From discovery to delivery to results, your growth marketing agency should offer a solution that works across all your business verticals and shapes your brand into an industry leader.
And if you're looking to get started with one today, get in touch with us. We have worked with businesses like yours to scale both their marketing and their businesses as a whole through successful growth marketing strategies. Let us do the same for you.