"Just Slack me." When your brand name becomes a verb, you know you've made it to the big-time, right? Slack, an instant-messaging platform designed to cultivate communication and collaboration across work teams — especially remote teams — is growing by leaps and bounds...especially after the great remote revolution of the last couple years.
Slack makes both synchronous and asynchronous communication a breeze. But any instant messaging app can do that, right? Not exactly. And what sets Slack further apart from its competitors is how it emphasizes culture, especially remote culture.
Is Remote Work Culture Important?
You bet it is! But when it comes to remote teams, there are many barriers to achieving a rich and fulfilling workplace culture. And believe us when we say — it keeps us up at night.
Many of the worries above can be overcome with a few simple tweaks to remote work processes. But culture is a little harder to pin down (which is why it's a concern to 70 percent of managers). Culture is a big word, and it doesn't have a concrete definition. But it is critical to the overall happiness, productivity, and loyalty of employees.
So, when you don't have an office that creates a built-in environment for workplace culture, what can you do? That's where Slack comes in.
How We Use Slack to Build Culture in a Remote Team
First Page has been using Slack from the get-go. Over the years, it's gone through numerous updates and upgrades, but the basics have always performed beyond our expectations. Slack allows our team — scattered across multiple countries, continents, and time zones — to connect in a way that feels organic and conversational...the same way you might expect employees to chat around the coffee machine or pop into each other's offices for an off-the-cuff meeting. It's how we operate in our virtual office.
Here are some of the primary ways Slack contributes to our remote work culture (all of which you can adopt for your own team):
Real-Time Communication
Of course, as an instant messaging platform, this is where Slack shines. Remote colleagues can connect with each other in real time, which contributes to productivity and also builds relationships. The primary ways to communicate within Slack include:
Direct messages: Colleagues can chat one-on-one or create small groups to talk about specific topics.
Channels: Channels are the bedrock of the Slack platform. You can create a channel for just about any subject, group, or team (and can invite or restrict access as needed). You can also invite individuals from outside the organization to select channels. At First Page, we have channels dedicated to specific clients and different marketing verticals (e.g., #organicteam or #content). One of our most popular channels is #workfromanywhere, where team members share photos from their travels, coworking spaces, or home offices. It's a great culture-builder that speaks to our remote-first ethos.
Huddles: Slack offers huddles for quick meetings, either within a channel, between colleagues, or for the whole team. All of our weekly standups happen in a Slack huddle. We don't typically require cameras on, but it is possible, and at times, can be used to reinforce team culture.
Asynchronous Communication
Async communication is a must for remote teams, and getting async right is critical when you have employees in different locations and time zones. Slack now offers numerous ways to level up your asynchronous communication and maintain productivity while respecting employees' time.
Scheduled messages: Need to talk to someone, but they're in a meeting or out of the office? You can actually schedule a message to send when they're back online. Slack will recommend times to send your message and let you know what time it will be in the recipient's time zone. You can also set a custom time if you know when they're likely to be back at their computer. This ensures important messages are delivered while not disrupting a colleague's off-time or deep work hours.
Audio messages: You can now record an audio clip directly in an instant message or within a channel and share it with your team. This means team members can listen when they have a chance while still having some of the feel of a "live" huddle.
Video messages: Use Slack to record a video, share your computer screen and recreate the feel of a "live" event without the pressure or time commitment of a scheduled meeting. Video messages are great for walk-throughs of new programs, introductions of new team members, or simply a unique and memorable way to connect and build familiarity among team members.
Leadership and Peer Recognition
Recognition of team members goes a long way toward building a solid work culture, and it's no different for remote teams. We use Slack to recognize our First Page team members in many ways:
#shoutouts channel: This is one of our custom channels and one the entire team can access. Here, the recognition comes from both leaders and peers, in real time, whenever a situation calls for a casual and informal (but heartfelt) shoutout. We get action on this channel almost every week, as team members express gratitude to their colleagues or call out an exceptional piece of work. We've noticed that one shoutout often leads to multiple shoutouts, and honestly? As a leader, it's pretty cool to see.
Party Parrot: This is a popular Slack app and for good reason. Party Parrot (now an official FPS mascot) tracks and announces team member birthdays and anniversaries, so there's always a reason to celebrate. To be real, we probably enjoy poking fun at the corny announcements just as much as we do celebrating the individual.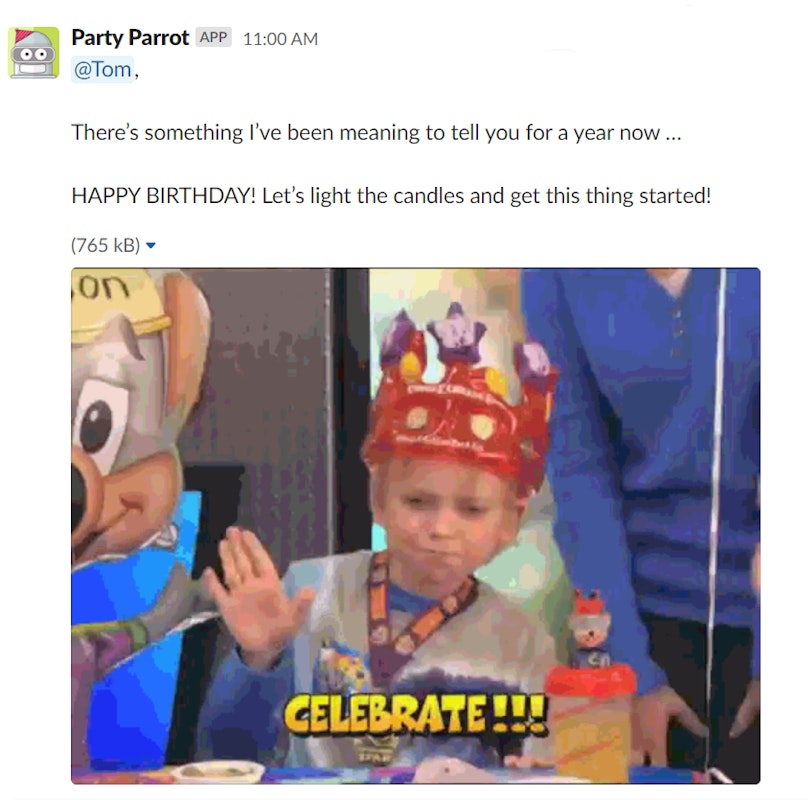 Polly: So, apparently, Slack has a thing for tropical birds. We don't use this one currently, but it's a great way to gather feedback from your team (like polling their thoughts on current workplace or team culture) and also offers opportunities to create remote recognition events.
Time Protection
One of the main reasons remote workers love what they do is that it offers them flexibility, unlike a traditional office job. They report better time management and better work/life balance. But to keep it that way, employees (and leaders) need to make sure their time is protected. Slack can help.
Statuses: We live and die by Slack statuses at First Page. We've created a group of custom statuses team members can use to let everyone know when they're out of the office, traveling, or in a location with an unreliable connection. We also use this to indicate when members are in meetings, so anyone who wants to communicate with them during these times can turn to async methods, like scheduling a video or audio message for delayed delivery.
Remoty: We use another platform for time tracking, but this Slack app can be added directly to channels to make team members' availability visible to others. It can also be used within Slack for simple and easy time tracking. The data can then be exported and used to manage payroll.
Google Calendar: Our team members have all integrated their Google Calendars on Slack. Slack then sends them reminders of upcoming events and allows them to check their colleagues' calendars to find available time for meetings or plan long-term projects.
Fun and Games
Workplace culture is about so much more than, well...work. Just as in an office setting, there has to be downtime, and employees need space to talk about things that aren't work-related. Our "just for fun" Slack channels and apps actually aren't just for fun — they play a crucial role in building our culture and ensuring employees are both professionally and personally fulfilled. Here are some of the faves:
Donut Dates: The Donut app pairs team members together randomly for a 30-minute virtual meetup. The only rules? Cameras on and absolutely no shop talk. It's a great way to connect employees who wouldn't normally work in close proximity, and it's really effective at building culture (we incentivize donut dates by sending out actual donuts to those who regularly participate). At certain periods, the Donut app sends out stats so you and your team can see participation rates and all the connections being made.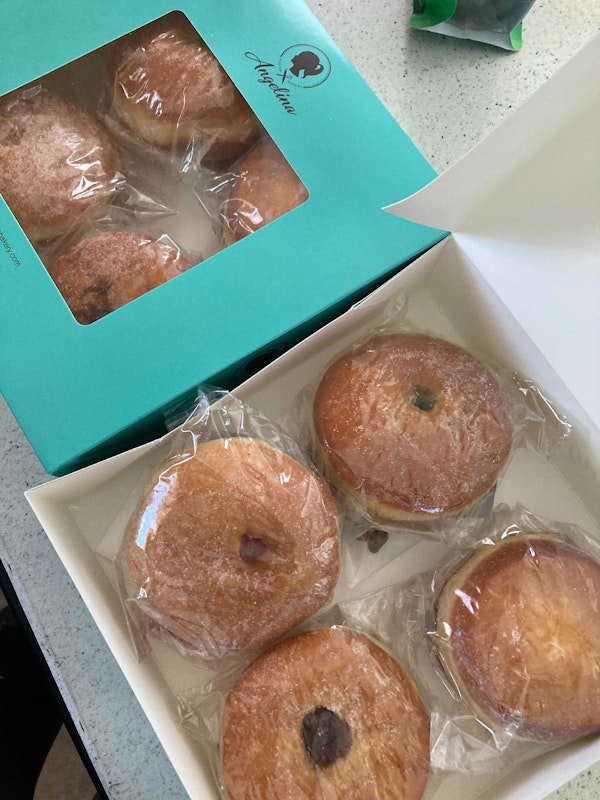 Fun channels: Want to share a pic of your furry companion? #dogs. Need your colleagues to know you got that day's Wordle in two guesses? #wordlenerds. Or maybe you heard a song that inspires you and you want to share. #spotify. Whether it's meme sharing or recommending the most #bingeworthy TV series, you can create an endless variety of Slack channels for any interest.
Snack: Similar to Donut, Snack is an app that matches colleagues for short, impromptu virtual chats. The difference is that Snack does all the work — it matches team members in similar time zones with similar availability. All the team members have to do it show up.
There are endless ways to customize Slack to your remote team's needs, and in the process, you can create a solid remote work culture that keeps employees happy, builds relationships, and makes your company one hell of a great place to work.
Speaking of happy employees, we've got some of the sunniest dispositions you'll find in the remote workspace (for good reason, we say). Want happy coworkers who have fun together and enjoy what they do?