Managing remote employees is a cinch, right? There are no offices to maintain, no awkward holiday parties, no meetings that SHOULD HAVE BEEN AN EMAIL. And no tedious, weeks-long onboarding for new employees.
Wait. Back it up.
You didn't really think that remote employees can come on board without, ya know...onboarding? Nah, we didn't think so.
But just in case you're wondering why remote onboarding is so important and how you should handle it, we've got your back. Let's find out why creating an onboarding process for remote employees is critical to your business and how you can make sure it goes off without a hitch.
Does My Remote or Hybrid Company Need Remote Onboarding?
YES! If we changed the word "onboarding" to "orientation," would this even be a question? It would not. Imagine welcoming a team member to your company and not providing them the basics of how to join your company, access your internal infrastructure, and do their work.
We know a lot has changed in the last few years, and for some companies that had to shift from a more traditional office model to hybrid or fully remote, that shift comes with a pretty steep learning curve. But we can tell you that onboarding is not an area you want to skimp on. Remote employers need to ensure that any function they performed as an in-person business also exists for remote teams.
Why?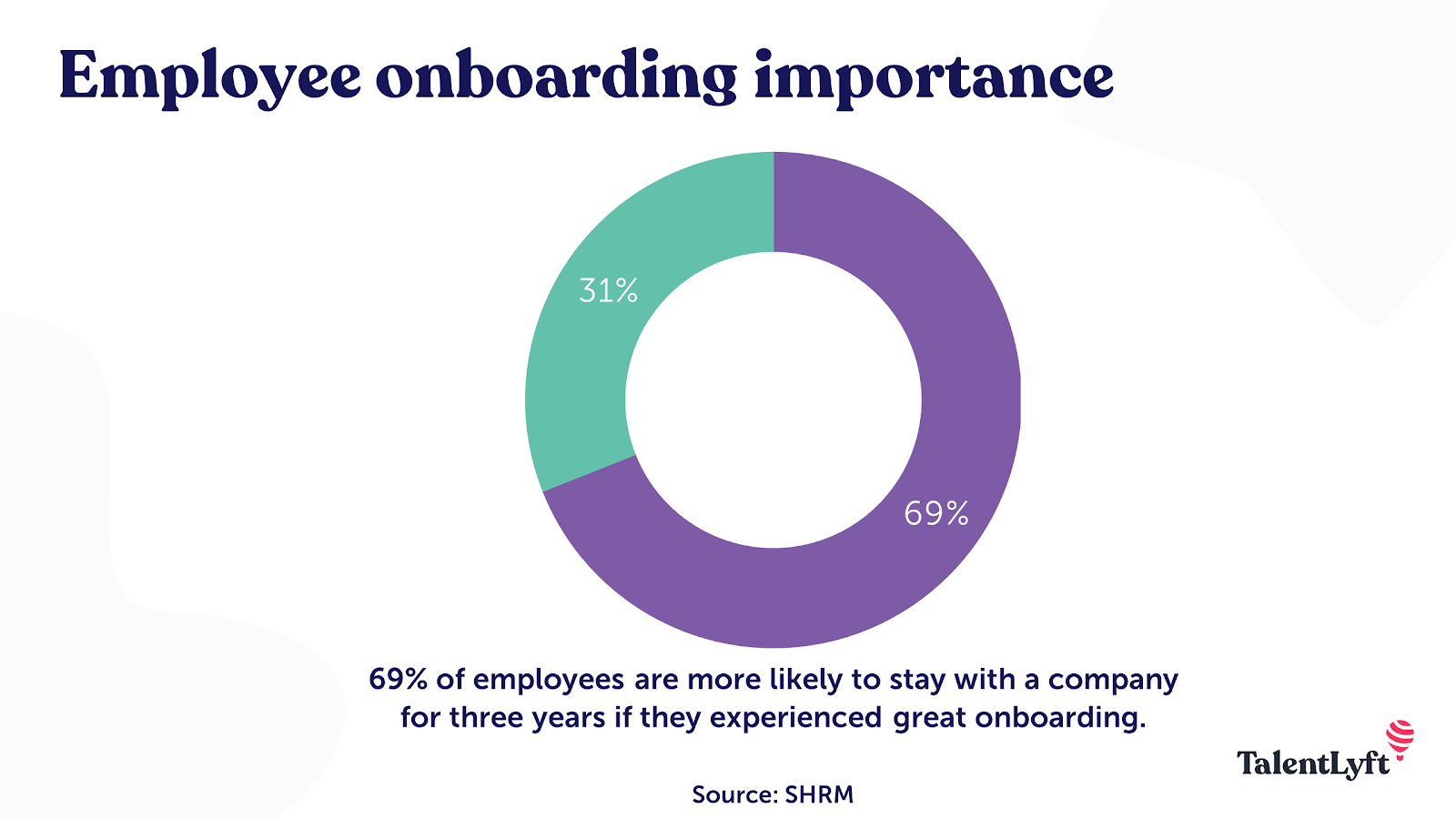 As seen above, retention dramatically increases when you set the right tone from the start. But that's not the only benefit to your employees or to your brand.
Why You Need to Nail Remote Employee Onboarding
Let's start with the obvious: onboarding is a basic need for any company that hires employees. You wouldn't hire an in-office employee and not show them their desk, or introduce them to colleagues sharing the office space, or get them set up with the software they need to do their job. It would be a disaster. Considering the additional and specific needs of remote employees, neglecting onboarding would increase the potential for things to go sideways tremendously. So, what are the other reasons remote onboarding is a must?
It Ensures New Hires Hit the Ground Running
The more questions that go unanswered, the more time you and other employees will spend getting them caught up. If you have a seamless and comprehensive onboarding process in place, new employees will be ready to roll as soon as their start date arrives.
It Makes Your Company Look and Feel More Organized
You want to instill confidence in new hires and in existing employees. Running around in a frantic scramble to get access to the right platforms or even make an introduction is not a good look. Having a process set in stone will allow for a smooth transition for new employees and free up managers and supervisors to focus on acclimating them to your workplace culture.
It Creates a Sense of Connection and Belonging
Speaking of culture, onboarding is your employees' first touchpoint with your company culture. And in a remote environment, it's even more important to establish that culture and include new hires from the get-go. It also directly combats the largest issues facing remote workers:
At First Page, we know loneliness is a big struggle for remote workers. From the outset, we work to ensure new employees are part of our culture of connectedness. They are immediately added to our Slack channels, welcomed by other team members, and have instant access to many of the perks we offer (like Spotify subscriptions and our team book club).
It Lends Credibility to a Good Decision Made
You want your new hires to feel they've made the right choice in joining your team. As noted above, seamless and positive onboarding experiences improve retention. But it can also help with recruiting. If your employees feel good, they're more likely to share with their networks, which could bring new talent into your pool.
Tips for Creating a Killer Remote Onboarding Process
You've got a lot on your plate, and onboarding may not be a top priority. But hopefully, our insights above have helped you realize it should be. Luckily, it doesn't have to be an overwhelming prospect. Here are some of our best "must-haves" and "nice-to-haves" when it comes to creating your onboarding process:
Must-Have: Quick Turnaround
Write everything down with clear and precise directions. An onboarding checklist can help, but you'll want to customize it for your own needs. A checklist like this will ensure you can get employees trained and up to speed in a short amount of time.
Must-Have: Get Management Buy-In
Depending on your company's structure, you may rely on hiring managers and reporting managers to implement onboarding. Make sure they're trained on every step of the process so they won't need to pause to ask questions or get the access and tools they need.
Must-Have: Step-by-Step Visibility
Ensure that all managers involved can see every step of the process so they know it's going smoothly. You might want to use a project management platform to create tasks for each step so you know when they're completed and if there are any roadblocks standing in the way.
Must-Have: Everything in Place
Be sure from the start that the employee has what they need to complete all of the steps of the onboarding process, whether that's a log-in to various software, permissions to access tools and files, or a place to securely submit their banking and payment information.
Must-Have: Follow Up
You can't just set employees on the onboarding course and hope for the best. Follow up with them at regular intervals to see if they need support or direction. Plan a check-in once or twice throughout the process and then a final check at the end to answer any questions that came up.
Nice-to-Have: Specialized Software
This could be, as mentioned above, the project management tool your company uses, or it could be an onboarding software specifically designed for remote employees.
Nice-to-Have: Communication Tools
We love using Slack for our asynchronous team communications, and it is invaluable in the onboarding process. Slack, Zoom, or other video chat tools are great for check-ins throughout the process and give you an opportunity to interact with remote employees face to face.
Nice-to-Have: 1:1s
Speaking of seeing each other face to face, it helps to also pull in department heads and managers. Remote employees can feel some major disconnect if everyone is little more than a name and words on a screen. Set up brief 1:1 meetings with supervisors and managers to welcome new hires and help them put names with faces.
Nice-to-Have: Surveys
Keep refining your onboarding process by giving new hires quizzes and surveys (just keep them brief) to collect their feedback. You'll be able to answer their questions and get ahead of any potential issues, and you'll be able to use the information to make your onboarding process even smoother and more effective.
Bottom Line: Get On Board with Remote Onboarding
Happy, informed employees are good employees. They're the ones who stick around and bring new talent into the fold. They can be your strongest brand evangelists, but it all starts with nailing your remote onboarding process.
Want more advice on managing a remote team? Check out our #REMOTEWORK blog. And if you happen to be looking to work for a company that has remote onboarding (and many other aspects of remote work) nailed down, check out First Page job openings!