Let's say you're throwing a party. You've got the food, the drinks, and the decor, but in the invite, you make a mistake in the address. You've got everything ready to go...but no one shows up because they can't find the place.
The same might be true of your brand and website if you aren't investing in letting people know where to find you. Traffic generation is the biggest challenge that marketers and CMOs are facing this year. And that's because many of them are putting the wrong address in their invitation (metaphorically, anyway).
If you're wondering how to get more guests to your party (i.e., your website), you may be torn between running PPC campaigns or using content marketing along with SEO to generate organic traffic via search engines.
Both PPC and content marketing can deliver results, but the way they work in the short term and long term are vastly different.
Let's look at the distinctions between PPC and content marketing to find the right growth channel for your brand.
PPC for Traffic Generation and Leads
If you need instant traffic to your website, pay-per-click advertising has a reputation for being the best choice. The global digital advertising spend is expected to reach $455 billion by the end of 2021:
Source
It is a rapidly growing market that tempts many brands with big promises, and on some of them, it certainly delivers. Here are some of the reasons so many brands look to PPC as their first choice for driving traffic:
PPC does work and it delivers instantly. Almost as soon as your ad goes live, you'll start seeing an uptick in traffic. You might have to adjust your PPC ads for CTR optimization, but most of the time, the traffic you receive is instant.
The average CPC for Google display ads is $0.41, while Google search ads average CPC is $2.76. This makes PPC one of the cheapest ways to generate traffic (though not conversions). You don't get such high-value CPC from most other marketing channels.
Search PPC ads are best for generating warm leads because your ad is shown to people who are actively searching for a keyword in Google (or your preferred search engine). And your search ad appears above the organic search results.
PPC has a proven ROI that's higher than several other channels. Google Ads, for example, claims that businesses earn $2 for every $1 they spend on Google Ads. This turns out to be an awesome ROI considering the fact that PPC is scalable.
Ads provide you with lots of data and insights that help you understand your target audience better. Besides, you can run A/B tests to optimize landing pages and identify top-performing offers, landing pages, and more.
When you run a PPC campaign, you'll see these types of PPC ROI. And this is a major reason why brands prefer using PPC for traffic and lead generation.
However, there is a downside…
PPC Is Short Term
Everything about PPC is awesome...except that it grows your business in the short term only. You'll see instant traffic, leads, sales, and growth.
And it continues as long as you actively spend (and scale) your PPC campaigns.
The moment you stop or pause your campaigns, the traffic will vanish. And this means you won't be generating new leads and sales. Growth stalls immediately.
Re-activate your campaigns, and you'll get it back.
And this is problematic. There is no long-term sustainable growth here. You spend money to drive traffic and that's absolutely OK (because you have to spend money to earn money), but there is no long-term growth.
If you have a SaaS company with a high retention rate and exceptional LTV, your business will continue to survive on existing customers after pausing PPC campaigns. But you won't be getting new customers. And you can't survive on existing customers unless you have a powerful referral program.
This makes PPC a not-so-desirable long-term growth model for your brand.
So, what's your option then?
Content Marketing for Growth
Content coupled with SEO (known as content marketing) provides your brand with sustainable growth that doesn't require a regular budget. Content (especially if it's evergreen) will continue to drive traffic and generate leads for years.
In fact, many times, the older it gets, the better it performs.
A study by Ahrefs found that it takes an average of more than two years to rank in the Google top 10 results: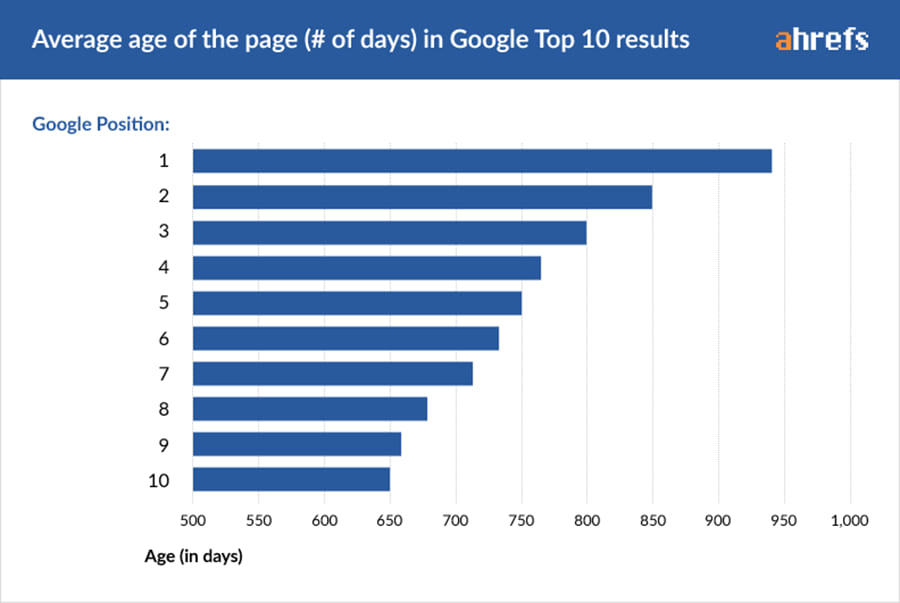 Only 22 percent of pages in Google's top 10 were found to be created within a year. These results are based on 2 million random keywords extracted and analyzed by Ahrefs.
You can do a quick test. Run any search query in Google and see the age of the content that's ranking — you'll be surprised (if you haven't already noticed it) to see the results.
What this means is that you have to write content, publish it, and sit back. You don't have to set a weekly budget to promote your content for an infinite duration. That's not how it works. Once your content goes live, it will continue to drive traffic with minimal tweaks and almost zero spending.
Even if you stop publishing new content, your existing content won't stop working. It will still work —when regularly updated – for the coming years.
This makes content marketing ideal for long-term sustainable business growth. The only drawback: it requires time — a lot of time initially. It doesn't work instantly like PPC.
PPC vs. Content Marketing: What's the Right Channel for Your Brand?
It depends on your requirements.
PPC isn't bad. And content marketing isn't a silver bullet.
Use your business model, marketing strategy, and long-term goals to identify the right marketing channel for your brand.
PPC works for obtaining instant traffic. But keep in mind that traffic might not convert right away as it requires a lot of testing (CRO) to see what works best for your audience. You will, however, generate meaningful data in the process that you can use in content marketing (and to refine your buyer personas).
At First Page, we find that content marketing is ideal for long-term growth. It delivers value to your potential customers that improves brand authority and credibility. You don't get this with PPC because you are running simple ads with little or no focus on value.
Ideally, we recommend playing the long game instead of focusing on short-term results that disappear once your budget runs out. Focus on long-term growth. Create and publish epic content, promote your content, and keep doing it consistently. Don't stop believing and investing in content marketing if you don't see instant results.
Not sure where to begin and how to create a content marketing strategy for your brand that will deliver results for an infinite period? We can help you get started right away. Contact us today.